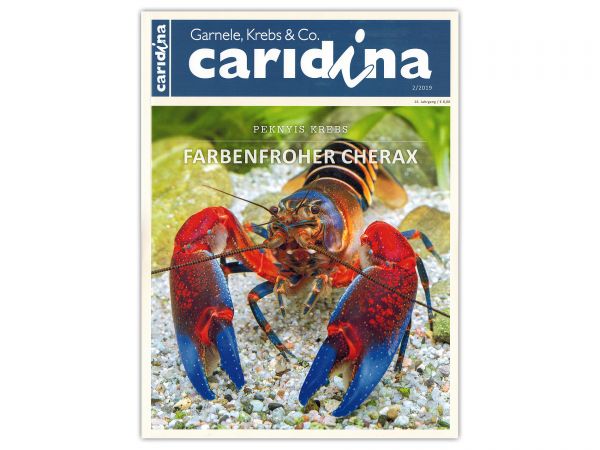 caridina, issue 2/2019, in German
Invertebrates in freshwater aquaria - Magazine
for all invert enthusiasts
scene news
all about shrimp, crayfish & Co.
4 issues per year
Article in stock
Delivery time 1-3 business days*
P
on purchase receive

bonus points now**
caridina - Shrimp, crayfish & Co , the special magazine about invertebrates in freshwater...
more
Dähne-Verlag
caridina, issue 2/2019, in German
caridina - Shrimp, crayfish & Co,
the special magazine about invertebrates in freshwater aquaria brings you information, hints and tips about shrimp, crayfish, crabs, snails and so on four times a year.

In this issue of caridina you will find the following topics:

Titelthema: Farbenfroher Cherax
Friedlich, scheu und farbenprächtig - Cherax peknyi, der Zebra- oder Tigerkrebs
Die Warmwasserkrebse von Papua - 26 Cherax-Arten wurden bisher beschrieben, mehr warten
Cherax-Habitate auf Papua - So bunt wie die Krebse sind ihre Lebensräume

Garnelen, Krebse & Co.
Maurenschnecken - Die schönen, bedrohten Unbekannten
Nachwuchs im Aquarium - Wie ein Zwerggarnelenweibchen Eier absetzt
Sanfte Riesen im prächtigen Farbkleid - Die große Landkrabbe Tuerkayana magnum ist ein Blickfang im Terrarium
Verkürzter Carapax und deformierte Fühler - Durch Massenzüchtungen entstanden genetische Defekte
Der Blickfänger - Die Fluss-Schwimmkrabbe Varuna litterata
Der Reiz des Wilden - Teil 1: Grnelen aus Süd-Thailand - besondere Herausforderung für Züchter

Reportage
Haedbangende Garnelen und lernende Einsiedlerkrebse - 19. Deutschsprachige Crustaceologen-Tagung in München
Das Neuste vom "Shrimp World Cup" - Das ganz große Garnelenchampionat in Kalkar
Garnelen-Freaks in Bukarest - Ein Spontantripp nach Rumänien ins Land Draculas
Premieren in Castrop-Rauxel - Die Messe "Aqua-Ruhr" und der "European Shrimp Contest"

Praxis
Noch ein Nano-Aquarienset? - "Fluval-Flex" als kleines Pflanzen- oder Wirbellosenaquarium geeignet
Ein Holz für jedes Layout - Diese Wurzeln sind als Gestaltungselement besonders empfehlenswert


Please note
The magazine caridina is available only in German language.
Article information
| | |
| --- | --- |
| Manufacturer | Dähne-Verlag |
| Article number | GH-2001353 |
| Shipping weight | 0,31 kg |
Read product reviews and/or write your own review
Customer evaluation
Dähne-Verlag :: caridina, issue 2/2019, in German
Write an evaluation
Ratings will be released after a short checking.