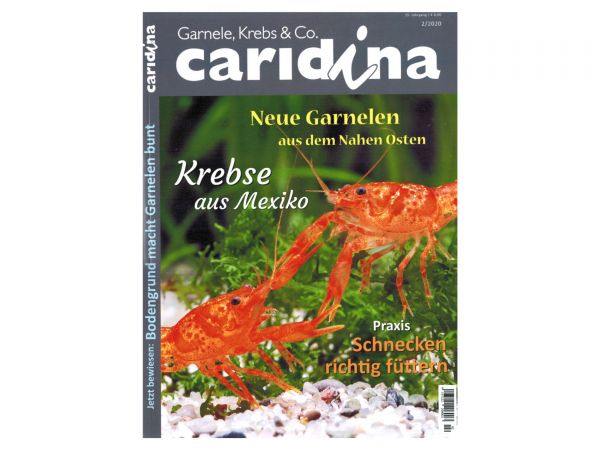 caridina, issue 2/2020, in German
Invertebrates in freshwater aquaria - Magazine
for all invert enthusiasts
scene news and details
about shrimp, crayfish & Co.
4 issues per year
Article in stock
Delivery time 1-3 business days*
P
on purchase receive

bonus points now**
caridina - Shrimp, crayfish & Co , the special magazine about invertebrates in freshwater...
more
Dähne-Verlag
caridina, issue 2/2020, in German
caridina - Shrimp, crayfish & Co,
the special magazine about invertebrates in freshwater aquaria brings you information, hints and tips about shrimp, crayfish, crabs, snails and so on four times a year.

In this issue of caridina you will find the following topics:

Titelthema: Zwergkrebse
Nicht nur "CPO" - Aus der reichhaltigen Krebs-Fauna Mexikos haben es einige Arten bis in die Aquaristik geschafft
Hier leben Mexikos Krebse - Habitate der Gattung Procambarus und Cambarellus
Die Artenvielfalt der Flusskrebse in Mexiko

Garnelen, Krebse & Co.
Von Mandarine bis Aprikose - Die orange Tima-Linie wurde erstmals der Öffentlichkeit vorgestellt
Neue Caridina-Arten aus dem Nahen Osten - Jahrhunderte altes Material wurde neu untersucht und bewertet
Bodengrund macht bund - Substratfarbe beeinflusst die Färbung der Garnele
Millionen tote Krebse durch unseren Plastikmüll - Tropische Inseln ersticken im Müll und Tiere verwenden darin
Asseln als Haustiere - Wir werfen einen Blick über den Tellerrand zu Land-Krebstieren
Ausserordenlich lange Brutpflege - Sundathelphusa sp. "orange" kümmert sich wochenlang um ihren Nachwuchs

Schnecken
Richtige Ernährung von Wasserschnecken - Gastropoden als Müllabfuhr und Reinigungskolonne?

Reportage
29. Aqua-Fisch kommt 2021 - Messe und Garnelentage aufs nächste Jahr verschoben
Der Hype war nie weg! - Interview mit Online-Händler Farschad Farhadi
Unbedingt wiederholen - "Shrimp Art Festival" in den USA
Auf der Suche nach dem "Rätselwurm" - Nach langen Recherchen konnte der Scheibenwurm endlich enttarnt werden
Mit "Garnelitis" infiziert - Zu Besuch bei Markus Schulz, Garnelencenter-Lemgo


Please note
The magazine caridina is available only in German language.
Article information
| | |
| --- | --- |
| Manufacturer | Dähne-Verlag |
| Article number | GH-2001548 |
| Shipping weight | 0,31 kg |
Read product reviews and/or write your own review
Customer evaluation
Dähne-Verlag :: caridina, issue 2/2020, in German
Write an evaluation
Ratings will be released after a short checking.