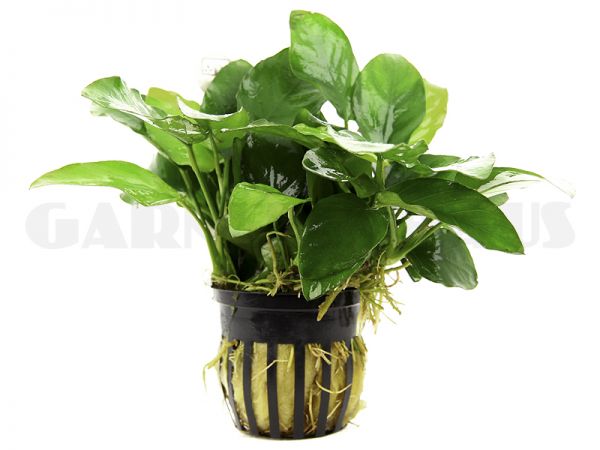 Anubias barteri nana
Dwarf Anubias
slow-growing dark green plant
epiphytic plant that is great for accentuating any type of tank
very popular and easy to care for
nicely grown pots
Article in stock
Delivery time 1-3 business days*
Quantity
Unit price
Saving
to

2 pcs.

6.25 €

from

3 pcs.

5.63 €

9%

-0.62 €/pcs.

from

8 pcs.

5.31 €

15%

-0.94 €/pcs.
P
on purchase receive

bonus points now**
Anubias barteri nana originally comes from Cameroon. It is a very robust, slow-growing aquarium...
more
Dennerle
Anubias barteri nana
Anubias barteri nana originally comes from Cameroon. It is a very robust, slow-growing aquarium plant with a creeping rhizome, which can be attached to rocks or pieces of driftwood with thread.

Anubias barteri nana grows well under low light and with low levels of nutrients (CO2) and is thus an ideal plant for shaded areas, but it also does well under intensive light. Anubias barteri nana does not have special demands regarding fertilisation.
Max. height approx. 15 cm


Important!
Before putting this plant into a shrimp tank, carefully remove the plastic pot as well as the rock wool around the roots, and quarantine it for some days in a separate container. Change the water daily and provide sufficient light. In the nursery, these plants may have been treated against algae or snails, and this procedure is necessary to get rid of these substances that might be harmful for shrimp.
Article information
| | |
| --- | --- |
| Manufacturer | Dennerle |
| Article number | DEN-781 |
| EAN number | 4001615007817 |
| Shipping weight | 0,1 kg |
Read product reviews and/or write your own review
Customer evaluation
Dennerle :: Anubias barteri nana
Ich habe zwei Pflanzen bestellt, beide kamen gut verpackt an.
Ich habe sie bei mir auf Steine geklebt, durch ihre Größe hätte bei mir auch eine Pflanze gereicht, da sie doch recht schnell wachsen.

Leichter Blätterbefall aber noch gut
Schön gewachsene Pflanze.Hab 3 Rhyzome daraus bekommen.
Schöne Aufsitzerpflanze mit satt grünen Blätter, die allerdings sehr! langsam wächst.
Einfach in der Haltung, braucht keine besonderen Wasserwerte, ein Klassiker.
Das Besondere an der Pflanze sind allerdings nicht die Blätter, sondern die Wurzeln die sie bildet.
Auf der Spitze eines höheren Stein befestigt, werden innerhalb einiger Wochen Wurzeln gebildet,
die direkt am Stein und auch frei nach unten wurzeln, erinnert ein bißchen an Wurzeln im Urwald.
Im Gegensatz zum Javafarn sind die Wurzeln auch satt grün.

Super schöne, kräftige Pflanze (:
Würde ich jederzeit wieder bestellen.
Offensichtlich schöne und robuste Pflanze.
Lässt sich gut bearbeiten - habe sie in drei "Abschnitte" geteilt und anschließend auf Wurzelstückchen aufgebunden.
Auf diese Weise lässt sie sich gut in Nanobecken (bei mir 20l Cube) positionieren und reicht für den Hintergrund völlig aus.
Daher geht auch der Preis in Ordnung.
Super Preis-Leistungsverhältnis! Habe mir für mein 60L Cube 3 Stück bestellt und konnte aufgrund des layouts nur 2 einsetzen. Der andere ist in ein 120L AQ gekommen und wirkt auch dort sehr gut.
BIn absolut zufrieden mit der großen und sehr kräftig grünen Pflanze!
wunderschöne Pflanze, sattes grün feste Blätter und gross gewachsen. Habe jetzt 2 Stück in unterschiedlichen Bestellungen bestellt, und kann sie daher nur jedem empfehlen.
Write an evaluation
Ratings will be released after a short checking.