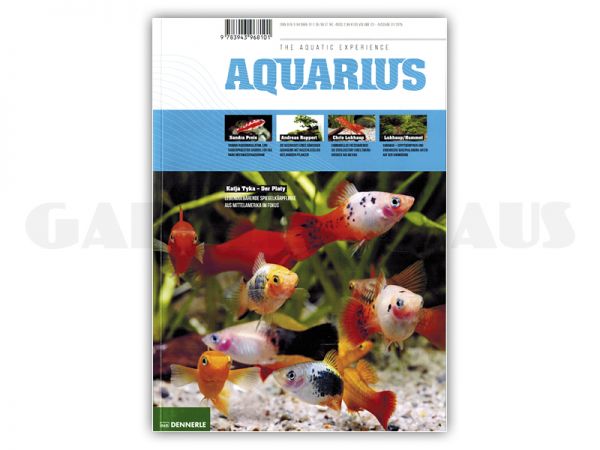 Aquarius No. 3 (in German)
Chris Lukhaup's aquarium magazine
the third issue
57 pages, 73 color photos
great articles from all parts of the aquarium hobby
Be inspired
Article in stock
Delivery time 1-3 business days*
P
on purchase receive

bonus points now**
Foreword: Chris Lukhaup Issue number three is right before you. This time we'd like to cast...
more
Dennerle
Aquarius No. 3 (in German)
Foreword: Chris Lukhaup

Issue number three is right before you.
This time we'd like to cast a light on those beautiful multi-colored platies. Katja Tyka has taken a close look at them and describes for us how these beautiful livebearers are kept and bred and how the different forms are best discerned.
Furthermore we'll tell you more about our Sarawak adventure. The Plantahunter Stefan Hummel and me took a plane to Borneo to search for different plants from the arum family. Especially the small plants of the genus Bucephalandra are causing an enormous run amongst the Internet community of planted tank keepers and amongst hard-core aquascapers at the moment. There is also no getting around the subject of nano tanks in this issue. We especially wanted to know whether crayfish can be kept in a nano tank, and at the same time we're going to give you in-depth information about the history of orange dwarf crays.
Of course, Sandra Preis forms a part of our team again and presents a nice marine nano tank inhabitat.
A bonsai paludarium is something really special, and Andreas Ruppert knows exactly how to present it.

Have fun and keep on rocking

Chris Lukhaup & Dennerle


Content
- Colorful platies
- Calm Carmona
- Cambarellus patzcuarensis
- Trimma rubromaculatum
- Borneo - the forgotten paradise
- The genus Bucephalandra
- The "SEVEN" Dennerle rules

Language: German
Pages: 57 (with 73 color photos)
ISBN: 978-3-943968-10-1
Article information
| | |
| --- | --- |
| Manufacturer | Dennerle |
| Article number | DEN-4930-3 |
| EAN number | 9783943968101 |
| Shipping weight | 0,5 kg |
Read product reviews and/or write your own review
Customer evaluation
Dennerle :: Aquarius No. 3 (in German)
Write an evaluation
Ratings will be released after a short checking.