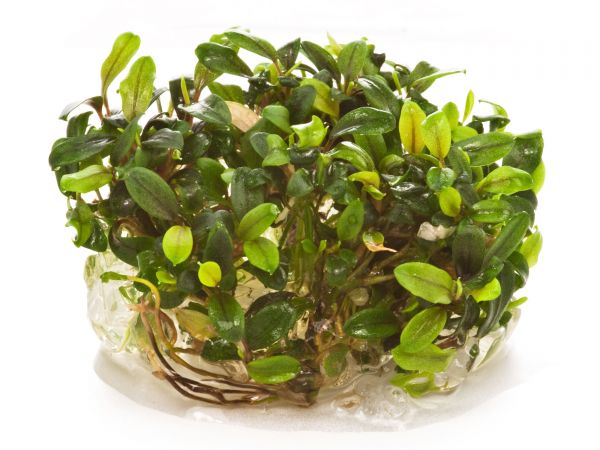 Bucephalandra sp. Mini Needle Leaf
Bucephalandra spec. "Mini Needle Leaf"
Sorry, the product is currently sold out!
We are working on, to get this item as soon as possible in stock again. Please check again soon.
especially small and slow-growing
rare beauty from Borneo
forms dense cushions by and by
grows on driftwood and rocks
Product currently sold out
P
on purchase receive

bonus points now**
The Dennerle Bucephalandra spec. "Mini Needle Leaf" (inVitro) is characterized by...
more
Dennerle
Bucephalandra sp. Mini Needle Leaf
The Dennerle Bucephalandra spec. "Mini Needle Leaf" (inVitro) is characterized by its beauty, small size and extremely slow growth, which makes it especially recommended for small aquariums and aquascapes.
The endemic genus Bucephalandra occurs only in Borneo and belongs just like the Cryptocorynen and Anubias to the arum family. It is a very robust aquarium plant with a creeping rhizome (rhizome) and is ideal for binding on root wood and stones.
The Dennerle Bucephalandra spec. "Mini Needle Leaf" comes as an inVitro potty and is therefore free from algae and snails. Simply rinse the nutrient solution in a bowl with water and you can set the Bucephalandra at the desired place in the aquarium. The Bucephalandra is never used in the substrate, but tied or glued on a solid base (e.g. wood or stone). Over time, it then grows firmly with adherent roots.
A Bucephalandra also grows at lower illuminance and nutrient supply (CO2), making it particularly suitable for shadow areas. It is not only suitable for this area, but also gets along well with a lot of light and then forms very beautiful and extraordinary colors. Special requirements for the fertilization has Bucephalandra spec. "Mini Needle Leaf" not.
Type: Plant with a rhizome
Origin: Borneo (endemic)
Growth: slow
Height: approx. 2 cm
Light: low
CO2 level: low
Article information
| | |
| --- | --- |
| Manufacturer | Dennerle |
| Article number | DEN-30267 |
| EAN number | 4260614760011 |
| Shipping weight | 0,1 kg |
Read product reviews and/or write your own review
Customer evaluation
Dennerle :: Bucephalandra sp. Mini Needle Leaf
Schöne Pflanze, wächst langsam.
Ich habe die Buce in einem 10l Nano-Cube von Dennerle mit dem dupla Plantfix (Sekundenkleber) auf Wurzelholz und Dragonstone aufgesetzt. Das Becken läuft jetzt seit Mitte Oktober 2019 (also etwa 4 Monate) und die Bucen sprießen in kleinen Büschen an den aufgesetzten Stellen. In dem Becken wird außer CO2 nichts weiter hinzu gegeben.

Als die Pflanze angekommen ist waren einige Blätter abgestorben im Becher, nach 3-4 Wochen hatten sich die Pflanzen bei mir bereits vollständig auf submerses Wachstum umgestellt und einen Haufen neue Blätter entwickelt.

Für mich die beste Aufsitzerpflanze in einem Nano Becken aufgrund der sehr kleinen Größe!
Für den stolzen Preis hatte ich mir mehr erhofft. Der Becher war undicht und mir suppte schon beim Auspacken etwas Nährlösung entgegen. Eigentlich ist man es ja gewohnt, dass auf den invitro Bechern noch eine Schutzfolie drauf ist, damit der Inhalt nicht konterminiert wird. Die Fehlte aber. Auch der Inhalt war wenig erfreulich. Ein wahrlich mickriges Portiönchen. :) Nächstes mal wieder 1-2 grow. Damit habe ich nur gute Erfahrungen gemacht.
Team Garnelenhaus
Answer from 8 Jul 2019
Hallo Damian,
wir finden natürlich sehr schade, dass dir die Buce nicht gefällt. Bei Dennerle ist grundsätzlich keine zusätzliche Schutzfolie auf den Bechern,hier könnte Dennerle in der Tat nachbessern, denn wie man in deinem Fall sieht, kann durch den Versand und entsprechender Belastung, Nährgel austreten. Wir haben uns eben die anderen Bucen angeschaut und die Portionen sind Bucephalandra sp. Mini Needle Leaf gerecht. Es ist eine recht kleinbleibende und langsam wachsende Pflanze, sodass hier der üppige Bewuchs von anderen Pflanzen im Becher nicht vergleichbar ist. Bei dieser Pflanze würde vermutlich auch Tropica keine vollen Becher liefern können.

Wir hoffen dass sie bei dir gut wächst und du viel Freude mit ihr hast.

Dein
Garnelenhaus-Team
Write an evaluation
Ratings will be released after a short checking.