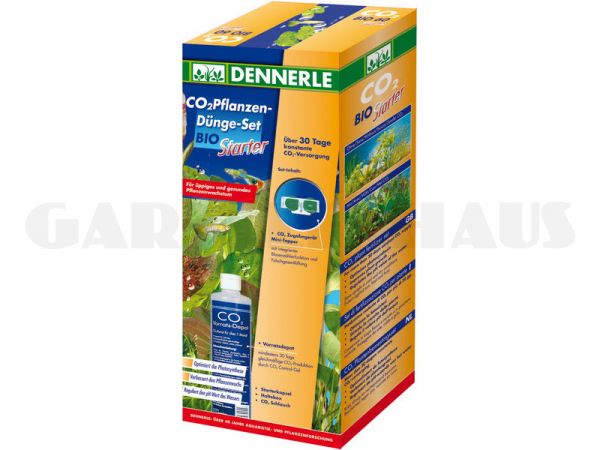 CO2 Bio 60 - Starter Set
Bio CO2 supply
easy and safe CO2 fertilization
fully autonomous CO2 production and addition
as easy and comfortable as it gets
suitable for aquaria with a volume of up to 60 liters
Article in stock
Delivery time 1-3 business days*
P
on purchase receive

bonus points now**
The easy, safe way to add CO2 to your aquarium: The production of CO2 and the additon of the...
more
Dennerle
CO2 Bio 60 - Starter Set
The easy, safe way to add CO2 to your aquarium:

The production of CO2 and the additon of the correct amount to your tank at all times run autonomously. There is no need to adjust or to measure anything - this is as easy and comfortable as CO2 addition can get. DENNERLE Bio CO2 is the perfect choice for all those who start fertilizing their tanks with CO2 or who just want to give this method a try.

After as little time as a few weeks after you start to fertilize your plants with CO2 you will see an improvement:
The plants grow much better, their colors intenisfy, and they look stronger and more vivid.
The entire aquarium appears to be much more alive.


The Bio 60 Starter Set for beginners consists of:
CO2 depot with CO2 Control Gel and a starter capsule
Mini Topper
holding box
CO2 hose

Suitable for tanks with a volume of up to 60 litres.
Article information
| | |
| --- | --- |
| Manufacturer | Dennerle |
| Article number | DEN-3007 |
| EAN number | 4001615030075 |
| Shipping weight | 0,36 kg |
Read product reviews and/or write your own review
Customer evaluation
Dennerle :: CO2 Bio 60 - Starter Set
3 Customer reviews
Allover 4,50 of 5 stars
3 reviews
Sharif M.
•
5 Jun 2020 • not verified
Bio CO2 Flaschen sind immer so eine Sache. Manchmal funktioniert es und manchmal nicht. Aber alles dabei deshalb gut.
Ralf W.
•
6 Mar 2020 • not verified
Da ich Anfänger auf dem Gebiet der Aquaristik bin , möchte ich natürlich erstmal klein anfangen und habe mich daher für dieses Set entschieden. Anders wie beschrieben hat es bei mir 5 Tage gedauert bis die Produktion einsetzte. Hatte mir daher nach drei Tagen schon extra Kapseln bestellt , die ich aber nun nicht mehr brauche. Wie geschrieben , ich bin Anfänger und kann daher nicht sagen , ob die Menge die dort Produziert wird auch ausreichend ist bzw. ob eventuell sogar zu wenig rauskommt. Ich werde also sehen wie sich das Pflanzenwachstum im Becken entwickelt. ... Alles in allem würde ich es aber jedem , der neu auf dem Gebiet ist und reinschnuppern möchte , empfehlen , bevor man zu teuren Anlagen greift um hinterher vielleicht festzustellen , das es doch nicht das wahre ist. .... Würde mir es daher auch jederzeit wiederkaufen.
Claudia B.
•
29 Dec 2015 • not verified
Sehr einfach in der Handhabung, funktioniert wirklich gut. Meine Pflanzen wachsen prima!
Write an evaluation
Ratings will be released after a short checking.