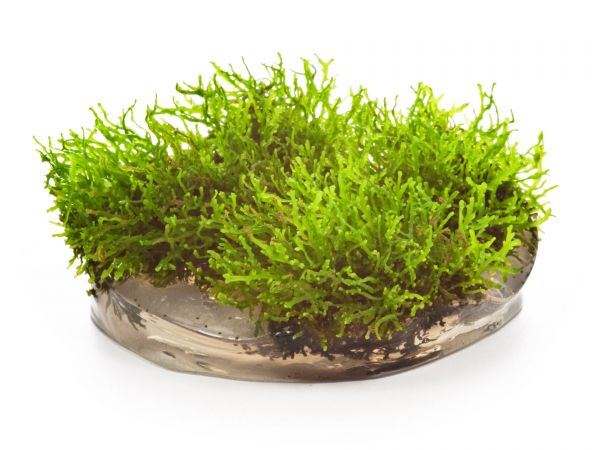 Coral Moss inVitro
Riccardia chamedryfolia
highly popular, small moss
perfect also for nano tanks
easy to care for, undemanding
flat growth habit, slow growth
Article in stock
Delivery time 1-3 business days*
Quantity
Unit price
Saving
to

2 pcs.

9.95 €

from

3 pcs.

8.95 €

10%

-1.00 €/pcs.

from

8 pcs.

8.46 €

14%

-1.49 €/pcs.
P
on purchase receive

bonus points now**
The Dennerle Coral moss Riccardia chamedryfolia (inVitro) is a very noble, dark green and...
more
Dennerle
Coral Moss inVitro
The Dennerle Coral moss Riccardia chamedryfolia (inVitro) is a very noble, dark green and slowly growing moss, which hardly grows in height. The Coral Moss Riccardia chamedryfolia makes beautiful flat rugs on stones or drift wood.
Shrimp love it and for the offspring it is an perfect playground in which they can let off steam. By the way, they are also safe from overly curious flatmates who like to feed them. There is a lot of nutritious food in the Coral Moss and it is a great playground for young and old. We think moss should not be missing in any shrimp aquarium.
Especially in a natural aquarium or aquascape, a drift wood planted with Riccardia chamedryfolia makes itself very good and evolves in the course of time to a real eye-catcher ... The Coral Moss is quite undemanding, grows slowly and also comes out with little light.
The Dennerle Riccardia chamedryfolia Coral Moss comes as an inVitro potty and is therefore free from algae and snails. Simply rinse the nutrient solution in a bowl with water and you can set the Coral Moss at the desired place in the aquarium. However, the Coral Moss is never used in the substrate, but on a solid surface (e.g. wood or stone) tied or glued. Over time, it then grows tight with the smallest adherent roots.
Article information
| | |
| --- | --- |
| Manufacturer | Dennerle |
| Article number | DEN-30269 |
| EAN number | 4260614760035 |
| Shipping weight | 0,1 kg |
Read product reviews and/or write your own review
Customer evaluation
Dennerle :: Coral Moss inVitro
9 Customer reviews
Allover 4,39 of 5 stars
9 reviews
Paul
•
29 Oct 2022 • not verified
Das bisschen Moos, das geliefert wurde schaut gut aus. Allerdings grenzt die Menge des Moos die Dennerle in dem Behälter packt wirklich an Frechheit. Maximal 1/4 Volumen des Behälters. Das bin ich von 1-2-grow anders gewohnt.
Elke W.
•
16 Aug 2021 • not verified
Sehr schönes Moos muss nur noch wachsen(Schnecken frei)!!!!!
Sven B.
•
12 Mar 2020 • not verified
Schönes Aufsitzermoos, wächst sehr langsam.
Frank Judersleben
•
13 Feb 2020 • not verified
Das Moos wurde schnell geliefert und gedeiht als Aufsetzer für Wurzel, Stein und Kokosnuss in verschiedenen Becken sehr gut.
Louisa v.
•
14 Jan 2020 • not verified
Super Qualität, keine braunen Stellen. Für einenversehentlich zu wenig gelieferten Topf wurde sofort der Preis erstattet. Top.
Jérôme A.
•
14 Jun 2018 • not verified
Wie beschrieben, keine Algen, alles tip top.
Paul S.
•
26 Apr 2018 • not verified
2 Stück bestellt. Schnell geliefert, beide gleichmäßig mit Moos bewachsen. Leider hatte das eine eine braune/dunkle stelle. Ansonsten alles super. Mal sehen wie es sich entwickelt, da es mit Schnur im Wasser aufgehängt wurde.
Vanessa K.
•
15 Jul 2017 • not verified
Sehr schönes Moos, sieht wirklich aus wie Korallen
leider hat eins einen kleinen schwarzen Fleck ansonsten gute Qualität
Nadine G.
•
16 Aug 2016 • not verified
Sehr hübsches, flaches dunkelgrünes Moos. Die Form erinnert wirklich stark an Korallen. Das Metallgitter kann ohne Weiteres nicht zerteilt werden, vermutlich würde sich dann auch ein Großteil des Mooses auflösen, also am besten genauso lassen und einsetzen. Die Garnelen haben es auf jeden Fall gleich ins Herz geschlossen ;)
Write an evaluation
Ratings will be released after a short checking.