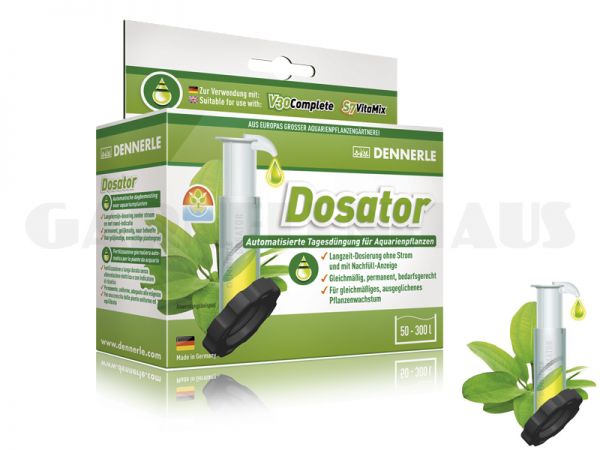 Dosator
Automatic daily ferilization
no electricity required
extremely simple fertilizer dispension
keeps the nutrient level constant
for Dennerle V30 and S7
Article in stock
Delivery time 1-3 business days*
P
on purchase receive

bonus points now
Aquarium plants need a constant nutrient supply for good healthy growth. Usually, aquaria are...
more
Aquarium plants need a constant nutrient supply for good healthy growth. Usually, aquaria are fertilized according to the principle of stock fertilization - at regular intervals, a larger amount of fertilizer is dispensed (e.g. after the weekly water change).

With the help of the Dennerle Dosator you can supply your aquarium plants with nutrients as nature does it: They are provided a small yet constant amount of the substances they need.

Advantages
• Permanent unchanging nutrient supply as in nature
• more balanced plant growth
• prevents algae due to low but constant nutrient levels
• optimal fertilization in the easiest possible way
• reliable function - no movable parts, no electricity required (instead of a dosing pump)
• much better-priced than an electrical dispensing pump
• made of high-quality durable plastic
• developed and manufactured in Germany

The Dosator has especially been fine-tuned to the Dennerle fertilizers V30 Complete and S7 VitaMix vital substances. V30 is automatically dosed for 4 weeks, S7 for 1 week.

The Dennerle Dosator is made of high-quality durable plastic and works like a reverse osmosis plant. The semi-permeable special membrane leads aquarium water into the storage container that in turn forces the nutrient solution into the tank drop by drop through a riser pipe. This has two effects: first, the aquarium gets exactly the amount of fertilizer it requires, and second, the Dosator shows you exactly how much fertilizer it contains. As water permeates into the container, forcing fertilizer into the tank, the fertilizer-water-mixture contained in the Dosator becomes more and more transparent and colorless. When the liquid in the container starts losing color (S7 orange, V30 yellowish-green) you know it's time for a refill.

Aquarium plants do very well when supplied with a permanent constant nutrient supply as they "know" from nature. Their healthy balanced growth will make your aquarium sparkle in a lush, intense green. The disadvantages in connection with stock fertilization are a thing of the past now! And even better: The overall lower nutrient concentration and the nutrient supply that is tailored exactly to the plants' needs act efficiently against the formation of algae.

The Dosator has been developed for the use with V30 Complete and S7 VitaMix, within the framework of the Dennerle fertilizing system: V30 is automatically dispensed for a period of 4 weeks, S7 for a period of 1 week (you'll need 2 Dosators if you want to add both fertilizers at the same time). The innovative fertilizer dispenser is made of high-quality durable plastic and is sufficient for aquaria with a volume of 50 to 300 litres.

The Dosator is also suitable for fertilization with V30 only and will safeguard a balanced dispension of the fertilizer drop by drop over an entire month.

As the Dosator works according the physical principle of osmosis alone it does not contain any movable parts, needs no batteries or a plug (as an electrical dosage pump/fertilizer dispenser would). It works very safely and economically. It also has great advantages compared to a daily fertilizer as you only have to dose fertilizer once a week (for S7) or once a month (V30).
Article information
| | |
| --- | --- |
| Manufacturer | Dennerle |
| Article number | DEN-4585 |
| EAN number | 4001615045857 |
| Shipping weight | 0,08 kg |
Read product reviews and/or write your own review
Customer evaluation
Dennerle :: Dosator
Write an evaluation
Ratings will be released after a short checking.