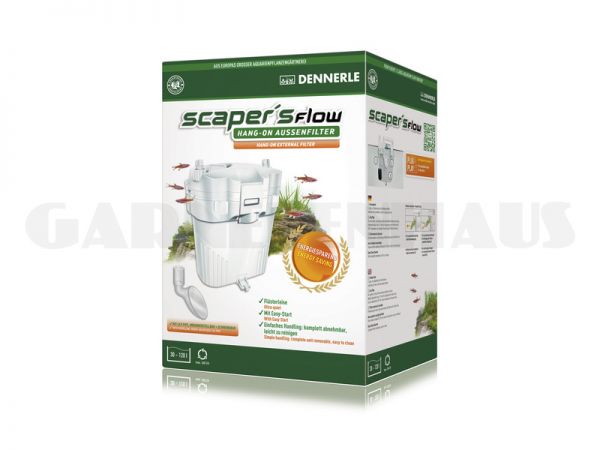 Scapers Flow - HangOn-Filter, white
Aquarium filters
compact external hang-on filter
with movable Lily Pipe
very silent
filter material included
Article in stock
Delivery time 1-3 business days*
P
on purchase receive

bonus points now**
External hang-on filter • with movable Lily Pipe also adjustable in height: -...
more
Dennerle
Scapers Flow - HangOn-Filter, white
External hang-on filter

• with movable Lily Pipe also adjustable in height:
- adjustable in height (max. 10 mm) for adapting to the water level
- can be moved by 180° for ideal current positioning
• very silent
• Easy-Clean System: completely removable, easy to clean
• filter material included, pre-filter sponge, high-performance biological filter medium and fine filtering pad

The newly developed Lily Pipe fulfills all your demands!
It can be moved flexibly by 180° and enables you to aim your filter current precisely. Moreover, its height can be adjusted (max. 10 mm) to adapt your filter outlet to the water level.

Day position: If the filter is positioned in the lower catch, the outflow of the Lily Pipe is enirely under water. Thanks to its V shape, the Lily Pipe creates a natural, soft current that is friendly to the plants, and makes a moderate gas exchange possible. The CO2 the plants require is not expelled in high rates.

Night position: If you lift the filter up to the upper catch, the Lily Pipe is not totally submerged and creates a small swirl that removes possible residue film from the water surface and brings additional oxygen into the water.


Technical data
for aquaria with a size of: 30 - 120 Liter
pump performance: max. 360 l/h
output: 5,6 Watt
Article information
| | |
| --- | --- |
| Manufacturer | Dennerle |
| Article number | DEN-5790 |
| EAN number | 4001615057904 |
| Shipping weight | 1,75 kg |
Read product reviews and/or write your own review
Customer evaluation
Dennerle :: Scapers Flow - HangOn-Filter, white
2 Customer reviews
Allover 3,00 of 5 stars
2 reviews
Jonathan T.
•
15 Aug 2020 • not verified
Guter Filter aber zu laut.
Mein Filter hat seltsam geklackert, da half auch kein schütteln, um die letzte Luft heraus zu bekommen, war wohl ein Fehler.
Den Kundenservice vom Garnelenhaus würde ich aber mit 10/10 bewerten, die Rücksendung war äußerst problemlos und das Geld war schnell wieder auf meinem Konto. Klasse!
Harald B.
•
4 May 2016 • not verified
bin super zufrieden mit dem Filter er ist super leise, gut zu reinigen und hat eine gute Strömung. Sehr schön auch das verstellen des Wasserauslass
1a
Write an evaluation
Ratings will be released after a short checking.