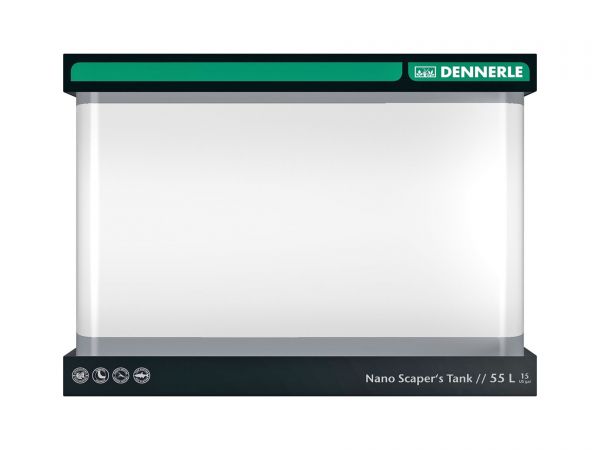 Scapers Tank, 55 liters
Basic Aquarium Set
Aquarium with panoramic glass
dimensions leave lots of room for creativity
with cover glass and holders
ideal for dwarf shrimp and nano fish
Article in stock
Delivery time 1-3 business days*
P
on purchase receive

bonus points now**
The Dennerle Scapers Tank, 55 Liters Aquarium is the perfect basic tank for beginning and...
more
Dennerle
Scapers Tank, 55 liters
The Dennerle Scapers Tank, 55 Liters Aquarium is the perfect basic tank for beginning and experienced aquarium enthusiasts who appreciate a well-thought-through, easy aquascaping system. Its great depth in relation to its width leaves lots of room for your scaping ideas and for the creation of a sense of depth.

• Aquarium 45 x 36 x 34 cm (WxDxH)
• Glass thickness: 5 mm
• Panoramic front (with rounded corners)
• Great sense of depth thanks to the relatively low tank
• isolating safety pad
• with cover glass and holders
Article information
| | |
| --- | --- |
| Manufacturer | Dennerle |
| Article number | DEN-5593 |
| EAN number | 4001615055931 |
| Shipping weight | 11 kg |
Read product reviews and/or write your own review
Customer evaluation
Dennerle :: Scapers Tank, 55 liters
Matthias P.
•
17 Sep 2021
Super schneller Versand und eine perfekte Verpackung. Immer gerne wieder!
Gleich vorweg: Das Garnelenhaus kann überhaupt nichts dafür - das Problem liegt bei Dennerle!
Das Garnelenhaus ist bisher mit großem Abstand der freundlichste, unkomplizierteste und kulanteste Händler, bei dem ich jemals bestellt habe!
Ich habe auch das große Glück "um die Ecke" zu wohnen und die Bestellungen selber abholen zu können! Freundliche Beratung und kurzer, netter Klönschnack (alles corona-konform!) inklusive!

Wo ist bloß die Dennere-Qualität geblieben?
Insgesamt waren bei mir von 7 von 7 dieser Becken (hier und bei einem anderen Anbieter) beschädigt (Kratzer/Abplatzer im Glas - von innen) oder schlecht verklebt bis hin zur Undichtigkeit.
In dieser Preisklasse und bei diesem Hersteller darf maneigentlich eine einwandfreie Verarbeitung und Qualität erwarten!
Letztendlich habe ich das Becken mit den "unauffälligsten" Kratzern genommen, weil ich zu hause Glasbruch hatte und genau dieses Aquarium dringend wieder brauchte.

Für mich war das definitiv das letzte Dennerle-Becken!
Ich gebe trotzdem noch eine relativ gute Bewertung, weil ich die Maße dieses Scapers-Tank genial finde!

Vielen Dank nochmal an die Garnelenhäusler für die unkomplizierte, kulante Lösung!
Bei euch kaufe ich sehr gerne wieder!
Schnelle Lieferung. Alles heile angekommen. Gerne wieder
Write an evaluation
Ratings will be released after a short checking.