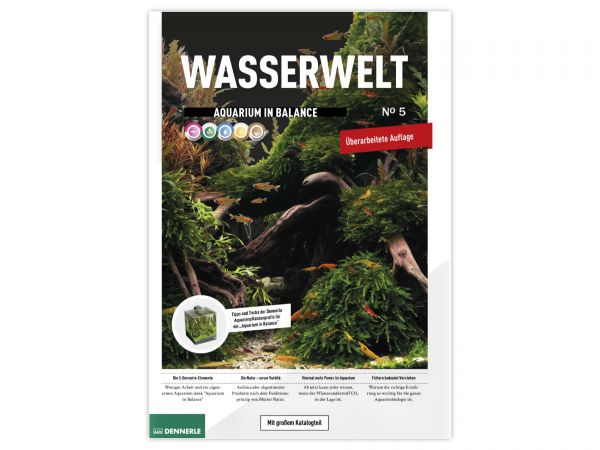 Wasserwelt No. 5
Magazine and article catalog
lots of interesting tips & information
from the Dennerle product assortment
with 132 pages, illustrated in color
available ONLY in German language
Article in stock
Delivery time 1-3 business days*
P
on purchase receive

bonus points now**
Dennerle Wasserwelt No. 5 - Aquarium in Balance magazine and catalog combined in one work. The...
more
Dennerle Wasserwelt No. 5 - Aquarium in Balance magazine and catalog combined in one work. The new and revised edition of the Dennerle Wasserwelt magazine is the successor to the silver book "Der große Dennerle Ratgeber" and a richly illustrated explanation of the way in which Dennerle understands and operates aquaristics. Admittedly: We have looked at Mother Nature for the last 50 years and, with "Aquarium in Balance", we have developed a system that enables natural processes in the aquarium to be recreated easily.
The magazine / catalog Dennerle Wasserwelt No. 5 contains a lot of useful information about the aquarium hobby and is certainly great reading not only for beginners.
Content (the magazine ist available ONLY in German language)
• Aquarium in Balance
• 9 gute Gründe für ein Aquarium
• Die Dennerle Qualität und die soziale Verantwortung
• Lebenselement Wasser
• All in One! Elexier
• Heilmittel aus der Natur
• Der Quantensprung in der Fischernährung
• Guppy - Der Millionenfisch
• Der ungekrönte König der Aquaristik, der Diskus
• Anfängerguide Garnelenhaltung
• Codename COP - der Patzcuaro Zwergkrebs
• Lust auf Grün
• Natürlich Aquascaper! Einer der aktuellsten Trends in der Aquaristik
• Die Bepflanzung eines Aquariums
• Kiese aus der Welt
• Pflanzen brauchen Nährstoffe
• Der gute Geist aus der Flasche
• Die Geschichte des Dosators
• Kinderaquarien
• Schönere Unterwasserwelten mit dem richtigen Licht
• CO2 - der Stoff aus dem die Pflanzen sind
• Algen - die heimlichen Wohltäter
• Aquarium Mythbuster
Plus various other items from the Dennerle product world, such as Nano Cubes & Scapers Tank, Nano Cube technology & accessories, Shrimp King, fish food, water care, water treatment, fluorescent tubes & LEDs, plant care & fertilization and much more.
Dennerle Wasserwelt No.5 - Aquarium in Balance (revised edition)
132 pages with many color photos
Language: German
Article information
| | |
| --- | --- |
| Manufacturer | Dennerle |
| Article number | GH-2001618 |
| EAN number | 4001615028256 |
| Shipping weight | 0,6 kg |
Read product reviews and/or write your own review
Customer evaluation
Dennerle :: Wasserwelt No. 5
Write an evaluation
Ratings will be released after a short checking.