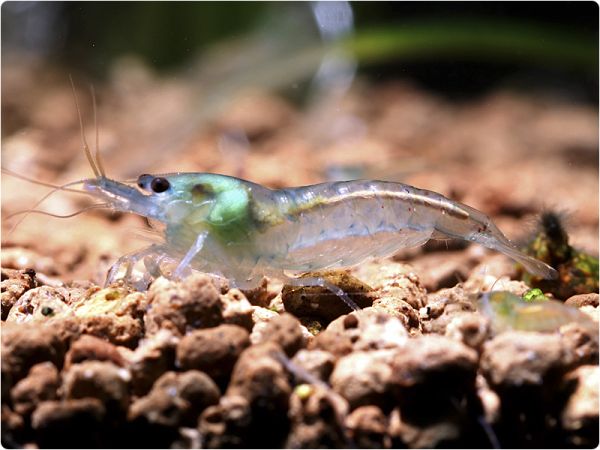 Blue Pearl shrimp
Neocaridina palmata var. blue
Sorry, the product is currently sold out!
We are working on, to get this item as soon as possible in stock again. Please check again soon.
beautiful ice-blue color morph
easy to keep
robust, popular with beginning shrimpkeepers
suitable for nano aquaria
Product currently sold out
Quantity
Unit price
Saving
to

9 pcs.

2.90 €

from

10 pcs.

2.61 €

10%

-0.29 €/pcs.
P
on purchase receive

bonus points now**
The Blue Pearl dwarf shrimp is a blueish variant of the White Pearl shrimp (Neocaridina...
more
Garnelenhaus
Blue Pearl shrimp
The Blue Pearl dwarf shrimp is a blueish variant of the White Pearl shrimp (Neocaridina palmata). In nature, Neocaridina shrimp are distributed in China, Taiwan and Korea in small streams, ponds and flooded grassland and reedy areas near those waters.
Their basic body color is transparent to slightly milky with a beautiful light ice blue sheen, which sometimes even can turn into turquoise hues. All in all, the females are of a better color quality than the males, as is so often the case in Neocaridina shrimp.

The Blue Pearl dwarf shrimp (Neocaridina palmata var. blue pearl), like most freshwater shrimp, is an omnivore and will eat just about any food. The species is very peaceful and undemanding, other aquarium inhabitants have nothing to fear from them. You can easily keep them together with fish that do not predate on shrimp.

Blue Pearl shrimp do not have any special requirements regarding the aquarium decoration ... here you can use your imagination freely. The shrimp are happy with a little moss and driftwood ... and if there are some hiding-places like tubes or brown autumn leaves (oak or beech) in the tank, your Blue Pearl shrimp will have everything they need.
When Blue Pearl shrimp have adapted to their environment and when they are happy, the females will relase up to 30 almost fully developed shrimplets every 5 to 6 weeks. In well-planted tanks with lots of places to hide, some of the young shrimp will even grow up in the presence of fish. At first, the blue color is hardly visible, but it will intensify when the shrimp grows older. A small percentage of the offspring may be of a somewhat weaker color.
Our practical experience has shown that this number of surviving shrimp offspring is only realistic under the most optimal conditions. Usually, the shrimp will get berried every two to three months or so, and not all offspring will reach adulthood. Overpopulated Blue Pearl shrimp tanks are thus not really a problem.


Our tip for keeping Blue Pearl shrimp!
Blue Pearl shrimp feel the happiest when the pH is between 7.0 and 7.5, a total hardness of 5 -10° dGH (German hardness) and a carbonate hardness of 2 - 6° dKH (German hardness). The temperature should be between 18 and 24 ° C ... varied food (predominantly of vegetable origin, and frozen food fed sparingly) contributes to heathly, vital, happy shrimp.

(✔) bred by us
( ) bred in Germany
( ) bred internationally
( ) collected from nature
Data and water parameters
Size
up to 3 cm
Age
up to 2 years
Behaviour
very peaceful
Temperature
16 - 28 °C
pH
6.0 - 8.0
Total hardness
up to 20° dGh
Carbonate hardness
up to 14° dKh
Food
omnivore
Article information
| | |
| --- | --- |
| Manufacturer | Garnelenhaus |
| Article number | WP-K4 |
| EAN number | 80003700 |
| Shipping weight | 0,15 kg |
Read product reviews and/or write your own review
Customer evaluation
Garnelenhaus :: Blue Pearl shrimp
7 Customer reviews
Allover 4,21 of 5 stars
7 reviews
Sebastian R.
•
19 Sep 2023 • not verified
Robuste Art, gut verträglich mit anderen Garnelen.
Bea F.
•
4 Sep 2023 • not verified
Wir holten vor ca drei Wochen unsere Gruppe vor Ort ab. Tolle Vorbereitung der Mitarbeiter und sehr freundlicher Service! Dreifach verpackt in Transporttüten beförderten wir die Tierchen im Styroporkarton nach Hause. Nach 2,5-stündiger Umgewöhnung auf unser Aquariummilieu erkundeten alle Tierchen jeden Winkel des neuen Zuhauses und waren von Anfang an quietschfidel. Die Farben sind bei unseren Exemplaren genau wie beschrieben. Sie gehen bei den meisten Tierchen klar ins Türkise, was wir meeega hübsch finden und uns auch so erhofft hatten. Sehr friedlich auch der Umgang mit unseren anderen Arten. Wir sind rundum glücklich mit den quirligen Kerlchen. Herzlichen Dank.
Roland
•
8 Aug 2023 • not verified
Die Lieferung der Tiere war schnell und die Verpackung sehr gut. Da gab es überhaupt nix zu meckern.
Was ich aber etwas bemängeln muss ist die Farbe. Die Garnelen waren eher braun-grau bis durchsichtig. Einen blauen Schimmer konnte ich nur an einem Tier erkennen. Dafür waren dann wieder statt 15 bestellte Tiere, 16 Stück in der Verpackung. Daher gab es Punkte Abzug in der Bewertung.
Team Garnelenhaus
Answer from 9 Aug 2023
Moin Roland,
die Blue Pearl Garnelen können ihre Farbe durch den Versandstress und die neue Umgebung leider komplett verlieren und sie erscheinen genau wie Du beschreibst, eher braun-grau. Erst nach einiger Zeit, wenn sie sich gut eingelebt haben, kommt die Farbe zurück. Bitte hab noch etwas Geduld, sie zeigen sich sicher bald auch bei Dir in ihrem gewohnten Blau.

Wir wünschen Dir allzeit viel Freude mit Deinen neuen Bewohnern.

Beste Grüße
Garnelenhaus
Katarina C.
•
3 Aug 2021 • not verified
Schöne Tiere, haben sich schnell eingelebt und eine bekommt sogar junges
deSIRe
•
28 Jul 2021 • not verified
Schöne Garnelen, haben sich schnell eingelebt. Alles bestens
Luisa
•
16 Nov 2020 • not verified
Hübsche Tiere, etwas klein, weniger gefärbt als erhofft und hier abgebildet, sind aber alle gesund und haben sich schnell eingelebt.
Verena F.
•
30 Nov 2015 • not verified
Muntere Tiere, die sich schnell eingelebt haben. Etwas blasser, als gewünscht, aber sonst ok.
Write an evaluation
Ratings will be released after a short checking.