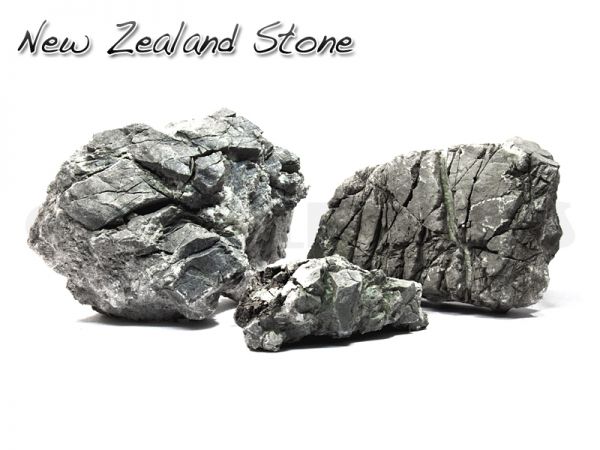 New Zealand Stone, 2 kg
Decoration/natural rock
very natural appearance
ideal for creating aquascapes
nicely structured surface
Article in stock
Delivery time 1-3 business days*
P
on purchase receive

bonus points now**
Very nice, rare stone, usually light to dark grey, whose variable yet natural appearnce makes it...
more
GH-GOODS
New Zealand Stone, 2 kg
Very nice, rare stone, usually light to dark grey, whose variable yet natural appearnce makes it a great choice for nature aquaria.

Price per 2 kg of New Zealand Stone

Please note
New Zealand Stone is unfortunately only available in relatively large pieces of around 15 – 40 cm. One rock weighs around 2 kg as a minimum, and for this reason it is not possible to order a lesser amount. We will do our utmost to mix the sizes for orders of several kilograms (starting at 8 kg). If you prefer to have a certain size of rock, or certain dimensions, for example for your main stone, please make a note in the comments box when going to the checkout counter. Please understand if we cannot give you a piece with exactly the dimensions you want, but we will do our very best to come close.

Layout on demand?
Unfortunately we only have 24 hours per day, and our limited time does not allow us to arrange a complete hardscape layout for you. Searching for the right stones among 1000 kg of rock, assembling them and taking a photo, re-arranging them two or three times or replacing one or the other piece of rock, taking anoter photo to meet the customer's demand is an almost impossible thing to do. We hope you understand ... ;o)
Article information
| | |
| --- | --- |
| Manufacturer | GH-GOODS |
| Article number | NST-NZEA |
| EAN number | 4260361270375 |
| Content | 2 kg |
| Shipping weight | 2,1 kg |
Read product reviews and/or write your own review
Customer evaluation
GH-GOODS :: New Zealand Stone, 2 kg
Hab nur 2 Kilo genommen. Einen Stein erhalte. Der war für das Mini m perfekt. Werde mehr bestellen für das nächste scape.
Klasse Steine, genau was ich gesucht habe. Auf meine Wünsche wurde präzise eingegangen, genial!
Great looking stones, and I love having a piece of New Zealand in my aquarium!
Kann mich nur anschließen. Wunderschöne Steine, auf Kundwunsch zwecks Größe und Form wurde präzise eingegangen. Besten Dank :)
Wunderschöne Steine erhalten, wobei auf mein Wunsch eingegangen wurde. Die Steine härten das Wasser tatsächlich nicht messbar auf. Danke an das Garnelenhaus Team für diese Klasse Steine!
Write an evaluation
Ratings will be released after a short checking.