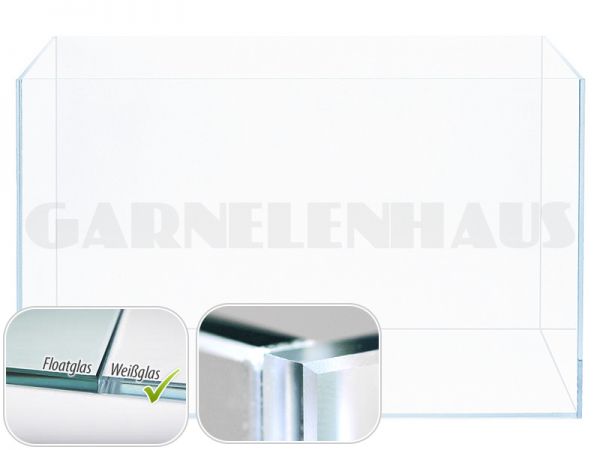 Aquarium Clear, 90 x 45 x 45 cm
Open-topped low-iron glass tank, Nature Aquarium
made of high-quality low-iron glass
braceless for optimal set-up and maintenance work
professional transparent seams
makes your aquascape look radiant
Only on order
Delivery time 10-12 Weeks
Prices incl. VAT plus shipping
separate shipping by Forwarder (119,- €)
P
on purchase receive

bonus points now**
Low-iron glass aquaria let their inhabitants and decoration stand out even more beautifully as...
more
GlasGarten
Aquarium Clear, 90 x 45 x 45 cm
Low-iron glass aquaria let their inhabitants and decoration stand out even more beautifully as the green tint of standard float glass is absent in low-iron glass.

Our GlasGarten series consists of hand-made aquaria in the highest quality segment, made in Germany. After years of uncompromising development, they meet the requirements of the best aquascapers worldwide.

The very intricate, highly sophisticated manufacturing method makes the GlasGarten tanks special. Standard tanks can not hold a candle to them, and they are highly popular with professional aquascapers. The high-quality materials, the professional production methods and the utmost diligence in manufacturing have resulted in a product that will truly impress you.

No braces along the top, which would impede the feel of the layout so you can enjoy its full beauty.

Dimensions (L x W x H): 90 x 45 x 45 cm
Glass thickness: 8 mm
Material: high-quality low-iron
Polished edges
Transparent seams
Shipping costs / delivery time
Due to its size, this aquarium cannot be shipped by parcel service, but needs to be transported by a forwarding agent, directly and separately. The shipping costs are 119,- Euro (within Germany), and they are payable independently from your total order amount or shipping costs that may arise for other articles you order from us. The time allowed for delivery is around 4-5 weeks after receipt of your order/payment.

Can I pick this up in your shop?
The "Available Quantity" shown above is the stock in our store.
Dieses Aquarium wird nach Bestellung exklusiv für Dich gefertigt und kann aufgrund der Größe dann nur direkt und separat vom Aquarienbauer per Spedition versendet werden. Die o.g. Versandkosten verstehen sich pro Aquarium und die Lieferzeit ab Bestellung beträgt ca. 4 - 5 Wochen. Bestellst Du ggf. weitere Artikel zusammen mit dem Aquarium, versenden wir diese natürlich unabhängig davon ganz normal von unserem Lager aus mit DHL.
Article information
| | |
| --- | --- |
| Manufacturer | GlasGarten |
| Article number | GGC-904545 |
| EAN number | 90010064 |
| Shipping weight | 32 kg |
Read product reviews and/or write your own review
Customer evaluation
GlasGarten :: Aquarium Clear, 90 x 45 x 45 cm
Großartiges Aquarium... sehr sauber und exakt gefertig
Auch nach zwei Jahren noch so wunderschön wie am ersten Tag. Perfekt verarbeitet, sicher geliefert.
Write an evaluation
Ratings will be released after a short checking.