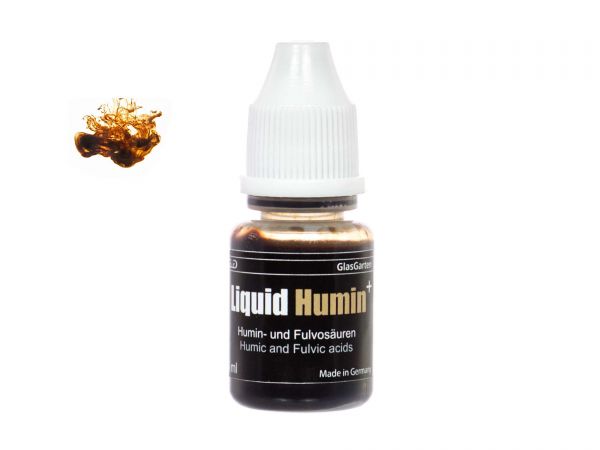 Liquid Humin+, free sample bottle
Water Conditioner
for important humic and fulvic acids
enhances vitality and well-being
for regular treatment or quarantine
Note: Only 1 bottle per order
Article in stock
Delivery time 1-3 business days*
Note on the delivery quantity! Please understand that we can only add one free sample bottle...
more
GlasGarten
Liquid Humin+, free sample bottle
Note on the delivery quantity!
Please understand that we can only add one free sample bottle to each order.
This also applies if you selected more of the desired quantity above ... thank you ;o)
GlasGarten Liquid Humin+ adds important humic and fulvic acids to your aquarium and thus creates species-appropriate conditions for your aquarium inhabitants.
Humins are present in almost every natural river/creek, and you find them in especially high concentrations in the natural habitats of pet shrimp and ornamental fish.

Humins can increase the vitality, color intensity and well-being of your aquarium animals, they may increase the reproductive rates, improve the survival rates of the offspring and enhance growth. Humins boost the immune system of the aquarium inhabitants and increase the stability of the biological system. They inhibit algal growth and the development of germs, bind to noxious substances and have the potential to prevent diseases and fungal infections. Moreover, humins stabilize the pH and protect your aquarium water from a dangerous acid drop.

Dosage for normal care
Approx. 3 to 7 drops per week (corresponds to approx. 0.3 to 0.7 ml) per 10 liters of aquarium water.

Dosage in case of problems, for quarantine baths or black water lovers
Approx. 10 to 20 drops (corresponds to approx. 1 to 2 ml) in 10 liters of aquarium water; replenish weekly if necessary.

Content - Sample bottel
Approx. 6 ml (sufficient for approx. 100 l with normal care dosage)
Article information
| | |
| --- | --- |
| Manufacturer | GlasGarten |
| Article number | GG-LHP-PP |
| Content | 0.006 l |
| Shipping weight | 0,05 kg |
Read product reviews and/or write your own review
Customer evaluation
GlasGarten :: Liquid Humin+, free sample bottle
10 Customer reviews
Allover 4,55 of 5 stars
10 reviews
Alina W.
•
21 Mar 2023 • not verified
Sehr ergiebig, tut was es soll.
Mr. T.
•
10 Mar 2023 • not verified
Gelungene alternative zu diversen Naturprodukten .

Andre S.
•
13 Jul 2020 • not verified
Klasse Produkt. Den Garnelen gehts super und auch das Algenwachstum hat nachgelassen.
Stefan S.
•
25 May 2020 • not verified
Bin noch am testen - positiv ist einmal das die anfängliche Färbung nachlässt . Die Garnelen sind fit - Huminstoffe sind immer willkommen in Garnelenbecken - ja ,ein interessantes Produkt
Philipp P.
•
16 May 2020 • not verified
Ansich gut nur lässt die Färbung des Wassers recht schnell nach. Für den Schwarzwassereffekt werde ich dann doch eher das powder probieren
Bernhard E.
•
19 Apr 2016 • not verified
Meine Amazonas Chichliden wie z.B. Papageienbuntbarsche reagieren mit erhöhtem Balzverhalten und ausgeprägter Farbenpracht.


Tommy B.
•
14 Apr 2016 • not verified
super produkt und das noch gratis danke nochmals
Mehmet B.
•
11 Apr 2016 • not verified
An sich absolut empfehlenswert.
1 Stern Abzug, weil sich die gewollte Färbung bei mir nicht hält. Nach 2 Tagen habe ich wieder kristallklares, nicht getrübtes Wasser. [ADA New Amazonia Soil, pH:6, GH: 5.5, KH: 0]
Habe 2 ml auf 15l. dosiert.
Fische und Garnelen reagieren sehr positiv auf das Schwarzwasser!

Kleine Frage: ist das Produkt identisch mit dem Salty Shrimp black water powder?

Hallo Mehmet,
ja, ein Soil-Bodengrund zieht recht schnell die Färbung aus dem Wasser, das ist bei allen Huminstoffpräparaten so und liegt an der riesigen Oberfläche die ein Soil hat. Die Wirkung ist trotzdem gegeben, man kann aber auch bei Bedarf etwas höher dosieren.
Das Liquid Humin+ ist nicht identisch zu dem Black Water Powder, aber ähnlich.

Grüße
Carsten
Jens K.
•
3 Apr 2016 • not verified
Top Produkt. Tolle Optik, da Wasser nicht trüb, sondern "schwarz" wird. Einzig und allein - und deshalb nur 4 Sterne - die Dosierung ist schwer. Die Dosierhilfe ist nicht gut geeignet um einzelne Tropfen zu dosieren.



Antwort vom GARNELENHAUS

Hallo Jens,
hier handelt es sich lediglich um eine Probeflasche, bei der leider das Tropfverhalten nicht optimal ist, da hast Du Recht... bei den späteren Flaschen wird dies auf jeden Fall deutlich besser sein und sich Tropfen einwandfrei dosieren lassen.

Grüße
Frank Logemann
Florian G.
•
29 Mar 2016 • not verified
Die Garnelen verhalten sich entspannter und wer Blackwater mag kann leicht überdosieren :)
Schönes Produkt
Write an evaluation
Ratings will be released after a short checking.