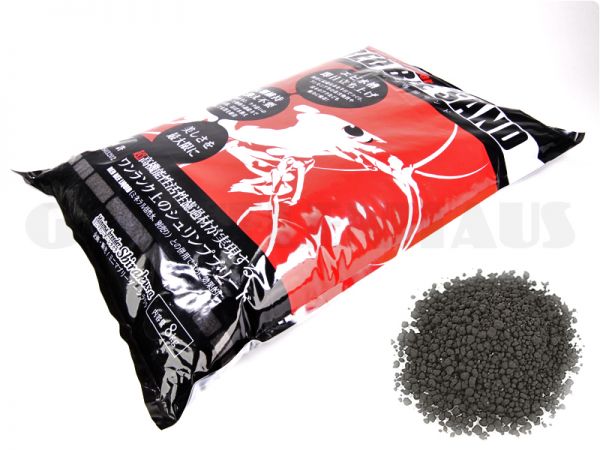 Red Bee Sand, 8 kg
Active natural soil
the substrate for all Bee shrimp
lowers and stabilizes the pH naturally
natural black-brown appearance
makes the water crystal-clear
Article in stock
Delivery time 1-3 business days*
Quantity
Unit price
Saving
to

2 pcs.

36.95 €

(4.62 €/kg)

from

3 pcs.

35.10 €

(4.39 €/kg)

5%

-1.85 €/pcs.
P
on purchase receive

bonus points now**
Shirakura Red Bee Sand - substrate (soil) was especially developed for breeding Bee shrimp....
more
Shirakura
Red Bee Sand, 8 kg
Shirakura Red Bee Sand - substrate (soil) was especially developed for breeding Bee shrimp. In cooperation with the manufacturer, Takayuki Shirakura was able to improve and optimize this soil substrate. They have been friends for years and were working to get the best possible product for keeping and breeding Bee shrimp.

This soil is manufactured in a special procedure using different fired earths, and it has the property to permanently lower and stabilize the water parameters of carbonate hardness and pH value, which are so important when it comes to shrimp-breeding. The pH that is adjusted is around 6.5 +/- 0.3. For breeding Bee shrimp, you'll need a carbonate hardness (KH) of around 0 - 2 and for avoiding ammonia you'll need a pH value of under 7. When the total hardness (GH) you can measure is lower than 5 °dH you should raise it using *Shirakura Liquid Mineral Ca+* to avoid moulting problems for your shrimp.

Shirakura Red Bee Sand does not contain fertilizers and is absolutely harmless for shrimp. Its highly porous structure provides bacteria and other important microorganisms especially needed by baby shrimp for healthy development with an enormous surface to settle on (please see *Shirakura Chi Ebi* - baby shrimp food). Especially if you use undergravel filters, Red Bee Sand offers optimal conditions for biological water cleaning and thus for the best water qualtiy.

Further advantages
• lowers algae growth
• mosses grow and assume a lush green
• crystal-clear water
• natural appearance, color: black-brown

Please note
Do not rinse before use.
You may start setting up your tank right away.

Recommended substrate height
at least 4 cm

Content: 8 kg (correspond to approx. 8 liters)
grain size: 2 - 4 mm
Article information
| | |
| --- | --- |
| Manufacturer | Shirakura |
| Article number | SHI-RBS-8 |
| EAN number | 4937063000486 |
| Shipping weight | 8,35 kg |
Read product reviews and/or write your own review
Customer evaluation
Shirakura :: Red Bee Sand, 8 kg
8 Customer reviews
Allover 4,69 of 5 stars
8 reviews
Mr. T.
•
10 Mar 2023 • not verified
Seit einem guten Jahrzehnt der Soil meiner Wahl.
Never change a running system!
Toni
•
2 Sep 2021 • not verified
Buen precio y entrega rápida en España
Martin K.
•
3 Jun 2021 • not verified
Geweldige Ph verlagende bodem. Gaat lang mee en mooi donker van kleur
Martin W.
•
6 Apr 2021 • not verified
Wirklich super hatte keinerlei Trübung des Wassers.
Kamila C.
•
12 Mar 2021 • not verified
Very good service. Quick international delivery . Highly recommended ????
Martin K.
•
24 Nov 2019 • not verified
Great product to use. And ready in a view days.
Tanja M.
•
19 Jun 2017 • not verified
Toller Soil für meine Garnelen!
Ungewohnt war für mich, dass er leichter ist als Kies und somit manchmal etwas wandert.
Christian T.
•
18 May 2016 • not verified
Im "Langzeittest" kann ich sagen dass dieser Soil auch nach über einem Jahr noch seinen Dienst tut. Es kommen viele Garnelenbabys hoch und in Verbindung mit einem Bodenfilter ist das Wasser auch immer Glasklar.
Würde den soil jederzeit wieder verwenden!
Write an evaluation
Ratings will be released after a short checking.