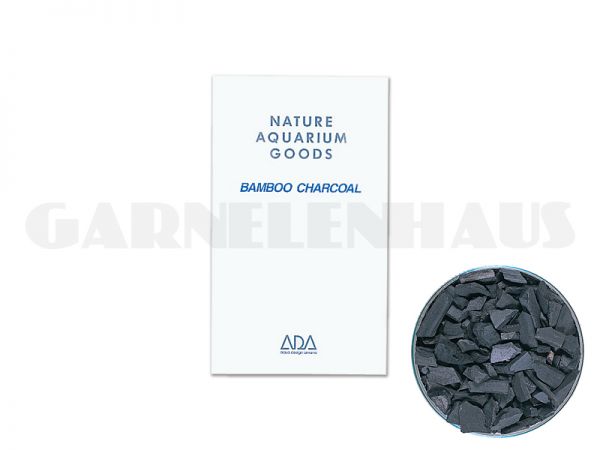 Bamboo Charcoal, 1 l
Filter medium
binds to pollutants and other substances in the water
significantly increases the water quality
colonization surface for bacteria
for good water circulation
Article in stock
Delivery time 1-3 business days*
P
on purchase receive

bonus points now**
Bamboo Charcoal is an especially purified activated carbon that binds to pollutants and other...
more
Bamboo Charcoal is an especially purified activated carbon that binds to pollutants and other superfluous substances in the water and that has the potential to significantly increase the water quality.

The porous structures provide a great colonization surface for filter bacteria, a good circulation of the water and prevent clogs inside the filter.

Content: 1 litre


Please note
We recommend to shortly rinse this activated carbon in a sieve or fish net before use to prevent particles that may have rubbed off during transport from entering the aquarium. They do not pose a problem, but do not look nice, and it takes a lot of time until these particles are removed from the tank by the filter. To avoid this later on, we also recomment to place a layer of fine white filter fleece on top of the Bamboo Charcoal that catches the particles right where they are created.
Article information
| | |
| --- | --- |
| Manufacturer | ADA |
| Article number | 105-011 |
| EAN number | 4537934050116 |
| Content | 1 l |
| Shipping weight | 0,29 kg |
Read product reviews and/or write your own review
Customer evaluation
ADA :: Bamboo Charcoal, 1 l
2 Customer reviews
Allover 3,50 of 5 stars
2 reviews
Florian G.
•
15 Feb 2016 • not verified
Erfüllt die Standart Aufgaben von Aktivkohle besitzt jedoch eine sehr raue und poröse Struktur.
Timo S.
•
27 Oct 2013 • not verified
Mit der Wirkung dem Filtermaterial bin ich zufrieden. Dennoch ist die Bamboo Charcoal sehr brüchig und ultraporös, soll bedeuten das es sich nur mit umgebender Filterwatte betreiben lässt, da sonst feiner Kohlestaub im Aquarium herum schwebt und sich dann auf den Blättern ablegt. Erfüllt seinen Zweck jedoch mit erheblichen Aufwand.


* Antwort von GARNELENHAUS *
Das Problem war uns so nie aufgefallen, da wir bisher immer eine Lage Filterflies oben drauf hatten.
Wir haben aber jetzt den Hinweis in der Produktbeschreibung noch einmal separat mit aufgenommen.
Write an evaluation
Ratings will be released after a short checking.