EHEIM
- Online Shop
EHEIM - buy Filter technology and filter accessories in the online shop - EHEIM is without doubt the world's best-known manufacturer of aquarium filters. EHEIM external filters are available in various sizes, suitable for almost every aquarium. EHEIM spare parts and various accessories, such as suitable EHEIM filter media, shut-off valves, disconnect couplings, filter hose, cleaning brushes and much more are always in stock. EHEIM - Made in Germany.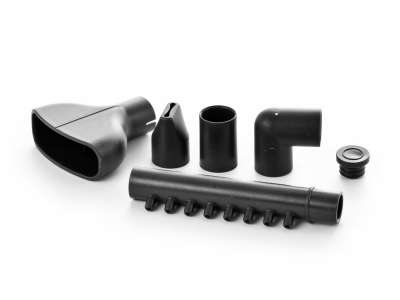 EHEIM

Connector kit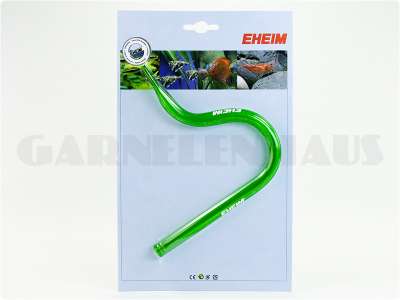 EHEIM

Curved filter spout, wide, 12/16 mm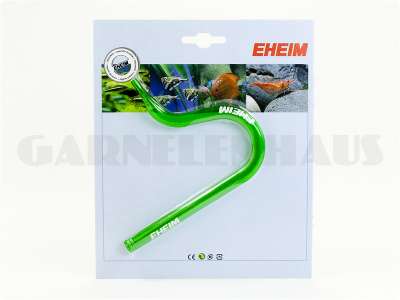 EHEIM

Curved filter spout, wide, 9/12 mm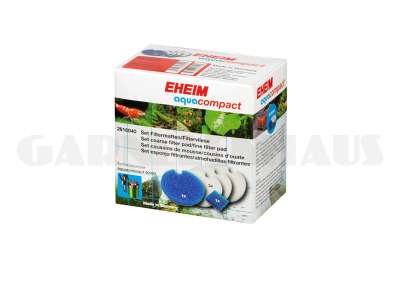 EHEIM

Media Set aqua compact 40 und 60
EHEIM - Filtertechnik für Aquarien
EHEIM - Die Anfänge
Die Firma EHEIM wurde 1949 durch den Namensgeber Gunther Eheim gegründet und widmete sich zunächst dem Schwerpunkt Spielzeug/Busmodelle. Die Entwicklung ging dann weiter zu Kreiselpumpen für den naturgetreuen Betrieb von Modell-Springbrunnen und Medizintechnik bis hin zu Filtertechnik für Aquaristik. Die Idee, diese speziellen Kreiselpumpen mit einem Reinigungsbehälter zu kombinieren, führte zum ersten EHEIM-Saugfilter für das Aquarium und seit 1963 steht EHEIM nun für Filtertechnik in höchster Qualität.
EHEIM - Der Aussenfilter
Bereits 1971 waren mehr als 100.000 EHEIM-Aquarienfilter weltweit im Einsatz und auch wir haben als Kinder schon EHEIM-Filter verwendet. Es scheint als seien die EHEIM-Entwickler allesamt mit Leib und Seele Aquarianer, denn sie wissen genau was wir als Kunden wünschen und gut zu unserem Aquarium passt. Neben der Qualität und der einfachen Handhabung sowie Funktion, gibt es heute für nahezu jeden Kundenwunsch und jedes Aquarium einen passenden Filter, sodass keine Wünsche offen bleiben. Und das ist wichtig, denn eine gute und richtige Filterung ist für ein Aquarium notwendig, damit die Wasserqualität stimmt, das Ökosystem im Aquarium funktionieren und es den Pflanzen und Bewohnern wie Fischen, Garnelen, Schnecken gut gehen kann.
EHEIM - Die Filterentwicklung
Die ersten EHEIM-Filter liefen dank Kreiselpumpen mit Magnetkupplung nicht nur zuverlässig, sondern auch sehr ruhig und dies wurde 1981 durch eine neue Filtergeneration mit Synchronmotoren-Technik noch verbessert. Zur Erweiterung des Sortiments wurde 1993 die Firma Müller & Pfleger (mp) erworben und so konnten nun auch hochwertige Aquarien und Aquarienkombinationen angeboten werden. Als Ergänzung der Filterlinie Eheim Classic 150/2211, Classic 250/2213 und Classic 350/2215 führte EHEIM 1994 die Filterserie professionel ein. Das Modell hat ein sehr kompaktes Design und ist wie auch der Classic nahezu geräuschlos. Im Jahr 1999 erweiterte der Energie-Spar-Filter ecco das Filter-Sortiment und in 2000 war Markteinführung der verbesserten professionel II-Serie, die nun sogar auch mit integrierter Heizung zu bekommen war.
EHEIM - Heizung und Innenfilter
Doch EHEIM wollte sich nicht nur auf Aussenfilter und Aquarien beschränken und suchte nach weiteren Produkten, die das Sortiment abrunden. 2002 erwarb Eheim die Firma Jäger, die sich mit der Beheizung für Aquarien beschäftigen. Hochwertige Heizstäbe erweiterten nun das Sortiment. Im selben Jahr wurden die Innenfilter aquaball und die Eheim compact Luft-Membranpumpen eingeführt, zwei Innenfilter bzw. Pumpen, die es in verschiedenen Größen und in Modul-Bauweise gibt. Zwei Jahre später erweiterte EHEIM das Sortiment um die Eheim air pump... eine sehr leise und zuverlässige Membranpumpe / Luftpumpe, die wir auch selbst bei uns im Einsatz haben.
EHEIM - sparsam und elektronisch
In den weiteren Jahren wurden der Filter Eheim ecco comfort und der ecco pro eingeführt. Für den Aussenfilter Eheim professionel II gab es würdigen Ersatz mit dem Aussenfilter professionel 3 und der erste elektronische Filter professionel 3e wurde eingeführt. Desweiteren erschienen eine neue Eheim compact plus Membranpumpe und der skim350 (Oberflächenabsauger/Skimmer), den viele Aquarianer so lieben, da er die Wasseroberfläche effektiv frei von einer Kamhaut hält. 2010 kamen dann für Garnelenfans und Schneckenfans die kompakten Nano-Aquarien (aquastyle) mit dem passendem kleinen Filter dazu, dem aquacompact.
EHEIM - Absperrhähne, Winkelstücke und Zubehör
Auch stetig erweiterte wurde in all den Jahren das Zubehörprogramm, welches heute kaum ein Aquarianer missen möchte. Da gibt es viele verschiedene Winkelstücke, Schläuche und Schlauchführungen, T-Stücke und Verbindungsstücke, Filtermedien, Saugnäpfe, Auslaufrohre, Ein- / Auslaufbogen, Diffusor, Reinigungsbürsten bis hin zu Absperrhähnen und Schnelltrennkupplungen und das alles in vielen verschiedenen Größen und Ausführungen...
EHEIM - Ersatzteile
Für Kunden insbesondere interessant und auch ein Grund warum viele EHEIM kaufen ist, dass EHEIM für nahezu alle Produkte eine Vielzahl an Ersatzteilen anbietet. Für die Filter kann man fast jedes Bauteil als Ersatzteil erwerben, von der kleinsten Keramikachse bis hin zum Filtertopf und so können selbst alte Filter meist mit wenig Geld wieder auf den neuesten Stand gebracht werden, ohne gleich einen ganz neuen Filter kaufen zu müssen. Diese Möglichkeit sucht man bei vielen anderen Herstellern vergeblich und wir bieten in unserem Shop eine Vielzahl EHEIM-Ersatzteile an. Aber auch wenn du für dein Modell nicht fündig geworden bist, schreibe oder rufe uns gerne an, wir beziehen unser Sortiment direkt von EHEIM und können für dich alle Ersatzteile, sowie generell alle EHEIM-Produkte bestellen.
EHEIM - Made in Germany
Bis heute ist EHEIM die große europäische Marke der Aquaristik. EHEIM ist führend auf ihrem Gebiet und ein Begriff für höchste Qualität, Made in Germany. Die stetige Weiterentwicklung, die hohe Qualität bis ins Detail, der leise Betrieb und die Zuverlässigkeit sind Gründe, warum auch wir der Marke bis heute treu geblieben sind und die Produkte unseren Kunden empfehlen.