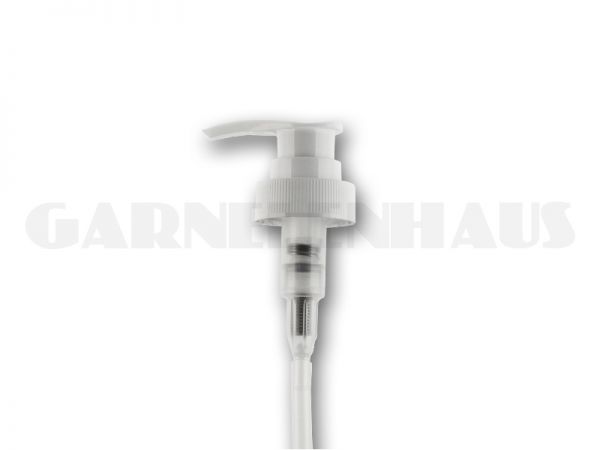 Dosage pump for Aqua Rebell fertilizers
Fertilizing equipment
fits all Aqua Rebell bottles
makes dosing very easy
1 ml per pump stroke
perfect for smaller amounts of fertilizer
Article in stock
Delivery time 1-3 business days*
P
on purchase receive

bonus points now**
This dosage pump fits the 500 ml and 1000 ml HDPE bottles from Aqua Rebell . With this pump you...
more
Aqua Rebell
Dosage pump for Aqua Rebell fertilizers
This dosage pump fits the 500 ml and 1000 ml HDPE bottles from Aqua Rebell. With this pump you can dispense liquid fertilizer very easily and precisely.
One pump stroke adds 1 ml of fertilizer to your aquarium.

The pump head is simply screwed onto the PE bottle (28 mm thread).

Please note: Store the fertilizer bottle in upright position when the dosage pump is screwed on.
Article information
| | |
| --- | --- |
| Manufacturer | Aqua Rebell |
| Article number | AR-DOPU |
| EAN number | 000900005077 |
| Shipping weight | 0,01 kg |
Read product reviews and/or write your own review
Customer evaluation
Aqua Rebell :: Dosage pump for Aqua Rebell fertilizers
Ich bin mit dem Produkt sehr zufrieden. Das einzige, was ich nicht so toll finde ist, dass die Dosierpumpe zwar auf die 500 ml Flasche passt aber der Schlauch leider zu lang ist. Ich habe ihn auf die passende Länge gekürzt und jetzt passt auch alles. Der Schlauch lässt sich aber abziehen und nach Belieben ein anderer Schlauch montieren.
Sehr praktisch.sind etwas mehr wie 1 ml.
David Ferentz
•
16 Sep 2017
Bei mir funktioniert die Pumpe nur wenn ich sie oben nicht aufschraube, dass Luft in die Flasche kann.
Weiß nicht ob ich etwas falsch mache oder ob das nur am Anfang ist, weil die Flasche noch sehr voll ist. Im Moment muss ich sagen, dass ich mir mehr erhofft habe.
Habe zwei Dosierpumpen bestellt. Die Funktion ist tadellos.
Abweichend von der Beschreibung der Pumpe, ist ein Pumpenhub exakt 1,2 ml statt 1ml.
Wenn man das weis sollte es kein Problem sein.
Wie immer sehr schnelle Lieferung, .....vielen Dank!!
Einfache Verwendung.
Neues Modell, das man sogar verriegeln kann, ohne den Pumpenkopf runter drücken zu müssen.

Kleiner Kritikpunkt...die 1ml je Pumpenhub stimmen leider nicht ganz.
Es sind eher 1,2ml, da ich mit 20 Pumpenhüben ca. 24ml im Becher hatte.
Bei kleinen Mengen von ein paar ml sicher zu vernachlässigen, aber bei größeren Mengen sollte man das berücksichtigen.
Super jedoch ist mir das Volumen von 1ml etwas zu niedrig.
Einfach super zum dosieren!

Die Dosierpumpe passt perfekt auf die Aqua-Rebel Flasche und ist sogar "verschließbar", wenn man den Pumpenkopf runter drückt und nach rechts dreht. (ist auf dem Kopf gekennzeichnet)

Zieht keine Luft und tropft nicht nach!


Write an evaluation
Ratings will be released after a short checking.