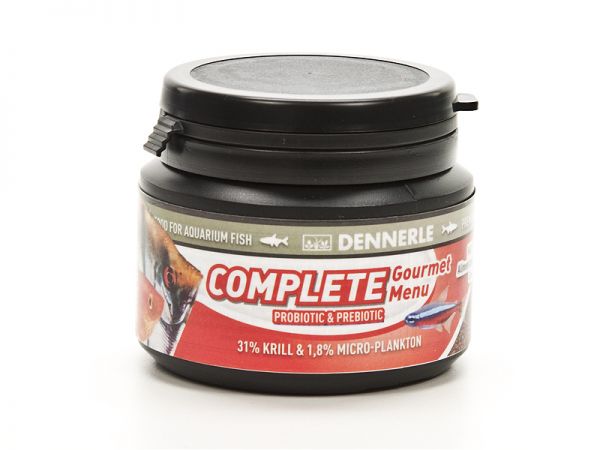 Complete Gourmet Menu, 100 ml
Complete food
suitable for all ornamental fish
contains Moringa olifera leaves
100% natural
contains 60% molluscs and crustaceans
Article in stock
Delivery time 1-3 business days*
P
on purchase receive

bonus points now**
Dennerle Complete Gourmet Menu is suitable for all ornamental fish. It is produced from 100%...
more
Dennerle
Complete Gourmet Menu, 100 ml
Dennerle Complete Gourmet Menu is suitable for all ornamental fish. It is produced from 100% natural ingredients.

This finely granulated fish food consists of 30 different ingredients, and fish of various sizes just love it. It contains 60% natural molluscs and crustacans, and 4% of natural algae. For the first time ever, the leaves of the "miracle tree" Moringa olifera have been used in a fish food. Their high content of trace elements and vitamins makes them highly valuable.

Dennerle Complete Gourmet Menu does not contain artificial preserving agents and is not produced from fishmeal.

Ingredients:

Arctic krill (31%), wheat protein, squid, Omega-3 marine oil, Gammarus shrimp (4%), daphnia (4%), grasshoppers, maggots, red coralline algae, yeast extract, green-lipped mussel extract, brine shrimp, brine shrimp naupliae, Moringa oleifera, inuline from chicory, spinach, bloodworms, Nannochloropsis algae (1%), herbal extract, cabbage, Spirulina platensis (0.5 %), balm, garlic, chickweed, Chlorella algae (0,3%), fennel, aniseed, pollen, grapeseed oil, Beta-glucane

Feeding recommendation:

Feed an amount that is eaten within 1 minute two or three times a day.

Content: 100 ml (42 g)
Granule size: 1 mm
Article information
| | |
| --- | --- |
| Manufacturer | Dennerle |
| Article number | DEN-7506 |
| EAN number | 4001615075069 |
| Content | 0.1 l |
| Shipping weight | 0,1 kg |
Read product reviews and/or write your own review
Customer evaluation
Dennerle :: Complete Gourmet Menu, 100 ml
3 Customer reviews
Allover 4,83 of 5 stars
3 reviews
Barbara Lindenkamp
•
8 Nov 2017 • not verified
In der Rezeptur das beste Fischfutter, welches man kaufen kann.
Wenn die Fische auch Kunstfutter annehmen, braucht man nur noch gelegentlich Lebendfutter.

Für Minifische dreh ich es aber noch zwei mal durch die Pfeffermühle,
für kleine Tetras einmal, weil doch bei der Härte etwas grob für Minimäulchen.
Andrea Z.
•
15 Feb 2017 • not verified
superschneller Versand! Preis/ Leistung stimmt & den Fischen schmeckt`s
Sabine S.
•
21 Apr 2016 • not verified
Nachdem schon ein Probetütchen in kürzester Zeit weggefuttert war, musste es jetzt eine große Dose sein. Meine Kardinäle und Corydoras sind und bleiben restlos begeistert, das Futter ist der absolute Hit und wird weginhaliert, und auch die Apfelschnecken und Neocaridinas bedienen sich fleißig.
Write an evaluation
Ratings will be released after a short checking.