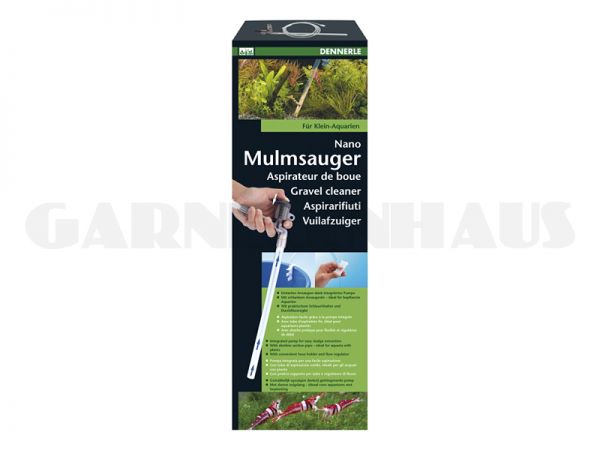 Nano Gravel Cleaner
Substrate cleaning
ideal for smaller tanks
30cm long, slim suction pipe
with integrated suction pump
very easy handling
Article in stock
Delivery time 1-3 business days*
P
on purchase receive

bonus points now**
The Dennerle Nano Gravel Cleaner is optimal for mucking off the substrate in small or densely...
more
Dennerle
Nano Gravel Cleaner
The Dennerle Nano Gravel Cleaner is optimal for mucking off the substrate in small or densely planted aquaria.

- Easy suction with an integrated pump
- Slim suction pipe
- Tube holder and flow regulator included

Length of the suction pipe: 30 cm

Suitable for aquaria with a height of up to 30 cm and with a volume of 10 - 40 liters.
Article information
| | |
| --- | --- |
| Manufacturer | Dennerle |
| Article number | DEN-5878 |
| EAN number | 4001615058789 |
| Shipping weight | 0,2 kg |
Read product reviews and/or write your own review
Customer evaluation
Dennerle :: Nano Gravel Cleaner
Christian M.
•
13 Sep 2021
Ideal für ein 10L Nano-Becken. Habe als Bodengrund eine Art schwarzen Sand. Dank Durchflussbegrenzer kann ich sogar aus dem Sand den Mulm aussaugen, ohne den Sand mit abzusaugen. Derzeit aus meiner Sicht alternativlos. Verarbeitung ist gut, endlich kein Aquarienwasser mehr im Mund :-)
Kristine H.
•
21 Oct 2020
Funktioniert einwandfrei.
Jennifer C.
•
26 Apr 2020
Macht das Absaugen auch von Soil-Böden zum Kinderspiel. Man möchte es kaum glauben wieviel Mulm sich auch in Aquascapes absetzt, die nur mit Schnecken und Garnelen besetzt sind.
Besonders Gut gefällt mir das Ansaugen mit dem Saugbalg, die Klemme mit der man die Saugstärke regulieren kann, und natürlich die Klammer mit der man den Abwasserschlauch am Eimer oder Gießkanne festgeklemmen kann. Ein Fangkorb im Ansaugrohr verhindert dass Pflanzenteile, Soilkörnchen oder auch zu neugierige Garnelen versehentlich mit abgesaugt werden.
Der Mulmsauger lässt sich zum Reinigen des Fangkorbs und der Rücklaufsicherung sehr leicht zerlegen.
Ein sehr gutes Tool das m.E. an keinem Nano Aquarium fehlen sollte.
Super. Bei meinem kleinen Becken entfällt so auch das Ansaugen per Mund beim Wasserwechsel.
Halter am Eimer ist prima.
Write an evaluation
Ratings will be released after a short checking.