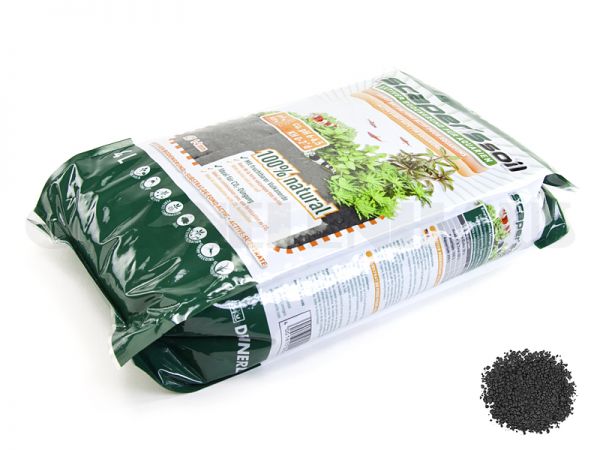 Scapers Soil, 4 liters
Substrate
Scapers Soil for planted tanks and shrimp aquaria
lowers the pH and the carbonate hardness
nutritious substrate for good plant growth
with biological filtering function for healthy clear water
Article in stock
Delivery time 1-3 business days*
P
on purchase receive

bonus points now**
Dennerle Scapers Soil is an active soil that has been especially developed for the use in...
more
Dennerle
Scapers Soil, 4 liters
Dennerle Scapers Soil is an active soil that has been especially developed for the use in aquaria. It creates a slightly acidic, soft water quality, as most plants and animals from the tropics prefer. Dennerle Scapers Soil is ideal for planted tanks, especially for aquascapes, and shrimp tanks.

Also great for shrimp tanks
Its pH and KH lowering properties as well as its excellent filtering properties make Dennerle Scapers Soil an optimal substrate for keeping and breeding shrimp species that prefer soft and slightly acidic water, like for example Crystal Red and Red Bee.

Its grains are stable for a long time, and Dennerle Scapers Soil is therefore ideally suited for the use with undergravel filters. This filter type is very popular with shrimp breeders. The water assumes its optimal parameters even faster when this method is used, and the filter performance increases considerably. Its loose but stable structure allows optimal levels of oxygen in the substrate, which prevents rotting areas. Its highly porous surface provides important microorganisms, which are needed especially by baby shrimp, with an optimal area to grow on. Color and pattern of your shrimp stand out beautifully on the Scapers Soil, and especially white, red or yellow shrimp will literally shine before the deep black background this soil creates.

The advantages ...
- nutritious substrate for sturdy plant growth
- with all vital minerals and trace elements
- contains fertile volcanic soil
- functions as biological filter for healthy, clear water
- actively creates soft, slightly acidic water (approx. pH 6-6.5, KH 0-2 °d)
- double-fired - stable in water in the long run
- ideal in combination with a CO2 injecting system
- with valuable humins and fulvic acids
- ideal for all plants, fish and shrimp that need soft, slightly acidic water
- suitable for undergravel filters
- special nutrient formula - does not promote algae growth

Color: black
Grain: 1 - 4 mm
Content: 4 Liter

Please note
- Suitable for freshwater aquaria, paludaria, riparia and tropical terraria
- Not suitable for bottom feeders that rummage around in the substrate (like Cory catfish)
- Do not rinse before use
- In our opinion, its small grain makes it not really suitable for the use with undergravel filters
Article information
| | |
| --- | --- |
| Manufacturer | Dennerle |
| Article number | DEN-4580 |
| EAN number | 4001615045802 |
| Content | 4 l |
| Shipping weight | 3,6 kg |
Read product reviews and/or write your own review
Customer evaluation
Dennerle :: Scapers Soil, 4 liters
not rated yet
The product is not rated yet
0 reviews
Write an evaluation
Ratings will be released after a short checking.