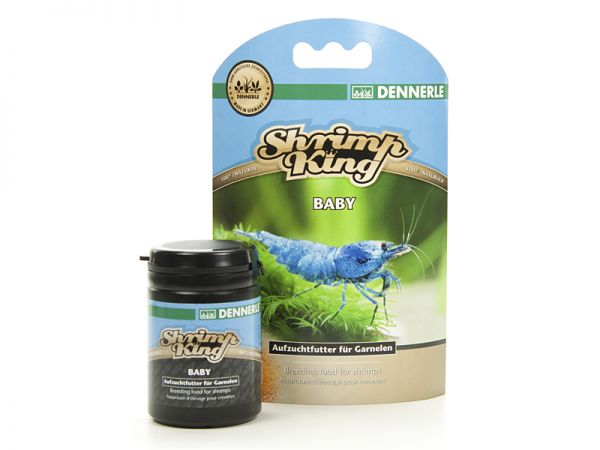 Shrimp King - Baby, 35g
Food for baby shrimp
Premium shrimp food - baby shrimp food
for baby shrimp of all sizes
for healthy growth and unproblematic moults
special food from 100% natural ingredients
Article in stock
Delivery time 1-3 business days*
P
on purchase receive

bonus points now**
Premium shrimp food - baby shrimp food Dennerle Shrimp King - Baby micro granules for daily...
more
Dennerle
Shrimp King - Baby, 35g
Premium shrimp food - baby shrimp food

Dennerle Shrimp King - Baby micro granules for daily feeding. Especially tailored to the needs of baby shrimp, their requirements and the way they eat. For all sizes. For healthy growth and unproblematic moults.

Shrimp King - Baby is a sinking special food from 100% natural ingredients for the appropriate feeding of baby shrimp. Manufactured from over 20 carefully selected components. A varied, balanced diet is thus guaranteed with every single granule.

Shrimp King - Baby contains high-quality proteins and amino acids as well as essential fatty acids from aquatic food animals for healthy, balanced growth.

The vegetarian part, which is crucial for a balanced diet, is covered by high-quality ingredients like stinging nettle, walnut leaves, birch leaves, gingko leaves, pumpkin, birch bark, lapacho bark and barley grass. Vegetables like spinach, fennel and dandelion, herbs like rosemary, and aronia berries and pollen add important minerals, trace elements, vitamins and phytochemicals.

Natural carotinoids enhance the development of the species-specific color and pattern, especially in yellow, red and orange shrimp. Shrimp King - Baby lays the basis for an unproblematic moult and strenghtens the innate immune system of the shrimp.

After hatching, baby shrimp tend to stay in the place where they left their egg, and if there is not sufficient food there, they will simply starve.
For this reason, Shrimp King Baby is finely ground, with a grain of around 1 mm.
These micro granules are (a) stable in the water (b) do not disappear in the substrate or the filter as powdered food would. Undue water pollution is avoided, and Shrimp Kind - Baby does not cloud the water.
Shrimp King - Baby is ideal for daily feeding, and suitable for all baby shrimp sizes, especially for the first difficult weeks.
Guarantee
free from artificial colorants and preserving agents, without fish meal.

Feeding recommendation
Depending on the number of shrimp in the tank, a pinch per 50 l of tank water, 1 to 2 times a day. Spread the food evenly in the aquarium.
Tip: In order to get the micro granules to sink fast, put the amount you want to feed into a glass of water, swirl gently and add to the tank, spreading the food generously.

Tip
Shrimp King - Complete is also ideal for raising crayfish, dwarf crayfish (like CPOs), and crabs.

Ingredients
insect protein, wheat flour, wheat protein, krill meal, squid meal, spinach, corn, yeast, betaine, kale, inuline, salmon oil, Moringa oleifera, Spirulina algae, garlic, mannanoligosaccarides, ß-glucane

Food additives per kg
colorants: 250 mg E 161j Astaxanthin

Analytical constituents
49,5% crude protein, 10,2% crude fat, 4,4% crude fibre, 6,4% crude ash

Content
35g

Complementary food for shrimp in freshwater aquaria.
Re-close container after taking out food.
Store dry at room temperature.
Article information
| | |
| --- | --- |
| Manufacturer | Dennerle |
| Article number | DEN-6071 |
| EAN number | 4001615060713 |
| Content | 0.035 kg |
| Shipping weight | 0,07 kg |
Read product reviews and/or write your own review
Customer evaluation
Dennerle :: Shrimp King - Baby, 35g
1 Customer review
Allover 4,00 of 5 stars
1 review
Bianca B.
•
29 Feb 2016 • not verified
Riecht unangenehm, aber schmeckt sowohl Garnelen als auch Fischen.
Die Babys wachsen und gedeihen :)
Write an evaluation
Ratings will be released after a short checking.