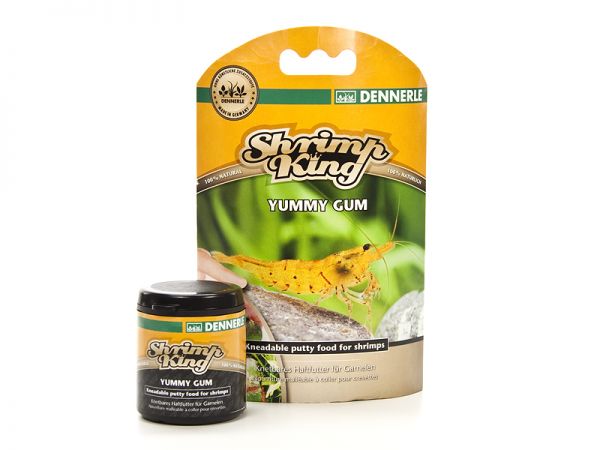 Shrimp King - Yummy Gum, 50g
Complementary food for pet shrimp and crayfish
with Spirulina and stinging nettle
contains all the important nutrients
also ideal for feeding snails
100% natural ingredients
Article in stock
Delivery time 1-3 business days*
P
on purchase receive

bonus points now**
Dennerle Shrimp King - Yummy Gum is an adhesive food dough for feeding shrimp in a...
more
Dennerle
Shrimp King - Yummy Gum, 50g
Dennerle Shrimp King - Yummy Gum is an adhesive food dough for feeding shrimp in a biologically balanced way. The food adheres to rocks, driftwood or even the aquarium glass and can then be eaten by shrimp like biofilm.

Shrimp King Yummy Gum contains all the essential nutrients and tissue-building substances your shrimp need on a daily basis. High-quality proteins and essential amino acids from different crustaceans and plants rich in protein are the basis for healthy growth. Useful Spirulina algae and yummy stinging nettle leaves give your little armoured knights the vital trace elements and vitamins they need to keep their metabolism running smoothly. Natural vital substances from plants support their immune system. Fibre is good for their digestion. High-quality montmorillonite, a natural clay mineral, provides important minerals.

The natural carotinoids this food contains intensify the species-specific coloration and pattern.


Content
50g

Guarantee
100% natural

Recommended use
a pea-sized piece for 30-50 shrimp. Place Yummy Gum on rocks, driftwood or onto the aquarium glass. Always feed sparingly.

Tip
Shrimp King Yummy Gum is not only suitable for all freshwater shrimp but also ideal for feeding snails, and it is also a great snack for many small fish.

Ingredients
vegetable by-products, algae (10% Spirulina platensis), minerals (5% Montmorillonit), molluscs and crustaceans (5% krill, 5% shrimp), vegetables (5% stinging nettle), grain

Analytical constituents
26% crude protein, 5% crude fat, 8% crude fibre, 1% crude ash

Complementary food for ornamental shrimp.
Re-close container after taking out food.
Store in a cool, dry place, protect from light.
Article information
| | |
| --- | --- |
| Manufacturer | Dennerle |
| Article number | DEN-6119 |
| EAN number | 4001615061192 |
| Content | 0.05 kg |
| Shipping weight | 0,1 kg |
Read product reviews and/or write your own review
Customer evaluation
Dennerle :: Shrimp King - Yummy Gum, 50g
4 Customer reviews
Allover 4,50 of 5 stars
4 reviews
Richard G.
•
1 Apr 2020 • not verified
Es tut wohl was es soll, schmecken!
Marco I.
•
28 Mar 2020 • not verified
Hmmm ich weiß noch nicht genau
Klaus E.
•
25 Nov 2019 • not verified
Meine Garnelen sind ganz verrückt nach diesem Leckerbissen.
Chris R.
•
15 Dec 2015 • not verified
Super Futter
Die Garnelen Haben es sofort angenommen.
Write an evaluation
Ratings will be released after a short checking.