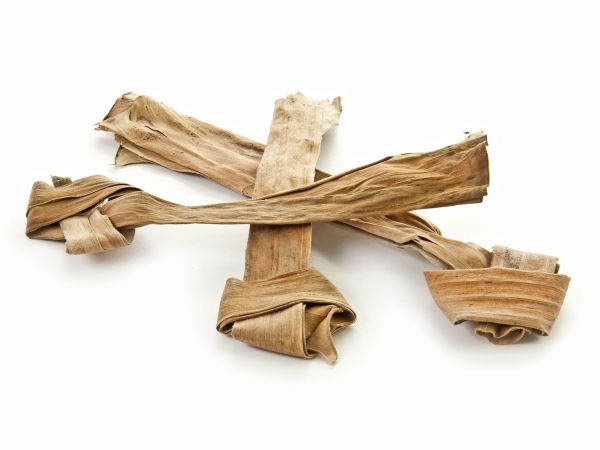 Banana leaves
Natural product - Musa spec.
with mild disinfecting effect
ideal for prevention (e.g. fungal infection)
improves the water quality
important fiber and humic substances
Article in stock
Delivery time 1-3 business days*
P
on purchase receive

bonus points now**
Banana leaves have been used very successfully in Asia for many years in the ornamental fish...
more
Banana leaves have been used very successfully in Asia for many years in the ornamental fish farming, especially the Betta breed, but also in the breeding of shrimp. The field of application of Banana leaves is comparable to that of the known Indian almond leaves.
Due to the contained humic substances and tannins, Banana leaves can reduce bacterial growth and fungal development and thus have a positive effect on the water quality in the aquarium. Furthermore, the active ingredients of the leaves of the banana tree Musa spec. promote the spawning readiness and intensification of the colors of ornamental fish and shrimp.
Banana leaves also contain important and valuable fiber for shrimp, crayfish, crabs and snails and, above all, provide an important basis for a nutritious biofilm that is often grazed by shrimp and snails.
Our Banana leaf fragments are 100% natural, untreated and gently dried in the air.
Our Tip
The Banana leaves will float at the beginning on the water surface and sink after a few days.
The leaves of the banana tree but can be well on the ground by means of a stone complain and fix.
Usage
The Banana leaves can simply be placed directly in the aquarium. Over a period of about 1-3 weeks, the Banana leaves then release the ingredients to the aquarium water.
After application, the Banana leaves can either be taken out of the aquarium, or replaced or simply left in the aquarium. The shrimp, crayfish, crabs and snails like to eat the Banana leaves that decompose over time.
Dosage
For regular water care, add about 2 Banana leaf fragments to 10 liters of aquarium water.
For more intensive treatment you can double or triple the amount of Banana leaves.
Conten & Delivery
10 pcs Banana leaves, dried and fragmented in the resealable zip bag.
Article information
| | |
| --- | --- |
| Manufacturer | GH-GOODS |
| Article number | GH-2001112 |
| EAN number | 4260361272706 |
| Shipping weight | 0,05 kg |
Read product reviews and/or write your own review
Customer evaluation
GH-GOODS :: Banana leaves
1 Customer review
Allover 5,00 of 5 stars
1 review
Nicolas S.
•
16 Sep 2019 • not verified
Recht gross. Die Schnecken lieben es.
Write an evaluation
Ratings will be released after a short checking.