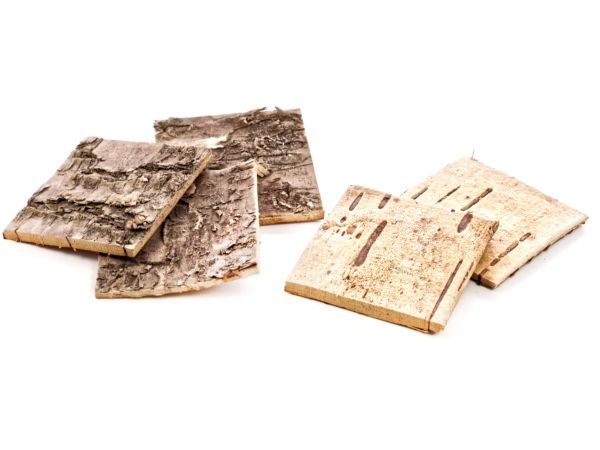 Birch bark plates
Natural product / Decoration
natural feeding place for shrimp
great shrimp grazing area
5 pieces, size: each 5x5 cm
100% natural aquarium decoration
Article in stock
Delivery time 1-3 business days*
P
on purchase receive

bonus points now**
The square cut GH-GOODS Birch Bark Plates serve as a feeding place or hiding place for shrimps...
more
GH-GOODS
Birch bark plates
The square cut GH-GOODS Birch Bark Plates serve as a feeding place or hiding place for shrimps in the aquarium. But also small CPO crayfish like to accept the birch bark slabs as a shelter or "climbing frame". The Birch Bark Plates or Birch Bark Panels can of course also be used wonderfully in a terrarium and serve here, for example, for small young crabs a perfect retreat and "playground"..
Over time, a so-called "organic lawn" forms on the Birch Bark Plates, which the shrimps particularly like to graze on. When feeding shrimp, for example, feeding pads can be placed on the Birch Bark Panels, which then largely prevent unused food from entering the gaps in the substrate fall and rot there.
TIP: The natural Birch Bark Plates look particularly good as a shrimp feeding place in the aquarium (or in the terrarium for e.g. smaller land crabs) if you combine two or three pieces and, if necessary, place them on top of each other.
The Birch Bark Panels feeding place for shrimp has the following content and dimensions:
• Content: 5 pieces
• Size: 5 x 5 cm each
Note / Tip
In order to prevent or prevent discoloration of the aquarium water, it is advisable to soak the Birch Bark Plates in a bowl or bucket for some time before inserting them into the aquarium (if necessary, change the water from time to time). Initially, the Birch Bark Panels float and you should weigh them down with a stone until they are completely submerged. This can take some time... ;o)
Article information
| | |
| --- | --- |
| Manufacturer | GH-GOODS |
| Article number | GH-2001633 |
| Shipping weight | 0,02 kg |
Read product reviews and/or write your own review
Customer evaluation
GH-GOODS :: Birch bark plates
1 Customer review
Allover 5,00 of 5 stars
1 review
Aline S.
•
13 Apr 2023 • not verified
Write an evaluation
Ratings will be released after a short checking.