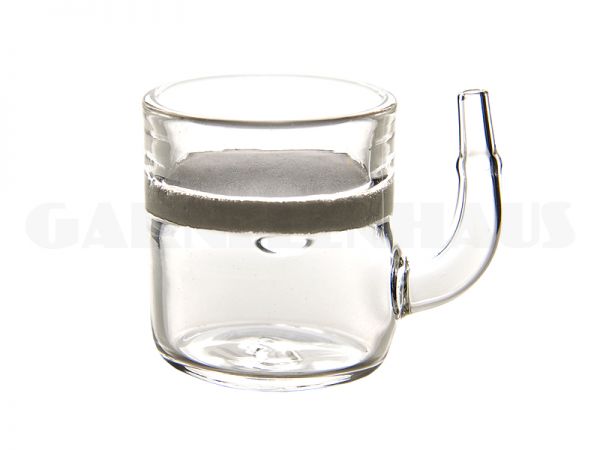 CO2 Diffuser 1000 - Japanese style
CO2 diffuser
unobtrusive glass diffuser
with a high-quality ceramic membrane
for standard 4/6 hose
transparent suction cups included
Article in stock
Delivery time 1-3 business days*
P
on purchase receive

bonus points now**
This Japanese-style CO2 Nano diffuser is made of glass. It dissolves around 98 % of the injected...
more
GH-GOODS
CO2 Diffuser 1000 - Japanese style
This Japanese-style CO2 Nano diffuser is made of glass. It dissolves around 98 % of the injected CO2 in the aquarium water. Tiny CO2 bubbles spread in the entire tank, dissolve in the water, and provide your plants with the optimal amount of CO2. The large ratio between the area and the volume of the ceramic membrane guarantees for quick and easy solution of the CO2.
This glass CO2 diffuser can be attached to the aquarium glass easily and unobtrusively with the included suction cups does not interfere with the layout.


Characteristics
• high-quality ceramic membrabe
• made of glass
• compatible with pressurized CO2 cylinders and to a certain extent also with bio CO2 systems (Bio CO2 systems need at least a pressure of 1 bar)
• connects to standard 4/6 mm hose
• transparent suction cups included


Dimensions
total height: 35 mm
total width: 42 mm
diameter of diffuser: 30 mm
diffuser height: 32 mm

Aquarium size: up to 160 litres
Article information
| | |
| --- | --- |
| Manufacturer | GH-GOODS |
| Article number | CO2-DIF-1000 |
| EAN number | 4250585200036 |
| Shipping weight | 0,1 kg |
Read product reviews and/or write your own review
Customer evaluation
GH-GOODS :: CO2 Diffuser 1000 - Japanese style
1 Customer review
Allover 1,50 of 5 stars
1 review
Daniel K.
•
2 Feb 2019 • not verified
Habe 2 bestellt und betreibe diese parallel. Da sie unterschiedliche Widerstände haben ist eine separate Regelung zwingend notwendig, ein T-stück reicht nicht aus. Sonst strömt nur einer. Bei einem sehr große blassen, recht gut verteilt. Bei dem anderen sehr kleine blassen welche punktuell austreten. Beide sind ordentlich am pfeifen. Für mich keine Dauerlösung, aber ihren Zweck erfüllen sie.
Team Garnelenhaus
Answer from 4 Feb 2019
Hallo Daniel,
bei Luft oder CO2 Leitungen die man teilen möchte, muss man grundsätzlich für jeden Weg eine Regelung haben, einfache T-Stücke reichen hier nicht aus, da z.B. schon ein geringer unterschiedlicher Wasserstand in den Becken zu einem ungleichen ausströmen führt... Die Keramikmembranen benötigen einige Zeit um einzulaufen, meist kommen die feinen Blasen und eine gute Verteilung erst nach ein paar Tagen.

Mit freundlichen Grüßen
Dein Garnelenhaus-Team
Write an evaluation
Ratings will be released after a short checking.