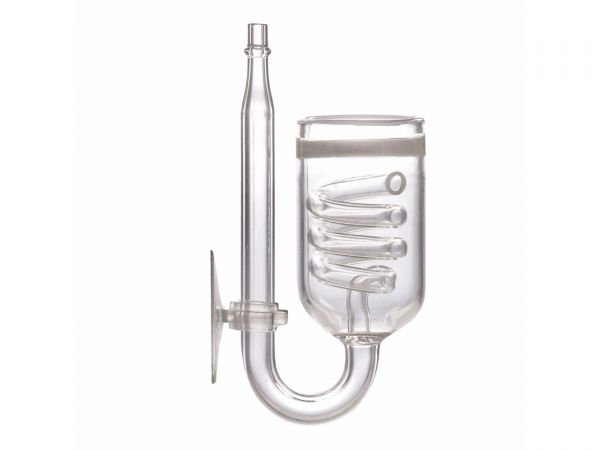 CO2 Spiral Diffuser, glass
CO2 Diffuser / CO2 Reactor
perfect for Aquascapes
very unobtrusive
compact glass design
with ceramic membrane
Article in stock
Delivery time 1-3 business days*
P
on purchase receive

bonus points now**
The GH-GOODS CO2 Spiral Diffuser is made of glass and dissolves up to 98% of the injected...
more
GH-GOODS
CO2 Spiral Diffuser, glass
The GH-GOODS CO2 Spiral Diffuser is made of glass and dissolves up to 98% of the injected CO2 in the aquarium water. Tiny CO2 bubbles spread in the entire tank and provide your plants with the optimal amount of CO2.
As it is made of glass, this CO2 Spiral Diffuser is almost invisible inside the aquarium and does not distract from the layout.
Characteristics
• high-quality ceramic membrabe
• made of glass
• compatible with pressurized CO2 cylinders and to a certain extent also with bio CO2 systems (Bio CO2 systems need at least a pressure of 1 bar)
• connects to standard 4/6 mm hose
• 1 transparent suction cup included
Dimensions
Total height: 85 mm
Diameter of diffuser: 28 mm
Diffuser height: 55 mm
Aquarium size
The CO2 Spiral Diffuser is suitable for Aquarium sizes up to approx. 80 litres
Article information
| | |
| --- | --- |
| Manufacturer | GH-GOODS |
| Article number | GH-2001400 |
| Shipping weight | 0,1 kg |
Read product reviews and/or write your own review
Customer evaluation
GH-GOODS :: CO2 Spiral Diffuser, glass
5 Customer reviews
Allover 4,20 of 5 stars
5 reviews
Sebastian W.
•
7 Jan 2023 • not verified
Der Diffusor wurde nach dem Auspacken für eine halbe Stunde unter Wasser "eingeweicht". Der Diffusor füllt sich nicht ohne weiteres mit Wasser! Ich habe ihn mit einer Spritze unter Druck befüllt. Danach kann er auch perfekt als Blasenzähler verwendet werden.

Der mitgelieferte Saugnapf hält den Diffusor an Ort und Stelle. Die halterung am Diffusor ist für meinen Geschmack aber zu weich. Wenn man nicht dran rumspielt, hält es aber.
Daniel U.
•
24 Apr 2022 • not verified
Gaby D.
•
12 Jul 2021 • not verified
Sehr schöner Artikel. Leider kann man die Membran nicht wechseln.
Sascha L.
•
25 Apr 2020 • not verified
Tolles Produkt. Super Qualität schön verarbeitet. Auch der Effekt der aufsteigenden Bläschen ist klasse.
Ralf
•
8 Dec 2019 • not verified
Die Spirale im Inneren füllt sich komplett mit co2, und hat somit nicht den gewünschten Effekt. :-(
Team Garnelenhaus
Answer from 8 Dec 2019
Moin Ralf,
frag doch gerne bei uns nach, bevor du dich ärgerst und negativ bewertest, wir sind immer für dich da. Der Spiraldiffusor muss sich erst voll Wasser saugen (oder befüllt werden) und dann wird sich, je nach Becken in unterschiedlicher Zeit, ein unsichtbarer Biofilm in der Spirale ansetzen, sodass das Wasser an dem CO2 vorbeigleitet, dann gibt es den gewünschten Effekt. Das dauert aber einige Zeit, ähnlich wie z.B. beim Dennerle CO2 Flipper, der auch erst "einlaufen" muss, also einen Biofilm im Inneren ansetzen muss, damit einzelne Blasen die Stufen aufsteigen.
Du wirst in einige Tagen sicher den gewünschen Effekt bei dir sehen.

Mit freundlichen Grüßen,
dein Garnelenhaus-Team
Write an evaluation
Ratings will be released after a short checking.