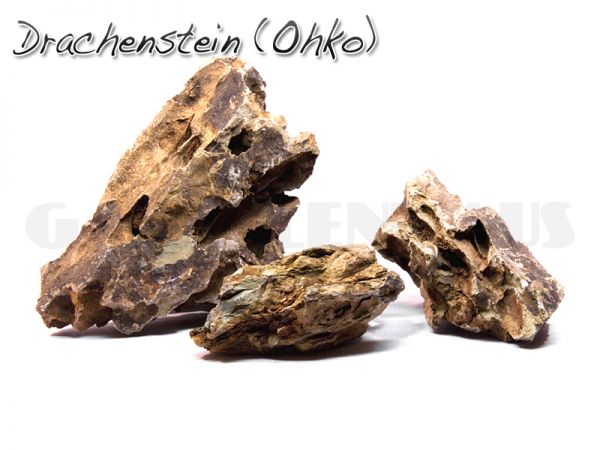 Dragon Stone (Ohko), 1 kg
Decoration/natural rock
beautiful rugged, jagged rock
looks great when combined with a dark substrate
mainly grey-brown-beige in color
Article in stock
Delivery time 1-3 business days*
Quantity
Unit price
Saving
to

2 pcs.

6.90 €

(6.90 €/kg)

from

3 pcs.

6.21 €

(6.21 €/kg)

10%

-0.69 €/pcs.

from

9 pcs.

5.86 €

(5.86 €/kg)

15%

-1.04 €/pcs.
P
on purchase receive

bonus points now**
Very rugged, jagged rock from Asia, with grey-brown-beige-reddish colors. Stands out nicely...
more
GH-GOODS
Dragon Stone (Ohko), 1 kg
Very rugged, jagged rock from Asia, with grey-brown-beige-reddish colors. Stands out nicely against dark substrates and looks very natural.

Price per 1 kg of Dragon Stone

Please note
We will do our utmost to mix the sizes of the stones you order. If you prefer to have only one certain size of stone, or certain dimensions, for example for your main stone, please make a note in the comments box when going to the checkout counter. Please understand if we cannot give you pieces with exactly the dimensions you want, but we will do our very best to come close.

Layout on demand?
Unfortunately we only have 24 hours per day, and our limited time does not allow us to arrange a complete hardscape layout for you. Searching for the right stones among 1000 kg of rock, assembling them and taking a photo, re-arranging them two or three times or replacing one or the other piece of rock, taking anoter photo to meet the customer's demand is an almost impossible thing to do. We hope you understand ... ;o)
Article information
| | |
| --- | --- |
| Manufacturer | GH-GOODS |
| Article number | NST-DRACH |
| EAN number | 4260361270313 |
| Shipping weight | 1,1 kg |
Read product reviews and/or write your own review
Customer evaluation
GH-GOODS :: Dragon Stone (Ohko), 1 kg
Nach der Reinigung echt hübscher Stein, gut zerschlagbar. Da online Bestellung natürlich kein Einfluss auf die einzelnen Steine.
Schöne Steine.Müssen noch an seinem Standpunkt plaziert werden.
3KG bestellt und auf meinen Wunsch einen einzigen großen Mainstone erhalten. Der Stein kam nach zwei Tagen an, sieht super aus, hat die perfekten maße und war extrem gut & sicher verpackt. Danke!
6kg bestellt aber leider nicht in einem Stück
Diese Bewertung gilt dem reinen Stein und nicht der Lieferung und Größenzusammenstellung etc.
Ich kann diese Steine nur bedingt empfehlen. Das die Steine super und interessant aussehen, ist keine Frage. Aber bevor das so ist, muss man einen extremen Aufwand betreiben. Die Steine werden aus dem Lehm, Schlamm, Sedimente gezogen. Das bedeutet die Steine sind extrem "Dreckig". In jeder Ritze, Pore, Loch etc. sitzt ein extrem hartnäckiger Schlamm der kaum zu entfernen ist. Man muss sich den Stein genau angucken und z.B. mit einem kl. Schraubendreher überall mal reinstochern. Da wo es weich ist, befindet sich noch Lehm drin. Ihr werdet staunen. Man putzt und schrubbt stundenlang bis man den blanken Stein hat. Macht Ihr das nicht alles sauber, wird sich das später rächen vor allem bei schwarzen/dunklen Soil. Auch noch nach Jahren habt ihr plötzlich Euer Soil mit einer hellbraunen Schicht belegt und fragt Euch woher das kommt (so wie bei mir). Deshalb nur meine bedingte Empfehlung. Wer kein Bock hat stundenlang Steine zu schrubben und keine Familienstreit mit der Frau haben möchtet, auf Grund von verdreckten Badezimmer etc und keine Möglichkeit hat die Steine draußen (eventuell sogar in einem Bach) zu säubern, sollte andere Steine benutzen.

Schöne Stücke mit unterschiedlichen Größen und Höhen, die man gut arrangieren kann.
Waren 3 große Steine und alle drei super aufeinander abgestimmt. Haben alle Wunderbar ins Becken gepasst
Ich habe 3 recht grosse Steine bekommen von denen ich einen noch zerteilt habe,also alles gut.
unglaublich schönes Gestein! Sehen im AQ unfassbar schön aus! Man muss sie allerdings noch gründlich waschen, da sitzt noch eine ganze Menge Erde an den Steinen - ist aber eben auch ein echtes Naturprodukt!
Ich kann es sehr empfehlen.
Sehr schöne Steine und ein must have für jedes Asien Becken.
1 grossen schönen Stein erhalten. Für nen 45p müssen es aber schon so 4-6 Kilo sein. Das man da noch kleinzeug hat
Sehr Dekorativ, gerne wieder. Schneller Versand. Alles Top
Bisher 2 mal bestellt. Sind sehr schöne Steine. Leider bei der zweiten Bestellung nur ein Stein bekommen - aber sehr groß und passt glücklicherweise ins neue Becken.
Toller Stein. Bei der 1kg Bestellung kamen zwei größere Stücke und ein bisschen Kleinkram. So ließ sich gut damit arbeiten.
Bernhard S.
•
13 Mar 2018
Nach gründlichem Schrubben war irgendwann der ganze Sand und Lehm ab und es kamen drei sehr schöe Steine zum Vorschein.
Schönes Mix in verschiedenen Größen. Lieferung fix. Alles super!
Leider etwas unschöne, unnatürlich wirkende, gerade Schnittflächen.
Ansonsten Top!
Ich habe 3 kg Drachensteine bestellt in einem 20L Nano cube. Bei Kaufen habe ich auch die Masse angegeben. Ich habe sie auch sehr schnell bekommen. Sehr schöne Steine! Ich habe aber leider neben 2 Stk. Kupferrot auch so ein graufarbiges bekommen, womit leider nicht anfangen kann, so konnte ich nicht verwenden! Ich hätte aber verwenden können.
In Zukunf bitte darauf aufpassen in einem 20LCube einfarbige Steine zu schicken, weil der ist so klein, dass auf jeden Fall auffallend ist!

Sehr schöne Steine!!!
Ich hatte etwas sorgen Zwecks Versand, da die Steine doch etwas brüchig sind, aber Garnelenhaus hat sie so super eingepackt! Ich habe meine Beckengröße bei der Bestellung angegeben und habe ein tolles Layout bekommen. Danke nochmals!
Write an evaluation
Ratings will be released after a short checking.