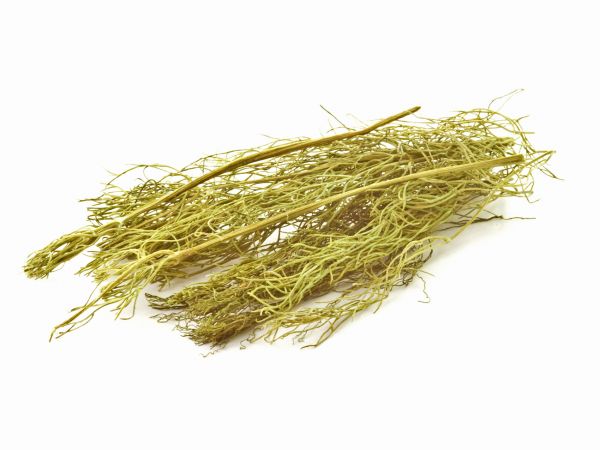 Fennel, green
Natural product / Water care / Decoration
antibacterial and fungicidal effect
for better water quality
strengthen the Imunsystem of shrimp
natural, untreated and gently air-dried
Article in stock
Delivery time 1-3 business days*
P
on purchase receive

bonus points now**
Fennel has an antibacterial and fungicidal effect and can help and support in problems, or to...
more
Fennel has an antibacterial and fungicidal effect and can help and support in problems, or to prevent, with fungal (fungus in shrimp and fish) or bacterial problems in the aquarium with shrimp or crabs. Fennel contains in addition to its fungicidal and antibacterial effect, various essential oils, which strengthen the Imunsystem of shrimp, crabs and fish, which can improve the overall quality of water and thus naturally promote the well-being and health of shrimp, crabs and Co.
Our fennel herb was fresh harvested, is natural and untreated, and gently air-dried.
Usage
Always add fennel in small portions to the aquarium. You can give fennel again if it has dissolved or has been completely eaten by e.g. your Shrimps.
DO NOT brewed fennel before placing it in the aquarium, as otherwise active ingredients (such as the essential oils) will evaporate from the fennel herb.
Dosage
Smaller portion of fennel herb (about 5 x 6 x 2 cm) each about 50 to 60 liters of aquarium water.
Our Tip
The fennel herb initially floats on the water surface until, over time, it has become saturated with water and sinks to the ground. If necessary, you can also complain fennel herb well at first with a small stone...
If you want to use the positive properties of fennel in the aquarium, fennel should not be brewed and watered separately.
Content
10g dried fennel herb in resealable zip bag
Article information
| | |
| --- | --- |
| Manufacturer | GH-GOODS |
| Article number | GH-2001046 |
| EAN number | 4260361272003 |
| Content | 0.01 kg |
| Shipping weight | 0,05 kg |
Read product reviews and/or write your own review
Customer evaluation
GH-GOODS :: Fennel, green
1 Customer review
Allover 5,00 of 5 stars
1 review
Anne G.
•
15 Aug 2019 • not verified
Meine Garnelen stehen total auf diesen Fenchel. Es dauert keine 2 Tage und alles ist weg.
Klasse Produkt.
Viele Grüße
Write an evaluation
Ratings will be released after a short checking.