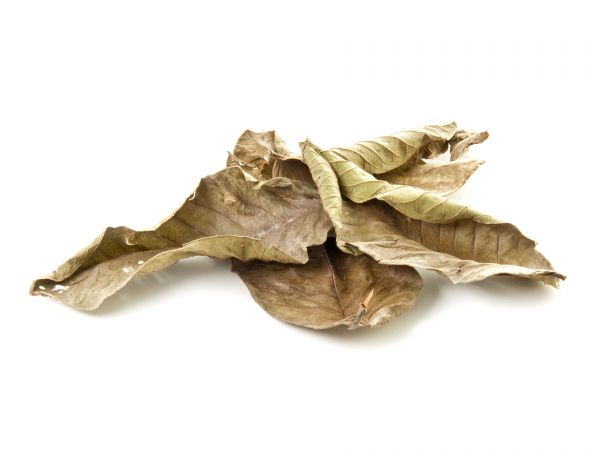 Guava leaves, 10 pcs.
Natural product - Psidium guajava
has antibacterial and antibiotic properties
ideal for prevention (Vibrio bacteria)
100% natural and untreated
important fiber, vitamins, minerals
Article in stock
Delivery time 1-3 business days*
P
on purchase receive

bonus points now**
In the breeding and keeping of shrimp and crayfish, the use of Guava leaves has proven...
more
GH-GOODS
Guava leaves, 10 pcs.
In the breeding and keeping of shrimp and crayfish, the use of Guava leaves has proven very successful. Among other things, the leaves of the Guava prevent harmful against Vibrio bacteria, as well as various microorganisms and parasites. The natural antibiotic and antibacterial effect of the contained tanning agents in the Guava leaves promote the healthy growth of the shrimp and naturally protect against possible bacterial infections. Comparable is the antibacterial effect of Guava leaves with the leaves of the Indian almond tree or walnut tree.
Important and valuable fiber, vitamins and minerals in the Guava leaves provide the shrimp with a variety of nutrients.
Our Guava leaves are 100% natural, untreated and gently dried in the air.
Our Tip
The Guava leaves begin to float on the surface of the water and only go underground after a few days.
The leaves of the Guava but also well on the ground by means of e.g. of a stone complain and fix.
Usage
The Guava leaves should be brewed with boiling water before use in the aquarium. Then let it rest for 5 to 10 minutes. After that, the Guava leaves can simply be added to the aquarium. In the next few weeks, the Guava leaves then release the ingredients to the aquarium water. Due to the hardness of the Guava leaves, it takes quite some time until the leaves are soft enough to be used by the shrimp and crayfish as food.
After use, the Guava leaves can either be removed from the aquarium, or replaced or simply left in the aquarium. The shrimp, crayfish and snails like to eat the Guava leaves that decompose over time.
Dosage
For prevention, add 1 - 2 Guava leaves to approx. 10 - 20 liters of aquarium water.
Content & Delivery
10 pcs. Guava leaves dried in resealable zip-bag for a good freshness.
The size of the leaves are approx. 6 - 10 cm.
Article information
| | |
| --- | --- |
| Manufacturer | GH-GOODS |
| Article number | GH-2001113 |
| EAN number | 4260361271693 |
| Shipping weight | 0,03 kg |
Read product reviews and/or write your own review
Customer evaluation
GH-GOODS :: Guava leaves, 10 pcs.
1 Customer review
Allover 4,50 of 5 stars
1 review
Klaus E.
•
12 Sep 2021 • not verified
Die Blätter werden gern genommen
Write an evaluation
Ratings will be released after a short checking.