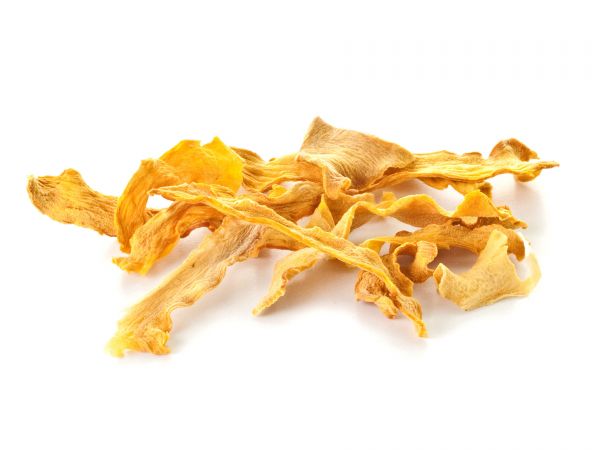 Hokkaido - Chips, 10g
Supplementary feed / Natural Food
Trace elements potassium, calcium, magnesium
untreated, gently air-dried Hokkaido pumpkin
shrimps, crayfish and snails loves pumpkin
perfect snack in addition to the main food
Article in stock
Delivery time 1-3 business days*
Basis price
32.00 €/100 g
P
on purchase receive

bonus points now**
Hokkaido chips , or. Hokkaido pumpkin in general is for shrimp, crayfish, crabs and also...
more
GH-GOODS
Hokkaido - Chips, 10g
Hokkaido chips, or. Hokkaido pumpkin in general is for shrimp, crayfish, crabs and also snails a great natural feed supplement to the regular main food. Especially shrimp love this natural food as a change.
Hokkaido pumpkin contains vitamin A and vitamin C, as well as important trace elements, e.g. Potassium, calcium and magnesium.
Content
100 % Untreated and gently air-dried Hokkaido pumpkin in fine stripes.
The 10g Hokkaido chips come packed in a resealable zip bag. A stock keeping is thus easily possible.
Feeding recommendation
Depending on the number of shrimps, crayfish or snails take a correspondingly small portions. The Hokkaido chips break well or divide with scissors, for example. To feed the shrimp, simply place the Hokkaido chips in the aquarium.

We recommend about 2 - 3 cm Hokkaido chips per 10 shrimps, but you should slowly approach the really eaten amount. Remove food leftovers from the aquarium after 2 days, so as not to unnecessarily burden the water.
Our Tip
Since the Hokkaido chips initially float on the water surface, you can brew them with hot water for a faster sinking of the Hokkaido chips.
Article information
| | |
| --- | --- |
| Manufacturer | GH-GOODS |
| Article number | GH-2001034 |
| EAN number | 4260361272157 |
| Content | 10 g |
| Shipping weight | 0,1 kg |
Read product reviews and/or write your own review
Customer evaluation
GH-GOODS :: Hokkaido - Chips, 10g
Ich überbrühe die Hokkaidostreifen immer mit kochendem Wasser, lasse sie dann ca. 10 Minuten ziehen und befestige sie dann mit einem Schaschlikspieß am Bodengrund und lasse sie ca. 24 Stunden im Aquarium.
Die Garnelen sind wenig bis gar nicht interessiert.
Dafür sind die Geweihschnecken und besonders Rennschnecken geradezu verrückt danach!!!
Kahnschnecken sind nicht interessiert, dafür aber Turmdeckelschnecken, wenn sie in der Nähe sind.

Habe die Chips in Verbindung mit dem Erwerb meines CPO Krebses gekauft. Meine Garnelen und Rennschnecken waren begeistert. Der Krebs war wohl noch satt?
Meine Garnelen und Schnecken lieben es.
Write an evaluation
Ratings will be released after a short checking.