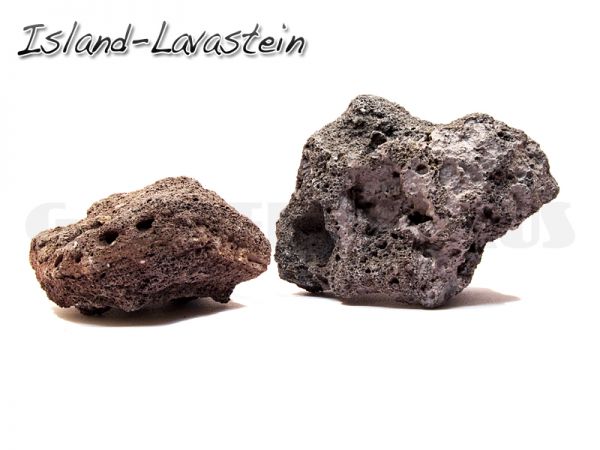 Iceland lava rock, 1 kg
Decoration/natural rock
black-grey-reddish lava from Iceland
easy to work on
great for planting with mosses
Article in stock
Delivery time 1-3 business days*
Quantity
Unit price
Saving
to

2 pcs.

6.90 €

(6.90 €/kg)

from

3 pcs.

6.21 €

(6.21 €/kg)

10%

-0.69 €/pcs.

from

9 pcs.

5.86 €

(5.86 €/kg)

15%

-1.04 €/pcs.
P
on purchase receive

bonus points now**
Light and porous, dark black-grey-reddish lava rock from Iceland with beautiful natural...
more
GH-GOODS
Iceland lava rock, 1 kg
Light and porous, dark black-grey-reddish lava rock from Iceland with beautiful natural forms, which can easily be worked upon or be planted e.g. with Hemianthus callitrichoides "Cuba" or mosses.

Price per 1 kg of Iceland lava rock

Please note
We will do our utmost to mix the sizes of the stones you order. If you prefer to have only one certain size of stone, or certain dimensions, for example for your main stone, please make a note in the comments box when going to the checkout counter. Please understand if we cannot give you pieces with exactly the dimensions you want, but we will do our very best to come close.

Layout on demand?
Unfortunately we only have 24 hours per day, and our limited time does not allow us to arrange a complete hardscape layout for you. Searching for the right stones among 1000 kg of rock, assembling them and taking a photo, re-arranging them two or three times or replacing one or the other piece of rock, taking anoter photo to meet the customer's demand is an almost impossible thing to do. We hope you understand ... ;o)
Article information
| | |
| --- | --- |
| Manufacturer | GH-GOODS |
| Article number | NST-ISLA |
| EAN number | 4260361270368 |
| Shipping weight | 1,1 kg |
Read product reviews and/or write your own review
Customer evaluation
GH-GOODS :: Iceland lava rock, 1 kg
5 Customer reviews
Allover 3,40 of 5 stars
5 reviews
Benedikt S.
•
27 Oct 2021 • not verified
Hatte 2kg bestellt und in der Bestellung angegeben, das ich gerne mehere Steine hätte um diese auf 3 Becken zu verteilen. Das hatte auch geklappt, hab mehere Steine bekommen (anstatt eines großen, wie manche andere berichtet hatten). Da sie mir immer noch zu groß waren, hab ich die Steine mit der "HAMMER" methode bearbeitet :-) Mit der spitze Seite kräftig drauf, wenn nicht gleich auseineranderbricht, etwas drehen und wieder kräftig drauf. Habe jetzt viele kleine Stücke, wie ich sie gerne hätte. Achtung bei der Methode, fliegen ein paar Stücke durch's Zimmer, und es ist recht staubig, am besten Handtuch drunter legen.:-)
Zur Optik: ich finde die Steine passen sehr gut zum Environment Soil,
Schnecken sind gleich dran, und die Garnelen sind auch schon am "abgrasen":-)
Philip
•
19 Nov 2019 • not verified
Es war leider nur ein Lava Stein :(
red-snapper
•
8 Feb 2019 • not verified
Urzeitlich wirkendender Stein mit einer tollen Optik (bei mir eher ein dunkles Grau),
vor dem Einsetzen abduschen, ansonsten hat man einen feinen Film auf der Wasseroberfläche, den man dann mehrere Tage abschöpfen darf.
Von der Struktur her fein bis grobporig und rau.
Moose und Aufsitzerplanzen wachsen darauf sehr, sehr gut an!!!
Und genau diese Struktur des Steines hat auch einen Nachteil, den ich mit 2 * Abzug bewerte,
durch die raue porige Oberfläche zieht er Schmutz an wie ein Magnet!
Ich reinige die Steine fast jeden Abend, in dem ich mit einen 500ml Becher Aquarienwasser stärker darüber laufen lasse, das funktioniert, den Rest schnappt dann der Filter weg, wenn man das nicht macht, verschlammt der Stein mit der Zeit.
Fazit: Tolle Optik (besonders in Verbindung mit helleren Garnelen), aber was ungewöhnlich ist für einen Stein, mit etwas Pflegeaufwand.


Angelika
•
10 Jul 2018 • not verified
Sehr schöne Steine, nach meinen Wünschen zusammen gestellt.
Heiko S.
•
20 Jan 2016 • not verified
Eher schwierig...hatte in meinem Fall 1KG bestellt und es ist ein Brocken gekommen, welcher sicht nicht trennen lassen hat. Gut das ich Alternativen bestellt hatte.
Write an evaluation
Ratings will be released after a short checking.