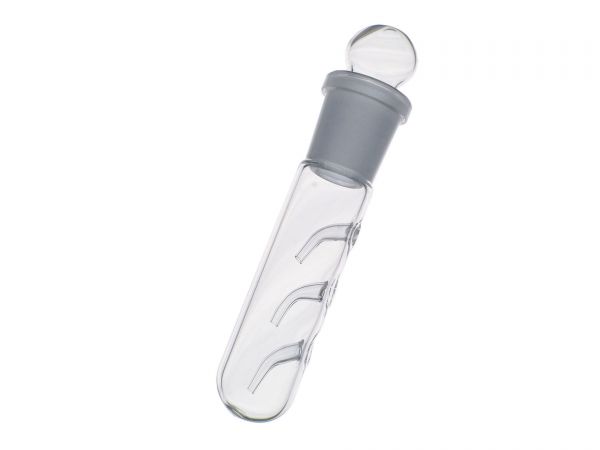 Planaria Trap glass, 3 entrances
Aquarium equipment
fights planaria without medication
just fill and place in your tank
also for other pests and worms
with high quality glass lock
Article in stock
Delivery time 1-3 business days*
P
on purchase receive

bonus points now**
This high quality GH-GOODS glass Planaria Trap offers the possibility to control the...
more
GH-GOODS
Planaria Trap glass, 3 entrances
This high quality GH-GOODS glass Planaria Trap offers the possibility to control the population of planarians (also: turbellaria or flatworms) in the tank without the necessity to use chemical remedies. The Planaria Trap offers 3 entrances, so planarians can easoly enter the trap.
Planaria are carnivores, so use a bait of animal origin to lure them into the trap. Very good results have been reached with frozen bloodworms, as those are highly attractive to planarians. Take out the trap after 2 days at the latest to prevent the bat from rotting. If necessary, refill as described and place in your tank again.
TIP
When the aquarium lights are out, planaria are usually much more active than during the day, and you will catch more of them.
Cleaning
Rinse the Planaria Trap thoroughly with tap water after every use.
Please note! Do not use detergent for cleaning the trap, as detergent residue might harm your aquarium inhabitants.
Article information
| | |
| --- | --- |
| Manufacturer | GH-GOODS |
| Article number | GH-2001407 |
| Shipping weight | 0,1 kg |
Read product reviews and/or write your own review
Customer evaluation
GH-GOODS :: Planaria Trap glass, 3 entrances
5 Customer reviews
Allover 4,70 of 5 stars
5 reviews
Nadine G.
•
6 Feb 2022 • not verified
Tut was es soll. Lässt man die Falle zu lange drin kommen die Planarien durchaus auch wieder raus,ist mir passiert.
Petra C.
•
13 Mar 2021 • not verified
Präventivkauf. Deckel ist einfach zu öffnen im Gegensatz zur Plastikversion. Kleine Schnecken passen wohl auch hier durch. ABER: ich war extrem froh, kam das Teil heil an! Danke dafür.
Sabine W.
•
15 Aug 2019 • not verified
Mit gefrorenen roten Mückenlarven funktioniert die Falle hervorragend! Lege sie nachts ins Becken und nehme sie am Morgen - mit etlichen Planarien drin - wieder raus. Einfache Anwendung, leicht zu reinigen.
Björn K.
•
23 Jul 2019 • not verified
Habe sie gekauft weil ich Würmer im Becken habe. Hab diese mehrere Nächte mit frischen Fleisch gefüllt und ein wenig experimentiert - ich habe keine Planarien.
S. Böning
•
15 Jul 2019 • not verified
Die Falle sieht hochwertig aus, verschließt fest, lässt sich gut reinigen und hat eine gute Größe, sodass alles Mögliche als Köder hineinpasst. Sie hat die letzten 2 Nächte in Folge zuverlässig ein paar Planarien eingefangen. Ich bin vollkommen zufrieden.
Write an evaluation
Ratings will be released after a short checking.