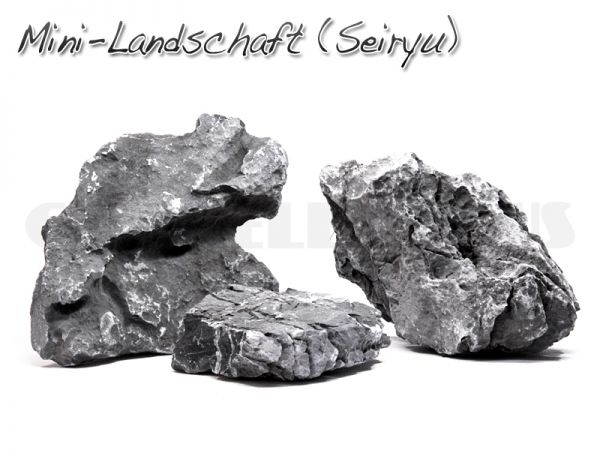 Seiryu Stone (mini landscape), 1 kg
Decoration/natural rock
ideal for classic Iwagumi layouts
nice rocky appearance
nice contrast with green plants
Article in stock
Delivery time 1-3 business days*
Quantity
Unit price
Saving
to

2 pcs.

6.90 €

(6.90 €/kg)

from

3 pcs.

6.21 €

(6.21 €/kg)

10%

-0.69 €/pcs.

from

9 pcs.

5.86 €

(5.86 €/kg)

15%

-1.04 €/pcs.
P
on purchase receive

bonus points now**
Grey rugged stone, sometimes with lighter-colored areas. Hardens the water a little. It is often...
more
GH-GOODS
Seiryu Stone (mini landscape), 1 kg
Grey rugged stone, sometimes with lighter-colored areas. Hardens the water a little. It is often used for Iwagumi-style layouts and is great for depicting mountains and hills.

Price per 1 kg of Seiryu Stone (mini landscape)

Please note
We will do our utmost to mix the sizes of the stones you order. If you prefer to have only one certain size of stone, or certain dimensions, for example for your main stone, please make a note in the comments box when going to the checkout counter. Please understand if we cannot give you pieces with exactly the dimensions you want, but we will do our very best to come close.

Layout on demand?
Unfortunately we only have 24 hours per day, and our limited time does not allow us to arrange a complete hardscape layout for you. Searching for the right stones among 1000 kg of rock, assembling them and taking a photo, re-arranging them two or three times or replacing one or the other piece of rock, taking anoter photo to meet the customer's demand is an almost impossible thing to do. We hope you understand ... ;o)
Article information
| | |
| --- | --- |
| Manufacturer | GH-GOODS |
| Article number | NST-MILA |
| EAN number | 4260361270320 |
| Shipping weight | 1,1 kg |
Read product reviews and/or write your own review
Customer evaluation
GH-GOODS :: Seiryu Stone (mini landscape), 1 kg
Super Steine, kann man sich nicht beklagen! Ich habe eine gewisse Menge bestellt und auch einen Wunsch geäußert, bestimmte Mainstones zu erhalten. Ein Mitarbeiter hat sich darauf bei mir gemeldet und alles nach meinem Wunsch zusammengestellt. Ich bin mit der Auswahl und der Qualität der Steine sehr zufrieden! Versand war blitzschnell und die Verpackung einwandfrei.
Kleiner Tipp: Wie schon in anderen Bewertungen angegeben. Die Steine sind ziemlich schwer. Lieber ein paar Kilo mehr bestellen!
Größer ausgefallen als gedacht, wenn man das Wort "Mini" liest.
Es wurde der perfekte Stein rausgesucht, so wie ich ihn mir im Kommentarfeld gewünscht habe. Bin sehr zufrieden.
Tip top Steine =). Bei der Bestellung habe ich bei der Bemerkung angegeben, dass ich die Steine für mein Iwagumi haben möchte. Ich wurde von einem Mitarbeiter des Garnelenhauses angerufen, der sich nach der Größe erkundigte. Mir wurde vorab ein Bild per Mail mit der Steinzusammenstellung zugeschickt! Das nenne ich 1A-Service & Kundenbetreuung. Die Bestellung kam zeitnah an und die Steinauswahl ist top! Jederzeit gerne wieder und sehr empfehlenswert.
Got exactly what I asked for in my comments on the order
Super Qualität.
Ich habe die Steine bestellt und eine schöne Auswahl erhalten.
Auf meine Bemerkung in der Bestellung wurde eingegangen und ich habe ein paar sehr schöne Steine erhalten! Bitte beachten das diese Steine eine sehr hohe Dichte haben und so 1kg ca 1 mittelgroßer Stein sind. Ich habe 3kg bestellt und 3 verschieden große Steine mit ca 3,4kg erhalten. Hat sehr gut in mein 45P gepasst, ich hätte fast noch ein KG mehr bestellen können.
Habe keine besonderen Wünsche bezüglich der Steine gehabt und zwei wunderschöne Steine bekommen. Mittags bestellt, am nächsten Tag bereits da. Absolut Top.
Großartige Steine, Vielen Dank!
Tolle auswahl an verschiedenen Exemplaren.
Tolle Auswahl für mich getroffen. Die Steine haben eine gute Struktur. Auf Sonderwünsche wurde weitestgehend eingegangen.
Sehr natürlich wirkender Stein, rau mit Rissen, gut geeignet für Moose oder auch zum Anbringen von Javafarn und anderen Aufsitzerpflanzen.
Passt sehr gut zu einem Bodengrund, der dunkler ist als der Stein (das abgebildete Foto gibt sehr gut die Farbe des Steins wieder).
Der Stein hat eine hohe Dichte, ist also sehr schwer für seine Größe, mit 1-2 Kilo selbst für ein kleines Becken kommt man da dann nicht weit.
Fazit: Attraktiver Stein für dunklen Bodengrund.
Tolle Steine bekommen die eine super Landschaft ergeben haben
Einfach nur Top!!!
Perfekter Stein für jedes Aquarium!!
Ist den Preis echt Wert!
Immer wieder gern!
Super schöne Steine ideal zum Nachbauen von Felsen Landschaften bin sehr zufrieden 1a Ware
Sehr schöne Steine, die in meinem Aquarium wie kleine Felsen wirken. Auch auf Wünsche bezüglich der Steingröße wird eingegangen! Gerne wieder!
Write an evaluation
Ratings will be released after a short checking.