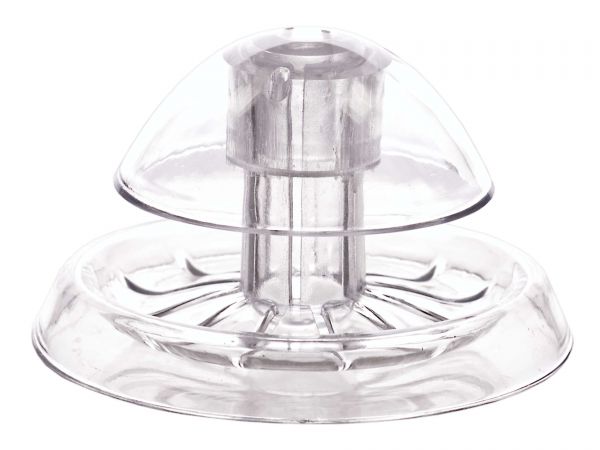 Snail Trap
Aquarium equipment
fights snails without medication
simply bait and place in the tank
quick and easy application
incl. fixing line for quick removal
Article in stock
Delivery time 1-3 business days*
P
on purchase receive

bonus points now**
The GH-GOODS Snail Trap made of transparent plastic offers the possibility to fight...
more
The GH-GOODS Snail Trap made of transparent plastic offers the possibility to fight unpleasant snails directly in the aquarium without chemicals and to reduce them considerably. The Snail Trap has a fixing line that can be fixed to the top of the aquarium glass with a small suction cup (both included in the scope of delivery), thus making it much easier to remove the Snail Trap from the aquarium.
As a rule, snails eat algae and greens, but they also do not disdain carrion. Depending on the type of snail, you may have to experiment a little with a bait, which is well suited and which attracts the snails more. Small pieces of cucumber, thawed frozen animal spinach, nettle leaves or various food tablets, for example, look good. After a certain time, the snails collect on the base of the snail trap and this can then be carefully pulled up with the help of the line to remove the snails from the aquarium.
Instructions for use
• remove the top cover
• equip the center column with an appropriate bait (e.g. vegetable cucumber or food tabs)
• put the lid back on and place it in the aquarium
• fix the safety line (attached to the holes in the top of the lid) to the edge of the pool using a suction cup
Cleaning
Depending on the bait used, rinse and clean the snail trap with tap water after use.
Attention! Never use washing-up liquid or similar for cleaning. Residues could harm the aquarium inhabitants.
Article information
| | |
| --- | --- |
| Manufacturer | GH-GOODS |
| Article number | GH-2001609 |
| EAN number | 4260361273918 |
| Shipping weight | 0,03 kg |
Read product reviews and/or write your own review
Customer evaluation
GH-GOODS :: Snail Trap
1 Customer review
Allover 0,50 of 5 stars
1 review
Thomas K.
•
21 Apr 2022 • not verified
Das Ding taugt nix, es ist selbst mit Futter gefüllt zu leicht und geht nicht unter! Setzen 6. Es ist weder eine Anleitung dabei, noch wie beim Original Köderfutter. Das hier ist billiger Chinaschrott, den es bei aliexpress für 1,10€ gibt.
Früher gab es hier keine billige Chinaware…. Ich bin mehr als enttäuscht vom Garnelenhaus.
Team Garnelenhaus
Answer from 22 Apr 2022
Hallo Thomas,
wir haben die Falle ausprobiert und sie funktioniert. Sie ist in der Tat aus Asien und einfach aufgebaut, daher der günstige Preis. Wir finden nichts verwerfliches daran auch solche Waren anzubieten.
Mit freundlichen Grüßen
Garnelenhaus
Write an evaluation
Ratings will be released after a short checking.