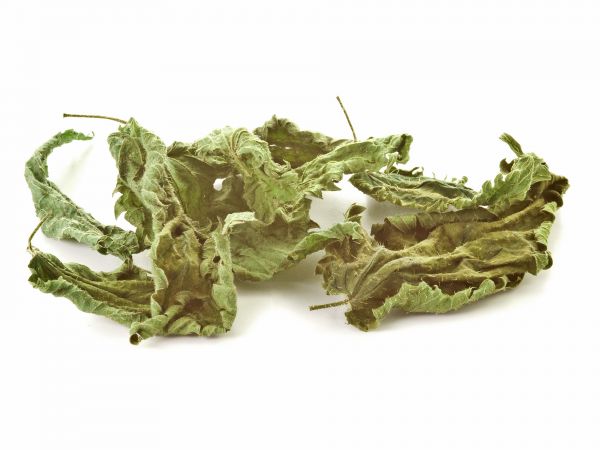 Stinging nettle leaves
Natural product - Urtica
become in reclosable zip bag
hand picked and gently air dried
with important vitamins and trace elements
5 grams and 100% natural
Article in stock
Delivery time 1-3 business days*
Basis price
64.00 €/100 g
P
on purchase receive

bonus points now**
Stinging nettle leaves are very well suited as a natural food for shrimp and crayfish and are...
more
GH-GOODS
Stinging nettle leaves
Stinging nettle leaves are very well suited as a natural food for shrimp and crayfish and are certainly one of the most popular natural feed, which is especially popular with shrimp.
The stinging nettle leaves naturally have a very soft consistency, but under water they become even softer and more tender, so that the shrimp and crayfish usually fall on them head over heels and do not leave much behind the leaf skeleton. A real pleasure to watch the shrimp eating the nettle leaves ...; o)
The nettle leaves were collected by hand and gently air-dried after harvest.
Our tip
At first, the stinging nettle leaves will float, sometimes for a few days, before they sink.
You can accelerate this process by soaking the stinging nettle leaves in some boiling water or by stuffing them under a piece of driftwood.
Note
If you have lots of stinging nettle leaves in your aquarium tank the pH may decrease a bit.
The stinging nettle leaves may stain the water with a yellow or brownish tint (but transparent). These effects will soon cease, though.
Country of origin
Germany
Dosage
Every 1-2 weeks one stinging nettle leaf to about 20 liters. The old stinging nettle leaves can remain in the aquarium until they are completely devoured or decomposed.
Content & Delivery
5 g stinging nettle leaves become delivered in the reclosable zip bag.
Corresponds to about 50 individual leaves (varies depending on the size and moisture content of the leaves).
Article information
| | |
| --- | --- |
| Manufacturer | GH-GOODS |
| Article number | GH-2001039 |
| EAN number | 4260361272089 |
| Content | 5 g |
| Shipping weight | 0,01 kg |
Read product reviews and/or write your own review
Customer evaluation
GH-GOODS :: Stinging nettle leaves
Sind von meinen Garnelen sehr gut angenommen worden.
Meine Garnelen und Schnecken lieben diese Brenneseln. Kaum sind sie im Becken schon stürzen sich alle drauf.

Viele Grüße
Schöne grüne, große Blätter. Gut verpackt, dadurch fast nichts zerbröselt. Meine Garnelen und Tylos stürzen sich sofort drauf und ruckzuck sind die weg.
Write an evaluation
Ratings will be released after a short checking.