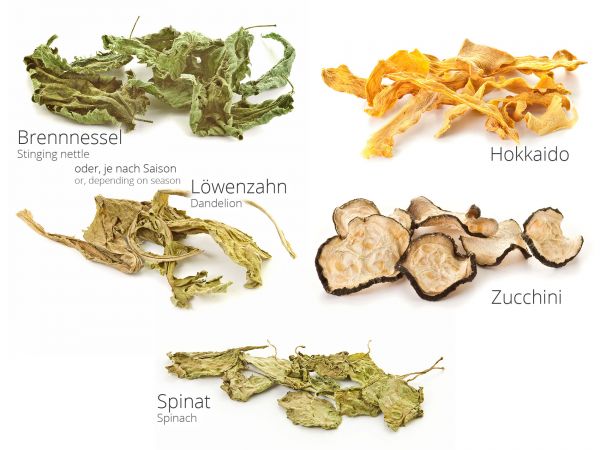 Vegetable mix
Natural product - Vegetables and vegetable leaves
dandelion, spinach, hokkaido and zucchini
a delicacy for your Shrimp in the aquarium
with important minerals and trace elements
sorted, dried, 100% natural and untreated
Article in stock
Delivery time 1-3 business days*
P
on purchase receive

bonus points now**
When choosing our vegetable leaves mix especially for shrimp, crayfish and snails , we...
more
When choosing our vegetable leaves mix especially for shrimp, crayfish and snails, we paid attention to a good class mix ... some leaves or chips are quite stable in the aquarium under water (e.g. Hokkaido), others (e.g. stinging nettle) start to soften much faster. Over a long period of time, the shrimp find leaves or chips in the appropriate "stage of maturity" and plunge with enthusiasm.
In nature, leaves are generally an important nutritional component of invertebrates, e.g. shrimp, crayfish, crabs but also snails. Specially shrimps usually comes from smaller rivers with trees on the riparian zone. Here, leaves, smaller branches and especially in the fall quite a number of foliage in the streams are registered, which then begin to decompose over time by bacetria and microorganisms and thus serve the shrimp as an important (often also overwhelming) food base.
The various tree and vegetable species and their leaves contain a wide variety of inhalants, e.g. minerals, tannins and humic substances, various oils, trace elements and much more. The metabolism of shrimps, crayfish, crabs and others need them for their metabolism, to strengthen the immune system, for a good digestion, or food utilization and more.
The 4-Pack vegetable leaves mix includes following foliage variants
Dandelion or Stinging nettle (depending on season, leaves, dried, 3g (approx. 10-15 leaves))
Hokkaido Pumkin (chips, dried, 5g (approx. 20-30 pcs.))
Zucchini (chips, dried, 5g (approx. 15-20 pcs.))
Spinach (leaves, dried, 5 pcs.)
Usage / Dosage
For each 20 liters of aquarium water about 1 - 3 leaves (depending on the size of the leaves) or a few more. Also depending on the number of e.g. shrimp.
After the leaves have been eaten or completely decomposed, they can be renewed if necessary.
For the Zucchini and Hokkaido chips we recommend to start with one chip per 10 shrimp and see how much is eaten.
Chips left behind should be taken out of the aquarium after approx. 2-3 days, so as not to unnecessarily burden the water.
Our Tip
Initially, the dry leaves or chips swim at the water surface, but suck more or less quickly full and then sink to the ground.
If necessary, you can accelerate the process by brewing the dry leaves/chips with boiling water and allowing to simmer.
Article information
| | |
| --- | --- |
| Manufacturer | GH-GOODS |
| Article number | GH-2001136 |
| EAN number | 4260361271853 |
| Shipping weight | 0,1 kg |
Read product reviews and/or write your own review
Customer evaluation
GH-GOODS :: Vegetable mix
4 Customer reviews
Allover 5,00 of 5 stars
4 reviews
Veronika S.
•
4 Dec 2021 • not verified
Carolin D.
•
7 Apr 2021 • not verified
Hokkaido ist aktuell der Renner bei meinen Garnelen, den Rest teste ich noch.
Jacopo C.
•
27 Jan 2021 • not verified
Ireen A.
•
29 Jul 2019 • not verified
Kommt bei den Garnelen, Schnecken und Welsen super an. Vorallem der Kürbis.
Write an evaluation
Ratings will be released after a short checking.