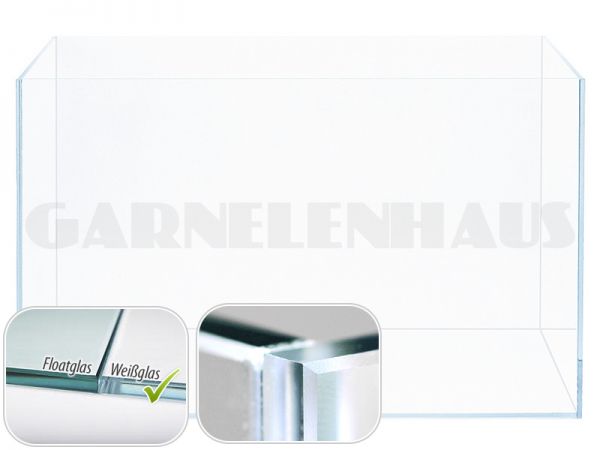 Aquarium Clear, 60 x 30 x 36 cm
Open-topped low-iron glass tank, Nature Aquarium
made of high-quality low-iron glass
braceless for optimal set-up and maintenance work
professional transparent seams
makes your aquascape look radiant
Article in stock
Delivery time 1-3 business days*
P
on purchase receive

bonus points now**
Low-iron glass aquaria let their inhabitants and decoration stand out even more beautifully as...
more
GlasGarten
Aquarium Clear, 60 x 30 x 36 cm
Low-iron glass aquaria let their inhabitants and decoration stand out even more beautifully as the green tint of standard float glass is absent in low-iron glass.

Our GlasGarten series consists of hand-made aquaria in the highest quality segment, made in Germany. After years of uncompromising development, they meet the requirements of the best aquascapers worldwide.

The very intricate, highly sophisticated manufacturing method makes the GlasGarten tanks special. Standard tanks can not hold a candle to them, and they are highly popular with professional aquascapers. The high-quality materials, the professional production methods and the utmost diligence in manufacturing have resulted in a product that will truly impress you.

No braces along the top, which would impede the feel of the layout so you can enjoy its full beauty.

Dimensions (L x W x H): 60 x 30 x 36 cm
Glass thickness: 5 mm
Material: high-quality low-iron
Polished edges
Transparent seams
Article information
| | |
| --- | --- |
| Manufacturer | GlasGarten |
| Article number | GGC-603036 |
| Shipping weight | 11 kg |
Read product reviews and/or write your own review
Customer evaluation
GlasGarten :: Aquarium Clear, 60 x 30 x 36 cm
5 Customer reviews
Allover 4,30 of 5 stars
5 reviews
Erwin
•
1 Apr 2021 • not verified
Ich habe das Aquarium gekauft da Moment alle ADA Becken ausverkauft sind. Das die Qualität nicht so gut sein wird wie bei ADA habe ich erwartet.
Leider gibt es einen erheblichen Unterschied! Die Fugen sind oben dünner als unten. Es gibt sehr viele Silikon Patzer und Filme am Becken. Das Becken ist nicht bündig verklebt. Die Abweichung ist so breit wie der fasen (guter Millimeter).

Alles in allem habe ich mir wirklich mehr erwartet, da sogar mein selbstgebautet Aquarium schöner verklebt ist (und ich bin Informatiker, kein Aquariumbauer)
Dirk R.
•
4 Mar 2021 • not verified
Das Becken sieht wirklich hervorragend aus. Klasse Verarbeitung ????????
Sebastian Sp.
•
11 Jul 2020 • not verified
Aquarium ist klasse. Verarbeitung ist sehr gut. Versand Hamburg -> Ruhrgebiet kein Problem. Die Aquarien werden sehr gut verpackt. Schneller Versand.
Benjamin M.
•
20 Mar 2018 • not verified
Super verarbeitet und eine Klasse Optik
Nadja
•
13 Nov 2017 • not verified
Es ist ein wirklich schönes, sauber verarbeitetes Becken. Ich freu mich schon aufs finale Einrichten!
Die Verpackung war einwandfrei und es ist alles sicher angekommen.
Am aller Schönsten wäre es gewesen, wenn sich der Barcode noch ohne Kleberückstände abziehen ließe.
Aber das sagt ja nichts zur Qualität des Beckens :)
Write an evaluation
Ratings will be released after a short checking.