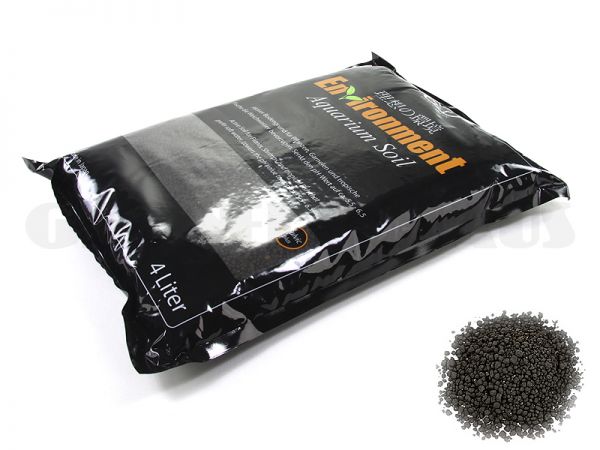 Environment Aquarium Soil, 4 liters
Active substrate (Soil)
our best soil for shrimp tanks and planted aquaria
lowers and stabilizes the pH naturally
crystal-clear water after a short time
with fulvic acids for optimal starting conditions
Article in stock
Delivery time 1-3 business days*
P
on purchase receive

bonus points now**
Glas Garten Environment Aquarium Soil is an active substrate made of different fired and...
more
GlasGarten
Environment Aquarium Soil, 4 liters
Glas Garten Environment Aquarium Soil is an active substrate made of different fired and sterilized earths especially developed for the use in aquaria. It lowers and stabilizes the pH naturally (to 5.5 - 6.5, depending on the water) as well as the hardness of the water, and creates optimal conditions for shrimp and plants that need soft water.

This substrate has the properties to make the water crystal clear. It is rich in natural nutrients for beautiful plant growth and lush green moss. The fulvic acid it contains improves the environment for plants, animals and microorganisms from day one.

Environment Aquarium Soil is one of the Garnelenhaus products we offer under our own brand name GlasGarten. We were in Japan several times to find the best soil substrate, and we were able to find a soil manufacturer with years of experience as business partner, and he produces this supreme-quality Aqua Soil to our specifications. Environment Aquarium Soil lives up to our expectations, and, even more importantly, those of our customers, too. It is highly popular with breeders and keepers of dwarf shrimp and ornamental fish as well as with aquascapers and aquatic plant enthusiasts as it is easy to handle, gives a very natural look to the aquascape or the shrimp aquarium, and it creates an ideal environment for the aquatic plants and animals inside the tank. Therefore, Environment Aquarium Soil is an ideal addtion to the GlasGarten line, which stands for our passion for things aquatic.

Instructions for use
• Do not rinse the substrate before use
• Spread the substrate evenly, or create your layout as you wish
• Fill in water very carefully and slowly
Hint: In order to avoid stirring up the substrate when filling up the tank you can use a saucer, for example, to break the water stream.

Additional information
• GlasGarten Environment Aquarium Soil (not the Powder Type) is suitable for use with undergravel filters.
• Not suitable for keeping botttom-feeding fish that like to rummage around in the substrate (as this may cloud the water on a permanent basis).
• Not suitable for fish, shrimp or plants that need a high pH value.
• A slight turbidity is possible after setting up the tank and filling in water, but this will go away after a short time when the filter works, and the water will be crystal-clear.
• Keep the bag closed in order to prevent the substrate from drying out.


Recommended substrate height
at least 4 cm

Content: 4 liters
Color: black-brown
Grain: 2 - 4 mm

Made in Japan
Article information
| | |
| --- | --- |
| Manufacturer | GlasGarten |
| Article number | GG-EAS-4 |
| EAN number | 4260361270009 |
| Content | 4 l |
| Shipping weight | 4,1 kg |
Read product reviews and/or write your own review
Customer evaluation
GlasGarten :: Environment Aquarium Soil, 4 liters
11 Customer reviews
Allover 5,00 of 5 stars
11 reviews
Gerd S.
•
22 Feb 2021 • not verified
Stefan
•
6 Oct 2020 • not verified
Erstklassiges Soil, habe es jetzt in 2 Becken und bin super zufrieden damit. Die Wasserwerte sind jetzt perfekt und die Pflanzen wachsen üppig. Möchte kein Anderes mehr nutzen.
Gabi P.
•
6 Oct 2020 • not verified
Bestes Soil...kann ich nur empfehlen
Andreas A.
•
20 Sep 2020 • not verified
Bin positiv überrascht. Gute Qualität, klares Wasser. Pflanzen gedeihen prächtig ????????????.
Dietmar F.
•
22 Apr 2020 • not verified
Super Produkt, klares wasser
Andreas B.
•
15 Apr 2020 • not verified
Top soil der Hausmarke Glas Garten
Nicolas S.
•
16 Sep 2019 • not verified
Bin gespannt wie mein geplanter Zuchttank damit läuft.
Daniel K.
•
2 Feb 2019 • not verified
Toller soil, benutze ihn seit Jahren.
Michaela M.
•
10 May 2018 • not verified
Glasklares Wasser nach wenigen Stunden. Top Soil für Top Garnelenhaus-Garnelen
Stefan M.
•
20 Apr 2017 • not verified
Einfach nur Top!!!
Perfektes Soil für jedes Aquarium!!
Ist den Preis echt Wert!
Immer wieder gern!
Oskar S.
•
19 Jan 2017 • not verified
Versand war wie immer schnell und die Qualität ist gut. Meiner Meinung nach der beste Soil auf dem Markt!
Der Preis ist angemessen & der Stammkunde ist glücklich :D
Write an evaluation
Ratings will be released after a short checking.