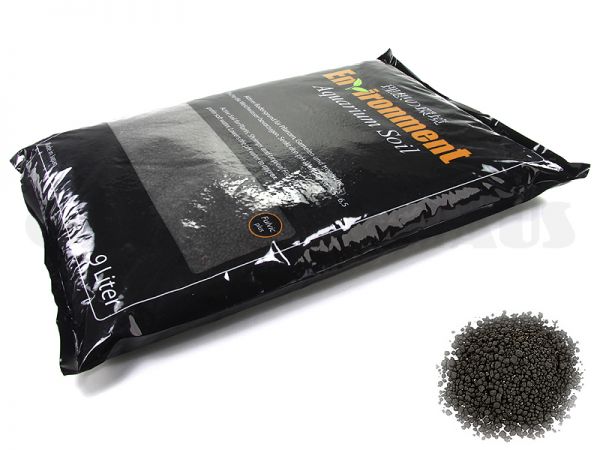 Environment Aquarium Soil, 9 liters
Active substrate (Soil)
our best soil for shrimp tanks and planted aquaria
lowers and stabilizes the pH naturally
crystal-clear water after a short time
with fulvic acids for optimal starting conditions
Article in stock
Delivery time 1-3 business days*
Quantity
Unit price
Saving
to

2 pcs.

34.95 €

(3.88 €/l)

from

3 pcs.

33.20 €

(3.69 €/l)

5%

-1.75 €/pcs.
P
on purchase receive

bonus points now**
Glas Garten Environment Aquarium Soil is an active substrate made of different fired and...
more
GlasGarten
Environment Aquarium Soil, 9 liters
Glas Garten Environment Aquarium Soil is an active substrate made of different fired and sterilized earths especially developed for the use in aquaria. It lowers and stabilizes the pH naturally (to 5.5 - 6.5, depending on the water) as well as the hardness of the water, and creates optimal conditions for shrimp and plants that need soft water.

This substrate has the properties to make the water crystal clear. It is rich in natural nutrients for beautiful plant growth and lush green moss. The fulvic acid it contains improves the environment for plants, animals and microorganisms from day one.

Environment Aquarium Soil is one of the Garnelenhaus products we offer under our own brand name GlasGarten. We were in Japan several times to find the best soil substrate, and we were able to find a soil manufacturer with years of experience as business partner, and he produces this supreme-quality Aqua Soil to our specifications. Environment Aquarium Soil lives up to our expectations, and, even more importantly, those of our customers, too. It is highly popular with breeders and keepers of dwarf shrimp and ornamental fish as well as with aquascapers and aquatic plant enthusiasts as it is easy to handle, gives a very natural look to the aquascape or the shrimp aquarium, and it creates an ideal environment for the aquatic plants and animals inside the tank. Therefore, Environment Aquarium Soil is an ideal addtion to the GlasGarten line, which stands for our passion for things aquatic.

Instructions for use
• Do not rinse the substrate before use
• Spread the substrate evenly, or create your layout as you wish
• Fill in water very carefully and slowly
Hint: In order to avoid stirring up the substrate when filling up the tank you can use a saucer, for example, to break the water stream.

Additional information
• GlasGarten Environment Aquarium Soil (not the Powder Type) is suitable for use with undergravel filters.
• Not suitable for keeping botttom-feeding fish that like to rummage around in the substrate (as this may cloud the water on a permanent basis).
• Not suitable for fish, shrimp or plants that need a high pH value.
• A slight turbidity is possible after setting up the tank and filling in water, but this will go away after a short time when the filter works, and the water will be crystal-clear.
• Keep the bag closed in order to prevent the substrate from drying out.


Recommended substrate height
at least 4 cm

Content: 9 liters
Color: black-brown
Grain: 2 - 4 mm

Made in Japan
Article information
| | |
| --- | --- |
| Manufacturer | GlasGarten |
| Article number | GG-EAS-9 |
| EAN number | 4260361270016 |
| Shipping weight | 9,2 kg |
Read product reviews and/or write your own review
Customer evaluation
GlasGarten :: Environment Aquarium Soil, 9 liters
12 Customer reviews
Allover 4,58 of 5 stars
12 reviews
Michael S.
•
6 Jan 2022 • not verified
Andreas K.
•
30 Aug 2021 • not verified
Schnelle Lieferung wie immer. Das Soil macht einen guten Eindruck.
Marcel S.
•
28 Aug 2021 • not verified
Horst Steinberg
•
24 May 2020 • not verified
Nachdem ich das Soil im Becken hatte und das Wasser auffüllte gab es kaum eine Eintrübung. Sehr stabiles Soil das nur zu empfehlen ist
Jennifer G.
•
26 Nov 2019 • not verified
Ich richte nun das dritte Aquarium mit diesem Soil ein. Ich finde das Produkt sehr gut. Die Pflanzen gedeihen gut und die Wasserwerte bleiben stabil gut. Außerdem gefällt mir die dunkle Farbe sehr gut. Ich werde es sicher immer wieder bestellen.
Giovanni B.
•
27 Jul 2019 • not verified
Molto soddisfatto del prodotto, gia utilizzato in una vasca dove allevo le cantonensis. Primo acquisto in questo negozio, mi sono trovato benissimo spedizione rapida. Credo che lo salvero tra i miei rivenditori di fiducia.
martin l.
•
1 Jul 2018 • not verified
Sehr guter Bodengrund. Nach Austausch in laufendem Becken keine Probleme. Alten hatte ich zwei Jahre.
Bernhard S.
•
13 Mar 2018 • not verified
Silvia S.
•
27 Jan 2018 • not verified
Wie immer schnelle Lieferung, tolles Produkt. Bin wieder absolut zufrieden! Danke!
Kevin K.
•
3 Nov 2017 • not verified
Super Ware - nur leider nicht die Farbe wie abgebildet (Daher nur 9 von 10 Punkten).
Auf dem Produktbild ist der Soil schwarz und sehr dunkel, leider ist er aber eher dunkel braun aber nicht schwarz.
Ich habe den Soil seit ca. 4 Wochen in jedem meiner Becken und kann nichts negatives feststellen.
Ich habe nach ca. 12h bereits die Becken besetzt und kann keine Ausfälle verzeichnen.
Für "Schnellbesatz" ist dieser Soil absolut zu empfehlen. Meine Tiere fühlen sich wohl und was Eier tragen kann trägt - dies spricht also klar für das Produkt.

Die Lieferung war wie bei allen Bestellungen, sehr schnell und der Service absolut super.


Team Garnelenhaus
Answer from 3 Nov 2017
Hallo Kevin,

erst einmal vielen Dank für Deine Bewertung(en). Freut uns immer sehr, wenn wir Feedback bekommen. ;o)

Mit der absolut richtigen Farbdarstellung am PC ist immer so eine Sache...
Nicht alles Bildschirme sind ja gleich eingestellt von der Farbwiedergabe, Helligkeit und Kontrast her.
Jeder hat da so seine Vorlieben und es können die Farben schon einmal etwas abweichen.
In der Beschreibung zum Produkt haben wir als Farbangabe allerdings "schwarz-braun" stehen... ;o)

Natürlich hoffen wir, das Du dennoch viel Freude und Erfolg mit unserem Bodengrund hast.


Beste Grüße
Frank Logemann
GARNELENHAUS
Sascha Dorn
•
24 Sep 2017 • not verified
Ich habe damit ein 360 Literbecken eingerichtet. Nach Ersteinrichtung soweit in Ordnung aber wehe man wechselt eine Pflanze und wirbelt den Bodengrund damit auf. Das Zeug verdreckt das ganze Aquarium. Ich musste zwei Tage später die Filterschwämme des Filters wechseln weil die derart verdreckt waren, dass es nicht mehr anders ging. Auch als Wachstumsbeschleuniger bzw. Nährstoffversorger kann ich nichts positives über das Soil sagen. Schwertpflanzen gingen ganz kaputt. Bodendecker verkümmerten. Selbst die Wasserpest, die normalerweise schnell wächst, brauchte Wochen um anzugehen. Ich würde es, gerade angesichts des hohen Preises, nicht nochmal kaufen.
Team Garnelenhaus
Answer from 17 Oct 2017
Hallo Sascha,

wir bedauern sehr, dass Du mit dem Produkt nicht zu 100% zufrieden bist. Es ist allgemein bekannt, dass Soil bei mechanischer Beanspruchung dazu neigt, das Wasser zu trüben. Dies ist bei jedem auf dem Markt erhältlichen Produkt der Fall. Auf zusätzliche Düngung sollte auch bei Einsatz eines Soils nicht verzichtet werden, da die Nährstoffversorgung ausschließlich über den Boden nur in den wenigsten Fällen funktioniert. Gerne beraten wir Dich hinsichtlich einer qualifizierten und ausgewogenen Nährstoffversorgung um Deinen Pflanzen zukünftig ein gutes Wachstum zu ermöglichen.

Grüße
Dein Garnelenhaus Team
Dominic U.
•
18 Jul 2016 • not verified
Gut zu verarbeiten. Keine Probleme bei dem auffüllen des Wassers nicht aufgewirbelt. optisch schöne Farbe. Lieferung war sehr zügig.
Write an evaluation
Ratings will be released after a short checking.