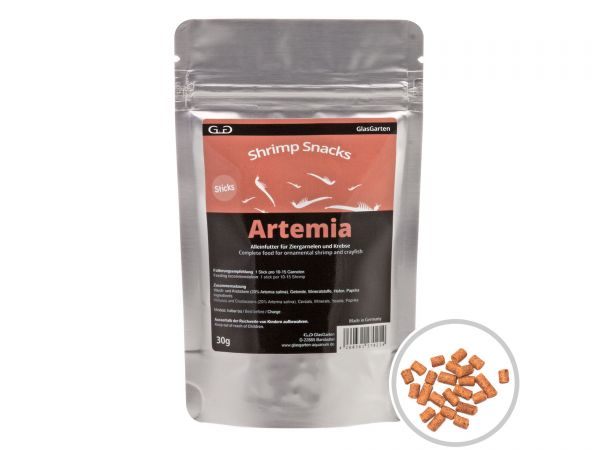 Shrimp Snacks Artemia, 30g
Complete food for pet shrimp and crayfish
yummy snack for in-between
can be used as a complete food
contains the extra portion of important protein
remains dimensionally stable in the water
Article in stock
Delivery time 1-3 business days*
P
on purchase receive

bonus points now**
Shrimp Snacks are a yummy treat for your shrimp, crayfish or snails. The yummy tastes of...
more
GlasGarten
Shrimp Snacks Artemia, 30g
Shrimp Snacks are a yummy treat for your shrimp, crayfish or snails.

The yummy tastes of the natural ingredients of the different flavors pique the interest of the shrimp and other inverts right away, and whet their appetite. Besides being tasty, Shrimp Snacks offer vitamins, minerals, trace elements and much more, and complement your main shrimp food nicely.

Arrived at the bottom, the Artemia sticks remain dimensionally stable and do not disintegrate, so that the animals can actively eat their portion and so the soil is not burdened. The great number of positive ingredients we use makes our Shrimp Snacks a highly valuable in-between snack for your aquarium pets.
Artemia Snack with brine shrimp can be used as complete food, as the combination of ingredients of animal and vegetable origin contains all the nutrients your freshwater inverts need. This food covers all their demands entirely. These sticks are an excellent protein source.

Feeding recommendation
• 1 stick for approx. 10-15 shrimp

Ingredients
Molluscs and Crustaceans (20% Artemia salina), Cereals, Minerals, Yeasts, Paprika

Content: 30g
Form: sticks

Made in Germany
Article information
| | |
| --- | --- |
| Manufacturer | GlasGarten |
| Article number | GG-SN-ART |
| EAN number | 4260361270214 |
| Content | 0.03 kg |
| Shipping weight | 0,04 kg |
Read product reviews and/or write your own review
Customer evaluation
GlasGarten :: Shrimp Snacks Artemia, 30g
4 Customer reviews
Allover 5,00 of 5 stars
4 reviews
Alina W.
•
21 Mar 2023 • not verified
Hier drehen alle durch...! Garnelen, Welse, Schnecken und Fische. In kurzer Zeit ist das Futter komplett vertilgt :D
Michael H.
•
17 May 2021 • not verified
Sticks sinken schnell zu Boden und bleiben formstabil. Da haben die Garnelen lange dran zu knappern. Wird gut angenommen. Werde die Sticks ganz bestimmt wieder kaufen wenn der Vorat zu Ende geht
Christian M.
•
6 Feb 2021 • not verified
Jens K.
•
28 Aug 2016 • not verified
Super Futter! Wir absolut gut angenommen und ist ein absoluter Hit bei meinen Neocaridina.
Write an evaluation
Ratings will be released after a short checking.