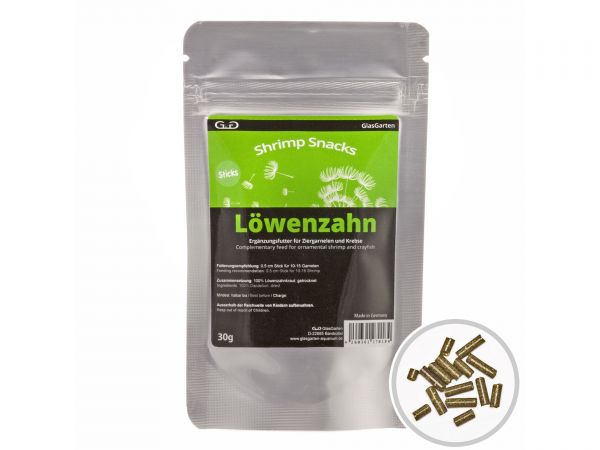 Shrimp Snacks dandelion, 30g
Complementary food for pet shrimp and crayfish
yummy snack for in-between
breaks down into small pieces in water for easy feeding
highly popular with shrimp, snails and co.
beneficial through a high vitamin and mineral content
Article in stock
Delivery time 1-3 business days*
P
on purchase receive

bonus points now**
Shrimp Snacks are a yummy treat for your shrimp, crayfish or snails. The yummy tastes of...
more
GlasGarten
Shrimp Snacks dandelion, 30g
Shrimp Snacks are a yummy treat for your shrimp, crayfish or snails.

The yummy tastes of the natural ingredients of the different flavors pique the interest of the shrimp and other inverts right away, and whet their appetite. Besides being tasty, Shrimp Snacks offer vitamins, minerals, trace elements and much more, and complement your main shrimp food nicely.

Once on the floor of the tank, the sticks break down into smaller pieces after a relatively short time, so that every shrimp, snail or crayfish (and especially the smaller juvies) gets food without being stressed. The great number of positive ingredients we use makes our Shrimp Snacks a highly valuable in-between snack for your aquarium pets.
Like stinging nettle and birch tree leaves, the leaves of the dandelion are highly popular with shrimp and co. Bitterns, vitamins, minerals, inulin, glycosides, triterpenoids, choline and potassium make them a highly beneficial snack.

Feeding recommendation
• 0.5 cm of a stick for 10-15 shrimp

Zusammensetzung
100% dandelion leaves; dried

Content: 30g
Form: sticks

Made in Germany
Article information
| | |
| --- | --- |
| Manufacturer | GlasGarten |
| Article number | GG-SN-LOZ |
| EAN number | 4260361270184 |
| Content | 0.03 kg |
| Shipping weight | 0,04 kg |
Read product reviews and/or write your own review
Customer evaluation
GlasGarten :: Shrimp Snacks dandelion, 30g
6 Customer reviews
Allover 4,67 of 5 stars
6 reviews
karin u.
•
17 Jan 2023 • not verified
Wird von unseren Garnelen nicht so bevorzugt
Jennifer M.
•
9 Jun 2022 • not verified
Die Garnelen nehmen dieses Futter gerne an
Christopher H.
•
10 Jan 2022 • not verified
Wurde in beiden Becken sofort angenommen und war innerhalb 5 Minuten aufgefressen
Ben
•
17 Jan 2021 • not verified
Meine Shrimpies lieben den GlasGarten Löwenzahn Snack. Sie stürzen sich regelrecht darauf und verputzen
alles in Windeseile. Die Sticks zerfallen schön, so dass auch die Kleinsten etwas abbekommen.

Katja R.
•
10 Oct 2018 • not verified
Den Garnelen schmeckt´s. Aber man sollte sparsam füttern, da dieser Snack langsam zerfällt und die Tiere lange etwas davon haben.
Julia R.
•
17 Jan 2016 • not verified
Schneller Versand/ Super Abwicklung. Produkt natürlich wie beschrieben. Bislang das beliebteste Menü meiner Meute :)
Write an evaluation
Ratings will be released after a short checking.