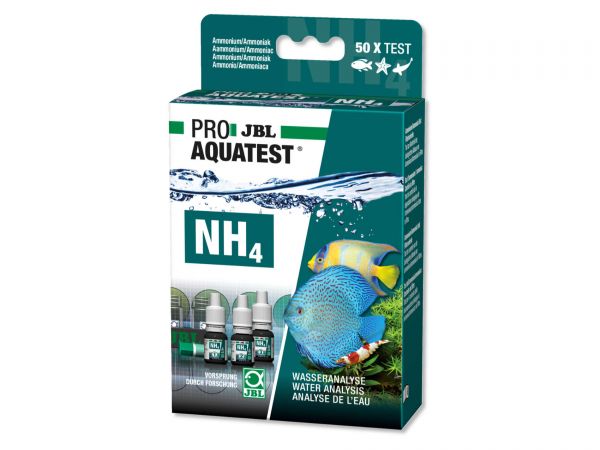 Pro Aquatest Ammonium/Ammonia NH4
Aquarium water analysis
for exact measurement
easy and quick
refill package available separately
sufficient for 50 water tests
Article in stock
Delivery time 1-3 business days*
P
on purchase receive

bonus points now**
The JBL Pro Aquatest NH4 (Ammonium / Ammonia) water test determines the ammonium and ammonia...
more
JBL
Pro Aquatest Ammonium/Ammonia NH4
The JBL Pro Aquatest NH4 (Ammonium / Ammonia) water test determines the ammonium and ammonia content in your fresh and salt water aquarium.
The degradation or mineralisation process of all organic substances in the aquarium follows these stages: proteins > ammonium > nitrite > nitrate. By measuring these stages conclusions can be drawn about the "functioning" of the systems aquarium. If the ammonium or nitrite level is too high it can lead to disturbances of the bacterial balance. Ammonium is not usually measurable in a well-kept aquarium with an effective biological filter. Ammonium is an important plant nutrient and normally non-toxic for fish. But depending on the pH value, ammonia, which is toxic for fish, can be formed from the ammonium ion. The NH4 value should therefore be measured regularly with the JBL Pro Aquatest NH4 (Ammonium / Ammonia).
JBL Pro Aquatest NH4 Water analysis / Water test for Aquarium Tanks
• recommended value: max. 0,25 mg/l NH4
• for approx. 50 measurements with glass cuvettes
• for fresh and marine water
• Gradation of the values: < 0,05; 0,1; 0,2; 0,4; 0,6; 1; 1,5; 3; 5 mg/l (ppm)
• a table for the resulting ammonia content is attached
• Laboratory comparator system to compensate for the inherent color of the water
• includes a syringe to easily measure the amount of water
• Refill reagent sold separately
Safety information in accordance with GHS

DANGER

H031: Contact with acids liberates toxic gas.
H225: Highly flammable liquid and vapour.
H314: Causes severe skin burns and eye damage.
H315: Causes skin irritation.
H319: Causes serious eye irritation.
H336: May cause drowsiness or dizziness.
H412: Harmful to aquatic life with long lasting effects.

P101: If medical advice is needed, have product container or label at hand.
P102: Keep out of reach of children.
P303+P361+P353: IF ON SKIN (or hair): Take off immediately all contaminated clothing. Rinse skin with water [or shower].
P305+P351+P338: IF IN EYES: Rinse cautiously with water for several minutes. Remove contact lenses, if present and easy to do. Continue rinsing.
P501a: Dispose of contents/container in accordance with local/regional/national/international regulations.

1310-73-2: sodium hydroxide
7681-52-9/1: sodium hypochlorite, solution
67-63-0: propan-2-ol
Article information
| | |
| --- | --- |
| Manufacturer | JBL |
| Article number | GH-2001572 |
| EAN number | 4014162241214 |
| Shipping weight | 0,2 kg |
Read product reviews and/or write your own review
Customer evaluation
JBL :: Pro Aquatest Ammonium/Ammonia NH4
Super in der Handhabung, detailiertes Ablesen möglich!
Schneller Versand! Einfach anzuwenden, gut erklärt. Vielen Dank!
Write an evaluation
Ratings will be released after a short checking.