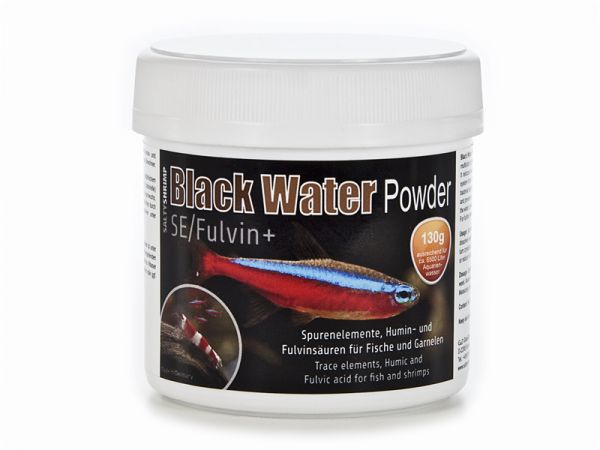 Black Water Powder SE/Fulvin+, 130g
Water conditioning/minerals
for crystal-clear water
dissolves easily
with a mixture of essential trace elements
adds humic and fulvic acids to the water
Article in stock
Delivery time 1-3 business days*
P
on purchase receive

bonus points now**
Black Water Powder is a mixture of valuable trace elements as well as humic and fulvic acids...
more
SaltyShrimp
Black Water Powder SE/Fulvin+, 130g
Black Water Powder is a mixture of valuable trace elements as well as humic and fulvic acids with a multitude of positive effects on your aquarium and its inhabitants. It reduces stress and strengthens the immune system of the aquarium inhabitans, prevents a dangerous pH drop, reduces the risk of forming ammonia, binds to heavy metals, reduces the bacterial load (of Aeromonas and Pseudomonas spp.) of internal organs, reduces algae, and prevents fungal infections even when a low concentration is used, makes the water crystal-clear ... and so much more.


Instructions of use
Just sprinkle the desired amount of the powder on the water surface. Black Water Powder dissolves easily in any pH. Please note that the water will assume a brownish colour temporarily but will turn crystal-clear after a while. If the brownish colour remains for several days, please check your filter or reduce the dosage.


Dosage
Depending on how densely the tank is stocked, dose approx. 1g to 50 litres of water every week.
Measuring spoon markings: 1 ml = 0.5g / 2 ml = 1g


Content
• 130 g (sufficient for around 6500 l)
• measuring spoon included
• reclosable can with screw-on lid
Article information
| | |
| --- | --- |
| Manufacturer | SaltyShrimp |
| Article number | SSM-NBW-130 |
| EAN number | 4260361271136 |
| Content | 0.13 kg |
| Shipping weight | 0,19 kg |
Read product reviews and/or write your own review
Customer evaluation
SaltyShrimp :: Black Water Powder SE/Fulvin+, 130g
9 Customer reviews
Allover 4,78 of 5 stars
9 reviews
Carsten H.
•
8 Apr 2021 • not verified
Sandra A.
•
9 Jan 2021 • not verified
Bin bisher zufrieden mit den optischen Eindruck. Einzig, das es das Wasser anfangs trüb macht, ist bisschen schade, aber geht bestimmt nicht anders. Ob ich bei den Fischen eine Veränderung bemerke, kann ich noch nicht sagen - benutze das Produkt das erste mal.
Peter S.
•
21 Sep 2020 • not verified
Sehr gutes Produkt keine Wirkung auf den ph Wert
Tilman W.
•
7 Jul 2020 • not verified
Sehr sehr gut, sehr schnelle Lieferung. Das Pulver löst sich sehr schnell, trotz der extrem harten und ph hohen Wasserwerte. Garnelen und Pflanzen reagieren positiv. Nur zu empfehlen
Anja B.
•
13 Feb 2020 • not verified
Wahnsinn!
Verwende das Black Water ebenfalls zusammen mit dem Softwater Mineral und bin begeistert.
Von der Dosierung her würde ich etwa die Hälfte empfehlen für eine klasse und klare Braunfärbung. Unsere Schwarzwasserfische machen seither einen deutlich agileren Eindruck und entwickeln sich super.
heiko
•
4 Aug 2019 • not verified
was die dosierung angeht habe ich auch meine zweifel,habe auch immer nur max. die Hälfte der Angabe verwendet und es macht schon krass dunkel wobei man sagen muss das bereits ein Tag später es schon wieder deutlich heller wird,benutze auch zusätzlich sowieso Blätter und Erlen. Gesamt aber dennoch ein super Pulver,für meine anderen "normalen" Becken benutze ich aber lieber das Humin Liquid
Ralf L.
•
4 Jul 2019 • not verified
Das Produkt hat meinen Erwartungen voll entsprochen für Schwarzwasserfreunde
wie mich Perfekt. Eine E-Mail Frage zu diesem Produkt wurde noch am selben Tag
beantwortet alles Perfekt

Bernhard K.
•
25 May 2019 • not verified
Die Wirkung ist beachtlich & zugleich erschreckend! Jeder kennt diese unnatürlich wirkenden Aquarien die zudem extrem hell beleuchtet sind, das hat nicht's mit dem Natürlichen Lebensraum von Neon Salmlern zu tun! Ich habe 1g auf 230l gegeben und Angst bekommen....das Wasser wird sehr schnell bräunlich & man denkt das war's...... gleich schwimmt alles oben und ist tot. Aber keine Angst den Fischen geht es gut, nach einer Weile hat sich das Pulver gut verteilt. Eine deutliche Bräunung, aber laut Anleitung hätte ich die 4 fache Menge nehmen sollen! Dann hätte ich die Fische bestimmt nicht mehr sehen können! Ich glaube die Dosierangabe ist falsch, also imme mit ganz wenig anfangen.
Team Garnelenhaus
Answer from 27 May 2019
Moin Bernhard,
vielen Dank für deine Bewertung. Die Dosierung ist schon für sehr braunes Wasser gemacht, um den "Schwarzwasser-Effekt" herzustellen, aber man sollte die Fische natürlich auch noch sehen können. ;o) Wir werden die Dosierangabe aber mal überprüfen.

Mit freundlichen Grüßen
Dein Garnelenhaus-Team
Daniel D.
•
28 Jan 2016 • not verified
Ich verwende seit über zwei Jahren das Softwater Mineral GH+ in Verbindung mit dem Black Water Powder für mehrere meiner Becken. U.a. für mein Diskus-Biotopbecken mit Wildfängen, welches ich dank dem Schwarzwasserpulver beruhigt mit PH-Werten um 5 fahren kann. Von der hammermässigen Optik ganz abgesehen. Ich liebe einfach die Farbe des frischen Schwarzwassers! :-D
Ein wichtiger Vorteil gegenüber Torf etc. ist meiner Meinung nach die Gleichmässigkeit und sofortige Wirkung. Da ich viel Wasserwechsel mache, bin ich froh, dass ich für das Wechselwasser nicht mit Torf (dessen Qualität ja auch schwankt) hantieren und warten muss, bis dieser wirkt, sondern das Pulver in das Osmosewasser einrühren und direkt ins Becken pumpen kann.
Aber auch in meinem Altwasser-/Schwarzwasserbecken kann ich bei nachlassender Färbung durch Zugabe des Black Water Powder dies ohne viel Aufwand sofort wieder ausgleichen.
Von daher kann ich diese beiden Produkte aus voller Überzeugung und bester Erfahrung empfehlen. :-)
Write an evaluation
Ratings will be released after a short checking.