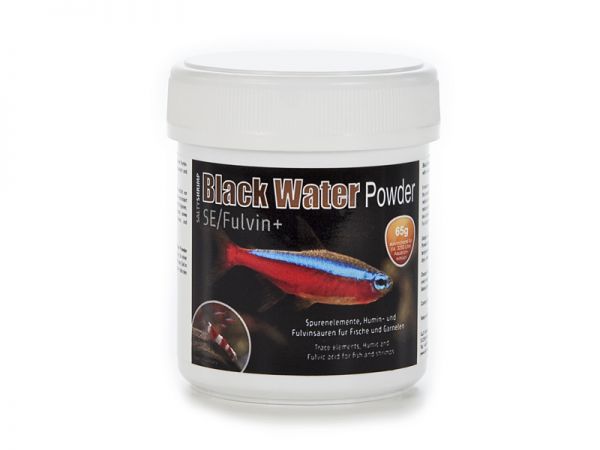 Black Water Powder SE/Fulvin+, 65g
Water conditioning/minerals
adds humic and fulvic acids
with a mixture of essential trace elements
dissolves easily
for crystal-clear water
Article in stock
Delivery time 1-3 business days*
P
on purchase receive

bonus points now**
Black Water Powder is a mixture of valuable trace elements as well as humic and fulvic acids...
more
SaltyShrimp
Black Water Powder SE/Fulvin+, 65g
Black Water Powder is a mixture of valuable trace elements as well as humic and fulvic acids with a multitude of positive effects on your aquarium and its inhabitants. It reduces stress and strengthens the immune system of the aquarium inhabitans, prevents a dangerous pH drop, reduces the risk of forming ammonia, binds to heavy metals, reduces the bacterial load (of Aeromonas and Pseudomonas spp.) of internal organs, reduces algae, and prevents fungal infections even when a low concentration is used, makes the water crystal-clear ... and so much more.

Instructions of use
Just sprinkle the desired amount of the powder on the water surface. Black Water Powder dissolves easily in any pH. Please note that the water will assume a brownish colour temporarily but will turn crystal-clear after a while. If the brownish colour remains for several days, please check your filter or reduce the dosage.


Dosage
Depending on how densely the tank is stocked, dose approx. 1g to 50 litres of water every week.
Measuring spoon markings: 1 ml = 0.5g / 2 ml = 1g


Content
• 65 g (sufficient for around 3250 l)
• measuring spoon included
• reclosable can with screw-on lid
Article information
| | |
| --- | --- |
| Manufacturer | SaltyShrimp |
| Article number | SSM-NBW-65 |
| EAN number | 4260361271129 |
| Content | 0.065 kg |
| Shipping weight | 0,1 kg |
Read product reviews and/or write your own review
Customer evaluation
SaltyShrimp :: Black Water Powder SE/Fulvin+, 65g
4 Customer reviews
Allover 3,88 of 5 stars
4 reviews
Philipp P.
•
25 Mar 2021 • not verified
Benutze bisher das luiquid Humin und wollte einfach mal einen richtigen Schwarzwasser Effekt. Die Färbung ist sehr schön, jedoch wird das Wasser auch nach mehreren Tagen übergaupt nicht klar und bleibt trübe. Ich habe es in 2 verschieden Becken mit unterschiedlicher Filterung probiert, aber es bleibt in beiden Becken die Trübung und lässt sich nur durch Wasserwechsel entfernen. In der Beschreibung steht man solle den Filter überprüfen wenn die Trübung bestehen bleibt??? Was soll man denn bitte überprüfen ? Für mich nicht weiter verwendbar, was eigentlich sehr schade ist da die Färbung des Wassers an sich wirklich schön ist.
Team Garnelenhaus
Answer from 26 Mar 2021
Moin Philipp,
mit der Überprüfung des Filters ist gemeint, dass man zunächst nochmal überprüft, ob die technische Leistung des Filters zur Beckengröße passt, also z.B. ca. 200l/h bei einem 100l Becken. Wenn das passt, kann es am Filtermaterial liegen, oder die Filterleistung ist durch Mulm reduziert und er müsste evtl. gereinigt werden,... auch die Besatzdichte, Menge der Fütterung und somit Leistung der Filterbakterien macht oft einen großen Unterschied. Bei geringem Besatz und wenig Filterbakterien, dauert es länger bis das Wasser wieder klar ist... versuche es doch zunächst mit einer geringeren Dosierung, damit das Wasser schneller klar wird. Wenn dauerhaft eine schöne dunkle Färbung des Wassers gewünscht ist, ist das Black Water Powder eigentlich die richtige Wahl.

Mit freundlichen Grüßen
Dein Garnelenhaus-Team
Pat
•
4 Aug 2019 • not verified
Wunderschönes Schwarzwasser. Habe mich an die Dosierungsanweisung gehalten. Das Ergebnis muss man sicherlich mögen - mein Betta mag es sehr und ist seit dem Einsatz des Pulvers deutlich entspannter und mehr im Becken unterwegs. Und wenn der Glasbewohner es mag, mag ich es halt auch. ;-)
Marius K.
•
8 Mar 2016 • not verified
Den Taiwanern tut es anscheinend gut so weit man das beurteilen kann, auf jedenfall geht es ihnen nicht schlechter :D einziges manko, man muss etwas tüfteln bis man das richtige mischverhältnis gefunden hat das das wasser nicht trüb bleibt also hersteller angaben trafen bei mir nicht zu vllt wegen dem soil.
Jens K.
•
6 Nov 2015 • not verified
Top! Macht genau das was es soll. Nur vier Sterne, weil die angegebene Dosierung wie ich meine deutlich zu hoch ist - zumindest für den optischen Effekt. Dosiert man etwas verhaltener, erhält man traumhaft schönes Schwarzwasser - dunkel und kristallklar!
Write an evaluation
Ratings will be released after a short checking.