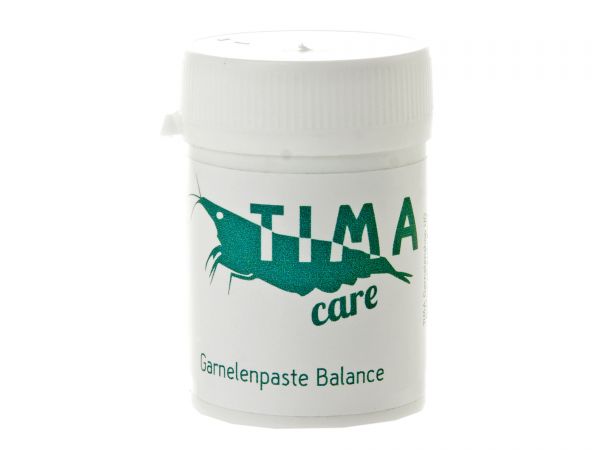 Shrimp paste Balance, 35g
Complementary feed for ornamental shrimp
high-quality raw materials, carefully manufactured
with important nutrients and vitamins
with a special additive
finely pasty food paste
Article in stock
Delivery time 1-3 business days*
P
on purchase receive

bonus points now**
The high-quality Tima Shrimp paste balance is designed as a supplementary feed...
more
Tima
Shrimp paste Balance, 35g
The high-quality Tima Shrimp paste balance is designed as a supplementary feed for shrimp and should prevent deficiency symptoms. Only raw materials of the utmost quality are used, and the paste is manufactured without heat so vitamins and nutrients basically remain intact.

Tima Shrimp paste balance dissolves in the current or when the aquarium inhabitants nibble on it. The food cloud that is produced by this is carried to all zones of the aquarium with the current, reaching all the animals that live in the aquarium.

We recommend feeding Tima Shrimp paste balance in a food dish so none of it disappears in the substrate unused. For targeted feeding in a food dish that's already in the tank use a feeding tube, or take the food dish out, attach a bit of the paste to it and place it in the tank again.

Tima Shrimp paste balance is also great for feeding fan shrimp. Just form a small ball and fix it upon the aquarium glass in the current. The food paste adheres nicely to the glass and dissolves slowly, giving off a cloud of suspended food particles that can be filtered out by the fan shrimp easily.


Feeding recommendation
1 razor-sharp per 10 to 20 shrimp two times weekly

Composition
Mollusks and crustaceans, grains, algae, vegetable by-products, minerals, nuts, oils and fats, yeasts

Food form
finely pasty mass

Content: 35 g

Manufacturers no.: DEBW 118005
Article information
| | |
| --- | --- |
| Manufacturer | Tima |
| Article number | GH-2001084 |
| EAN number | 4260195020610 |
| Content | 0.035 kg |
| Shipping weight | 0,05 kg |
Read product reviews and/or write your own review
Customer evaluation
Tima :: Shrimp paste Balance, 35g
4 Customer reviews
Allover 4,75 of 5 stars
4 reviews
Marcus G.
•
11 Jul 2021 • not verified
Habe die Paste erworben, da eine meiner Sakura's an der systemischen Mykose litt. Nach zwei Wochen in Gebrauch und der ersten Häutung nach der Fütterung kann ich sagen, dass sich bereits einige der Algen gelöst haben. Ich hoffe, der Rest
löst sich nach Dunkelkur und nächster Häutung !?
Astrid K.
•
27 Dec 2020 • not verified
Due Garnelenpaste wird gern gefressen. Ob sie auch gegen die parasitären Algen hilft, die eine Garnele befallen hat, muss sich noch zeigen.
Lothar C.
•
6 Jul 2020 • not verified
Irina M.
•
2 Feb 2020 • not verified
TIMA ist eine meiner Lieblingsmarken wenn es um Futter geht. Die "Garnelenpaste Balance" ist ein Nachkauf. Es wird sehr gut von meinen Garnelen + Schnecken und sogar von meinen Zwergpanzerwelsen genommen.
Write an evaluation
Ratings will be released after a short checking.