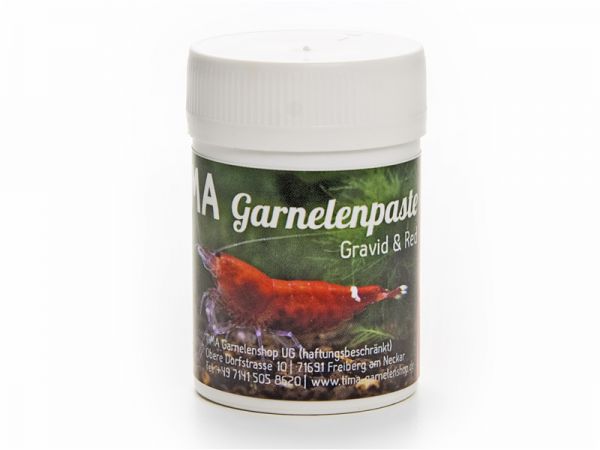 Shrimp paste Gravid & Red, 35g
Complete feed for ornamental shrimp
high-quality raw materials, carefully manufactured
with important nutrients and vitamins
with red color enhancing pigments
finely pasty food paste
Article in stock
Delivery time 1-3 business days*
P
on purchase receive

bonus points now**
This high-quality paste has been designed as main food for shrimp and the microfauna in the...
more
Tima
Shrimp paste Gravid & Red, 35g
This high-quality paste has been designed as main food for shrimp and the microfauna in the aquarium. Only raw materials of the utmost quality are used, and the paste is manufactured without heat so vitamins and nutrients basically remain intact.

Tima Shrimp paste Gravid & Red dissolves slowly as the aquarium inhabitants nibble on it and provides the shrimp with the energy they need to form eggs.

This Shrimp paste has a red color additive that makes the red color pigments in your shrimp stand out. The red pigments that are already present are enhanced.


We recommend feeding this paste in a food dish so none of it disappears in the substrate unused. For targeted feeding in a food dish that's already in the tank use a feeding tube, or take the food dish out, attach a bit of the paste to it and place it in the tank again.

Tima Shrimp paste is also great for feeding fan shrimp. Just form a small ball and fix it upon the aquarium glass in the current. The food paste adheres nicely to the glass and dissolves slowly, giving off a cloud of suspended food particles that can be filtered out by the fan shrimp easily.


Feeding recommendation
1 razor-sharp per 20 to 30 shrimp per day

Composition
Fish and fish by-products, grains, vegetable by-products, yeast, mollusks and crustaceans, algae

Additives (per kg)
Trace elements: iron- (II)-sulfate, heptahydrate (E1) 30mg, potassium iodide (E2) 2mg, copper-II-sulfate, pentahydrate (E4) 4mg, manganese-(II)-sulfate monohydrate (E5) 12mg, zinc sulfate monohydrate (E6) 80mg

Food form
finely pasty mass

Content: 35 g

Manufacturers no.: DEBW 118005
Article information
| | |
| --- | --- |
| Manufacturer | Tima |
| Article number | TIMA-GPGR-35 |
| EAN number | 4260195020382 |
| Content | 0.035 kg |
| Shipping weight | 0,05 kg |
Read product reviews and/or write your own review
Customer evaluation
Tima :: Shrimp paste Gravid & Red, 35g
4 Customer reviews
Allover 4,75 of 5 stars
4 reviews
Petra K.
•
12 Apr 2022 • not verified
Meine Garnelen und meine PHS lieben diese Futterpaste
Caroline V.
•
1 Oct 2020 • not verified
Martina O.
•
9 Jun 2018 • not verified
Bianca B.
•
18 Apr 2016 • not verified
Sehr hochwertige Paste, die allerdings leichter im Wasser zerfällt, als ich aufgrund der Beschreibung gedacht hätte. Eignet sich zum andrücken an Scheiben, bröckelt allerdings bald.
Write an evaluation
Ratings will be released after a short checking.