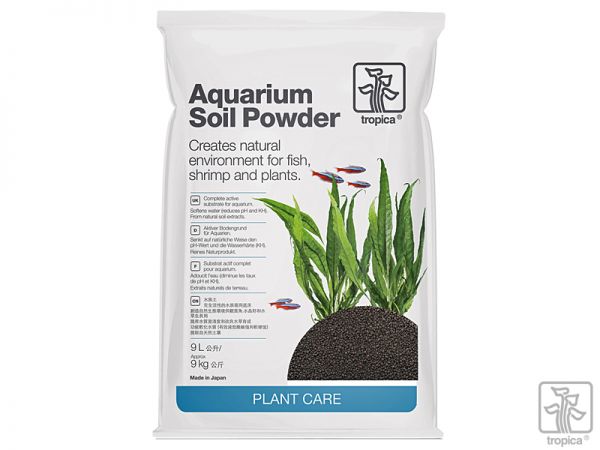 Aquarium Soil Powder, 9 litres
Substrate
for planted tanks and shrimp aquaria
guarantees good plant growth
enhances red hues in aquatic plants
especially suitable for foreground plants
Article in stock
Delivery time 1-3 business days*
P
on purchase receive

bonus points now**
Tropica Aquarium Soil guarantees good and active plant growth and is especially beneficial for...
more
Tropica
Aquarium Soil Powder, 9 litres
Tropica Aquarium Soil guarantees good and active plant growth and is especially beneficial for the formation of red hues in your plants.

Aquarium Soil by Tropica is a soil (substrate) that can be used without any other substrate additives. Aquarium Soil is an active substrate that lowers the pH and has a slight influence on the water chemistry. For this reason, Tropica recommends at least two water changes of 25 to 50 % per week during the first four weeks after the aquarium is set up.

The Powder variant of the Aquarium Soil is especially suited for the use as uppermost layer for a fine finish on plantless areas or in areas where short-rooted ground-covering plants are used (like Hemianthus callitrichoides), or as complete substrate for small aquaria. Fine, tender plants can be planted much better, and their tiny roots will get a much firmer hold in the Powder type. In our opinion, nano tanks look much better with a very fine-grained soil.

Also great for the use in shrimp tanks
Its pH lowering properties make Tropica Aquarium Soil a great substrate for keeping and breeding shrimp that need soft water, like Bee shrimp for example.

Color: black-grey
Grain: 1 - 2 mm
Content: 9 liters

Please note
- Suitable for freshwater aquaria, paludaria, riparia and tropical terraria
- Not suitable for bottom feeders that rummage around in the substrate (like Cory catfish)
- Do not rinse before use
- In our opinion, its small grain makes it not really suitable for the use with undergravel filters
Article information
| | |
| --- | --- |
| Manufacturer | Tropica |
| Article number | TRO-ASP-9 |
| EAN number | 5703249713001 |
| Content | 9 l |
| Shipping weight | 9,2 kg |
Read product reviews and/or write your own review
Customer evaluation
Tropica :: Aquarium Soil Powder, 9 litres
1 Customer review
Allover 5,00 of 5 stars
1 review
MarcoZ.
•
28 Dec 2019 • not verified
Sehr gutes Soil, von Anfang an stabile Werte und klares Wasser.
Die Korngröße ist wie angegeben 1-2mm.
Schöne natürliche braune Farbe, macht sich von daher auch Optisch sehr gut im Becken.
Write an evaluation
Ratings will be released after a short checking.