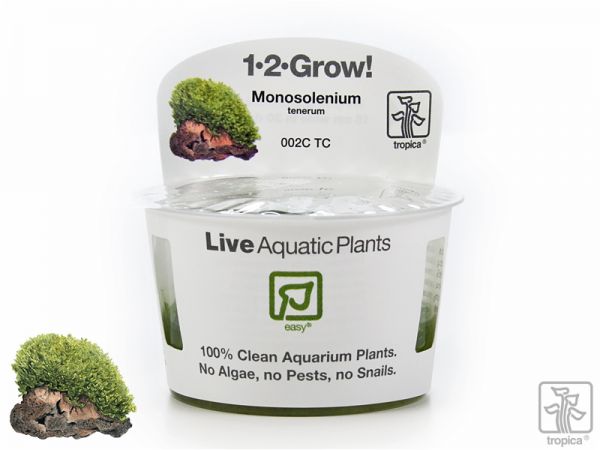 Monosolenium tenerum 1-2-Grow!
liverwort, inVitro
Sorry, the product is currently sold out!
We are working on, to get this item as soon as possible in stock again. Please check again soon.
grows relatively fast
easy trimming
stays at the bottom
free from snails and algae
Product currently sold out
P
on purchase receive

bonus points now**
The 1-2 Grow! plants from Tropica come directly from the lab, and they are free from algae,...
more
Tropica
Monosolenium tenerum 1-2-Grow!
The 1-2 Grow! plants from Tropica come directly from the lab, and they are free from algae, snails and toxic substances, which makes them ideal for shrimp and sensitive fish.
They can be put directly into a shrimp tank when the (unproblematic) nutrient solution has been rinsed off. There is no more need to quarantine them beforehand.

These plants are already cultivated in their submersed form in the pot (in contrast to most traditionally-produced plants, which are grown above the waterline in aquatic plant nurseries), and when planted into an aquarium, there is no need for them to shed their air leaves and sprout underwater leaves ... therefore, inVitro plants are off to a good start in a tank and will take root very quickly.


Monosolenium tenerum

The Asian Monosolenium tenerum is an attractive liverwort, 2-5 cm high, which looks most like a giant Riccia that simply stays at the bottom, where it forms cushions. It is a brittle plant, and pieces break off easily, so it is best to place it in the aquarium attached to stones with fishing line or in small clumps among other plants such as Eleocharis. Once Monosolenium has established itself, it is very undemanding. This plant is mistakenly known as Pelia.

Type: moss
Origins: Asia
Growth rate: medium
Heigt: approx. 2 - 5 cm
Light: low
CO2 demand: low
Article information
| | |
| --- | --- |
| Manufacturer | Tropica |
| Article number | TR-002C-TC |
| EAN number | 5703249802323 |
| Shipping weight | 0,06 kg |
Read product reviews and/or write your own review
Customer evaluation
Tropica :: Monosolenium tenerum 1-2-Grow!
Tolle Ware schnelle Lieferung gerne wieder
red-snapper
•
28 Dec 2018
Wächst relativ schnell und lässt sich auch sehr gut mit Pflanzenkleber auf Steinen befestigen (bei dünnen Wurzeln habe ich da so meine Bedenken).
Bei mir ist es so, je näher das Moos an die Lichtquelle kommt, um so olivgrüner wird es, weiter davon entfernt, hat es ein dunkles Grün.
Ich gebe hier volle 10 Punkte da meine Garnelen es lieben, es wird praktisch rund um die Uhr abgeweidet,
das Christmas Moos, das auch im Becken ist, kann da nicht bei der Beliebheit meiner Garnelen mithalten.

Sehr schönes sattes grün, tolle Pflanze. Sieht im Becken sehr schön aus, werde mir noch weitere bestellen.
Wie Beschrieben. Super tolles hell leuchtendes Moos. Auf einer Wurzel oder Stein befestigt genial. Es wächst sehr langsam, aber an den neuen Trieben erkannt man, das es sich wohl fühlt. Habe bis jetzt 7 solcher Moosplatten in meinem 650 l Aquarium, und alle sind begeistert. Leider brechen einige Moosplatten in den Bechern kaputt, diese dann am Bodengrund liegen lassen, da nicht schwimmend, und es bilden sich neue Moosplatten, auch zwischen den anderen Pflanzen. Lassen sich leicht entfernen, wenn man es möchte. Das einige Moosplatten in den Bechern brechen, das liegt an dem Versand, trotz Warnschilder auf dem Karton. Ansonsten kommt alles super Verpackt in den Top Styropur Boxen an.
Write an evaluation
Ratings will be released after a short checking.